Tidewater Fleet Supply: The One-Stop Shop

An extensive parts inventory, hourly delivery and on-line parts ordering have led to growth.
Tidewater Fleet Supply positions itself as a one-stop shop for its large fleet customers. According to Allan Parrott, president, they are able to achieve this by stocking 130 different product lines, ranging from light-duty lines to heavy-duty.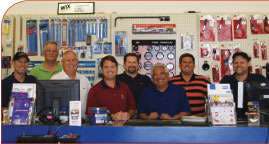 The sales staff is trained to sell the full range of Tidewater products, although Parrott says, "Some guys are more proficient than others on heavy-duty and vice versa, but every day they have to sell heavy-duty and light-duty products."
The fact that trucks and equipment are becoming more sophisticated and that technology is becoming more complex adds to the challenge of providing the right part for the customer.
"I think the ability to stay current with technology is going to be very important in the future," Parrott says.
In order to ensure his sales staff stays abreast of market developments, Parrott sends his counter staff for training as often as possible. "Some manufacturers continue to offer training, and we have had good success with hosting technical training seminars for our customers."
Training courses have covered a range of subjects including heavy-duty brakes and batteries. "The ability to help train your customers is a great service you can provide," Parrott says.
Another service Tidewater provides is hourly delivery to its customers. "We run hourly delivery to probably 80 percent of our customers," he says. "Customers get deliveries nine times a day starting at 8 a.m. and going until 4 p.m."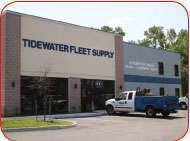 Parrott feels customers have reduced the amount of inventory they carry and are depending more on distributors to get them parts quickly.
"A good delivery service seems to be a real important part of the business. It is something we have spent a lot of dollars on," he says. "We have a lot of money in our delivery vans and the personnel to deliver parts. I think it is something that sets us apart. Most of our competitors don't offer delivery as frequently as we do."
Another niche Parrott has carved out for Tidewater involves contract work with municipalities. "We won our first contract in 2003 with the city of Chesapeake, Va., which at the time was a good account for us," he says.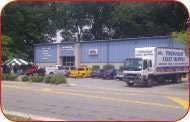 The city had been a regular parts customer when it announced it was going to put its parts management operation out for bid. In effect, they were soliciting companies to come in and run their parts room for them.
Parrott realized that if Tidewater did not bid on the work it would lose a big customer. "We looked into it and the more we looked, the more we felt like we could handle it." That was the first bid Tidewater won and things have evolved from there. Today it offers the same service to other municipalities and some large corporations.
In order to make sure employees feel connected to Tidewater, Parrott treats each of these operations as if it were a branch. "It is a different kind of situation for our people because they really only have one customer. Obviously they are not selling to the general public but we still treat them as a branch with a branch manager and assistant branch manager."
Parrott says he and other managers visit these municipal operations on a regular basis. We sell the same kind of parts and try to give the best level of customer service that we can. The day-to-day mission is consistent with what we do with all of our customers," he adds.
Online ordering is yet another convenience Tidewater offers its customers.
"We started our online ordering system in 2007 and it has grown every year. Today Tidewater receives about 600 to 700 orders a month through its online option.
"We are up to about 600 users and these are all active accounts," Parrott says. "This is not the general public. They all have to have a user name and password."
When customers log on, they can do a lot of things including see their invoices, see how much they owe on their account, do parts look up and place orders online.
"When they place an order, the pick ticket goes to the Tidewater warehouse that they gets their parts delivered out of," he says. Tidewater has eight locations in Virginia and North Carolina.
The impetus for going to online ordering came from the light-duty side of the business. "It is something that definitely has been used more on the automotive side," Parrott says. "The company we get our operating system through had a number of customers who were having success with online parts ordering, so it seemed to make sense for us to try it."
Growth is part of Parrott's future plans. "I think we will continue to see opportunities for municipal contracts because municipalities really are stretched thin and are looking for ways to save money."
He also is willing to look at expansion into new locations. "We added Richmond in 2008 and I expect that we will get some new markets in the next couple of years. And of course there are additional product lines. We always are anxious to add lines that we think are a good fit for our customers."
While Parrott acknowledges the economy has been tough and put pressure on businesses to provide service, he says Tidewater has done well. "Focusing on our core mission of having inventory on the shelves, people who know those parts and a fleet to deliver those parts, has helped us."
He adds, "The 12 years that I have been here we have grown every year and we have been profitable throughout the downturn. We never had any layoffs. I think we have managed to weather the storm pretty well.
"We have a lot of really good employees here who make that happen on a day-to-day basis. I was very fortunate when I started here because we had a lot of people that had been here for years and years," he says.
"They helped train me and helped educate me about the business. A lot of those folks stuck around and they are a huge reason why the company continues to grow."
Name of Company: Tidewater Fleet Supply
Headquarters Address: 1324 Lindale Drive
Chesapeake, VA 23320
Website: www.tidewaterfleetsupply.com
Founded: 1953
Owner: Allan Parrott, president
Number of Locations: 8
Number of Employees: 90