This article is originally from the October 2012 issue of Truck Parts & Service, and is a supplement to an upcoming May magazine feature on the benefits of operating a master warehouse.
One perk of operating a heavy-duty parts and service facility is the opportunity to create multiple revenue streams.
Focusing strictly on heavy-duty parts sales can be profitable, but also providing service allows a business the ability to make money on a part, its installation and maintenance.
But multiple parts revenue streams don't automatically guarantee more revenue. You still have to know what you're doing to make money.
To do that, a service provider needs a complete and total understanding of its parts inventory, its management structure and its current parts margins.
By researching its parts purchasing and pricing system, focusing on what parts customers need, stocking the right parts at the right time, making quality repairs and properly disposing of parts it can't use, a repair operation can systematically improve its part sales profitability and strengthen its overall business.
Purchasing Parts And Setting Your Margins
Investigating what you are spending on parts and what you are selling them for is a logical first step to improving part sales profitability in your service department.
Gross profit margin is defined as the money a seller receives from a product less the initial purchase price, and in the aftermarket profit margins commonly range from 15 to 20 percent. Overhead costs and operating expenses are then subtracted from that gross profit margin, creating the product's net margin.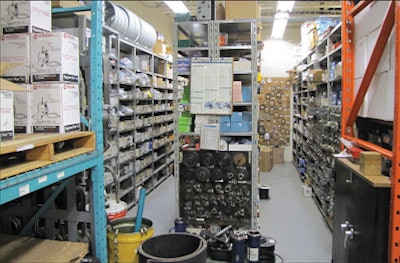 If a shop's margins are considerably below that range, it is possible the shop isn't getting as much out of its parts sales as it could.
Fluctuation in the market for wholesale aftermarket parts can lower a product's gross profit margin.
Service providers need to carefully monitor the prices they pay to acquire components and adjust their retail prices accordingly, says Bruce Patton, parts manager at Stoops Freightliner in Indianapolis.
Most supplier price increases are reasonable. In situations where they are extreme, Patton says it is can be a good idea to look into the reason for the increase or to consider using an alternative supplier.
"That doesn't happen very often," Patton says. "Usually if it does, you can trace it back to the manufacturer having to pay more for the [elements] to make the part."
Being aligned with a heavy-duty marketing group can help an independent service provider in these situations. Marketing groups (such as HDA Truck Pride, VIPAR Heavy Duty and Power Heavy Duty) negotiate with suppliers to provide their members affordable prices on a wide variety of parts.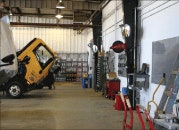 By arranging reasonable part pricing, marketing groups allow service providers the ability to purchase top-quality parts for repairs without losing a large percent of their margins.
They are an indispensable part of the operation at Sadler Power Train.
"VIPAR Heavy Duty is a very important part of Sadler Power Train's success," says Randy Kray, sales manager at Sadler Power Train. "I know we wouldn't be where we are today without their help and expertise.
"They negotiate with the very best OE and aftermarket suppliers so we can offer our customers the highest quality products at competitive prices. We just couldn't do it without them."
How you decide to set your prices also affects both your margins and profitability.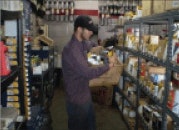 Kray says prices for parts sold in his company's shops vary depending on the service being performed and the customer. They are commonly higher than parts sold through simple distribution, but not considerably.
"We are fair and profitable in these situations because these customers expect to pay more since the cost of overhead in the shops is high," Kray explains.
Patton says the higher margins on shop sold parts are the result of the situation in which they are sold.
"In a situation like that you aren't competing with a dealer and two other WDs to sell the customer the part," he says. "The customer is already in your shop; you don't have to mark down the part to get him to buy it."
But even when carefully set, prices don't stay the same indefinitely. Steady price increases still are necessary to keep margins high.
If a component supplier raises the price of an electronic connector by 5 percent, it's only fair for a shop to charge slightly more for it when making an electrical repair.
After all, it did cost more to acquire the connector, and in a situation where a customer needs his truck back on the road, an extra dollar for a necessary part is a justifiable expense.
Patton says OEMs and some component manufacturers provide suggested retail prices for parts as a guide.
"We receive information from Freightliner that tells us where our selling fields should be, and what customers are likely to pay for each part," he says.
"[The fields] are used for some products. Others, you need to set [yourself] to remain competitive in your markets."
Managing Your Shop's Parts Inventory
Properly managing your parts inventory also will help improve your shop's part sales profitability.
"When it comes to your parts department, you have to be proactive in planning your inventory," says John Wilson, operations manager for Empire Truck Sales.
"Market demand drives your inventory, so you want to try to look at your customer base and know what they are going to need."
Once you start seeing trends, you can start to determine what you need to stock to fulfill those needs.
"When we opened this facility, we did a study of the demographics of the trucks in this area so we knew what types of problems were common to our potential customers," Wilson says, referring to Empire's Brookhaven, Miss. location. "We wanted to know what to expect."
Sue Platt, parts manager for Frame Service, says her parts department takes a similar approach with both its inventory and ordering procedures.
At Frame Service, Platt has a computer software system that logs all parts sold and used in repairs. The system is designed to automatically re-order stocked parts once they leave the shelf to keep the inventory up to date.
Stocking the right quantity of high-volume parts allows your technicians to complete repairs primarily using parts on hand, cutting down on daily unscheduled parts orders.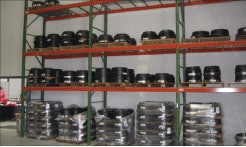 This moves repairs through your facility faster, and keeps parts sales profitability high because it ensures the parts purchased for your inventory are sold quickly through service work.
Parts ordered for service work that are not used on repairs can kill a shop's profits. Once a part is shipped to a shop, the odds of it being returned to the supplier for a full refund are slim.
Parts that are incorrectly purchased also sit in a shop's inventory for a long time, says Mark Vigoroso, senior vice president of global marketing and alliances at Servigistics.
Using a parts warehouse to house purchasing mistakes is a poor use of limited space and money.
"You don't want to sit on a bunch of products you can't sell," he says.
Also, if an incorrectly purchased part increases a customer's downtime, it is possible the customer will cancel the repair or the shop will have to offer a discount to keep the customer's business.
That's not good for margins in the short- or long-term, says Matt Goodding, branch manager at Sadler Power Train in Davenport, Iowa.
"With a service department, sourcing the correct parts [and the correct] quantities is essential to getting your customer back on the road," he says. "If this doesn't happen correctly the first time it causes a back log of work for the technicians and service manager."
Mastering Your Parts Ordering Routine
But no matter how well you manage your shop's inventory, some repairs still are going to require rush orders for parts you don't have in stock.
Rush orders can increase the cost of parts and lower your profit margin, so it is important to have strong relationships with your suppliers to help access those parts quickly.
John Wensel, owner and CEO of Wensel Truck Centers, says his company receives rush orders directly from suppliers and through third-party logistics companies.
But how parts are delivered doesn't matter as much as when they get there. Wensel says it doesn't do his service center or a customer any good to wait days for a part to arrive.
Parts and components that are delivered late slow the process of the repair through Wensel's service bays, frustrating customers and limiting the number of parts that can be sold.
When a truck is moved into a shop's service bay, the parts needed to complete the repair must be there — or at least be on the way. Having an idea of when your parts will be delivered from suppliers can help make that a reality.
Allan Parrott, president of Tidewater Fleet Supply, says his company provides parts delivery to its customers on an hourly basis, meaning every order is expedited whether necessary or not.
With nine delivery runs per day, Parrott says his shop customers can receive a stock order and a rush order in the same workday. Tidewater doesn't differentiate between the types of orders, either.
Once something is ordered it's loaded onto the next truck, whether the part is needed to replenish inventory or to complete an open repair.
"We stock a truck and send it out on the hour," he says. "We can serve a customer with an order at 9 a.m., and then have them call needing another part a few hours later and get that part to them the same day."
That efficient and effective delivery is a blessing to a service provider, but it doesn't work without careful planning from shop management. The instant parts are needed, they have to be ordered. The shop's profitability depends on it.
Mark Willis, business development manager for HDA Truck Pride, says his distributors are aware of their customers' needs for rush parts, too. He says HDA Truck Pride members take pride in delivering rush orders to customers because it maintains healthy relationships.
"We want to provide that just-in-time delivery to them every time they need it," Willis says. "Helping our customers helps their customers, and that's good for everyone."
Shining In Your Service Bays
Providing excellence service in your bays also will help bring your part sales profitability up. Fleets and owner-operators want a service provider they can trust and rely on. If you can provide them with the correct service every time, they will bring you more business — and more business equals more parts and labor sales.
"Prompt, professional service always will help you retain higher profit margins," says Kray.
Vigoroso says, "Look at it from your end customers' point of view. The expectations always are increasing, and in order to respond [service providers] needs to be much more agile than they have been in previous years."
Customers may have accepted a week of downtime for repairs in the past, but those days are long gone.
He says a service provider that has the right parts, or knows how to get them, can eliminate long wait times. That will keep a customer coming back, and Vigoroso says that's how profitability is improved.
"Businesses that can assist customers immediately are in better shape to meet those customer demands profitably, and keep those customers," he says.
The best way to do that is to create a standardized way to shuttle parts and parts requests from technicians to your parts department and vice versa.
Wilson has implemented an electronic requisition form for Empire's technicians, which is designed to allow them to request parts from the warehouse without leaving their service bays. He says his parts employees then fill the requests and bring the parts to the technicians.
Wilson says the system has many benefits, but the biggest advantages he sees is that it keeps the parts department in charge of actual parts ordering and inventory, and allows the technicians to focus their attention on the repairs in their bays.
Disposal Of Unsold And Unneeded Parts
Removing excess and obsolete parts from your inventory is another way to improve your shop's part sales profitability, and this can be done in two ways.
One way for shops to dispose of extra parts and clear warehouse shelves is to look into supplier buy-back programs, and take advantage of the opportunities they provide.
Though not offered for every part or all the time, buy-back programs are provided by suppliers and allow shops and parts distributors to return unsold parts to the OEM for a fraction of the part's initial cost. This eliminates the opportunity to sell the product, but clears space in the shop's inventory to store parts that actually are being sold.
Navistar offers new dealers a buy-back system for non-moving parts to help clear inventory and maximize available warehouse space.
"When a new [dealer] first comes on, we offer a one-time clean-up and buy-back program they can use to get rid of those non-moving parts," says Joe Kory, vice president of distribution operations for Navistar. "The program is designed to let them re-invest. It rids the dealer of the parts he isn't selling and lets him stock up on what he is [selling]."
Meritor also allows its service provider customers to return unsold parts on a yearly basis.
The system allows a fraction of a shop's overall purchases to be refunded and charges a restocking fee for each part that is returned, says Mike Pennington, manager of industry relations for Meritor.
Profits lost to restocking fees can be disappointing for service providers, but are worth it for the inventory space and the refund they provide. It's better to return a product after a year at a small loss than keep it forever for a total loss.
Steve Crowley, president and CEO of VIPAR Heavy Duty, says distributors and service providers have greatly improved their management of obsolete parts over the last decade. That, along with improved parts obsolescence programs from suppliers, has made returning unsold parts an easier and more profitable act for shops.
He says the national scope of VIPAR Heavy Duty and other marketing groups also can help service providers when they want to move parts.
"The thing is, what might be slow moving in one area maybe isn't [slow moving] in another area," Crowley says. "It may be selling like a madman somewhere else. If someone wants to buy it, we can help get it from one place to another."
Cores also give service providers the option to return parts to suppliers to improve their profitability.
When a service provider purchases certain parts from a supplier, a core fee is assessed. That core charge is returned to the service provider only when the used core is returned, and the refund can impact the product's overall margin.
Sadler's Goodding says cores "can be a considered a profitable part" when they are recovered without damage.
Pennington says Meritor receives most of its cores for its remanufacturing operation from OEMs who have collected them in their dealer networks, but he says independent service providers can return cores as well.
Once remanufactured those cores become reman parts, and the profit margins on reman parts can be even higher than new parts.
Together, all of these processes can improve the profitability of your shop's part sales.