SAF-Holland announces t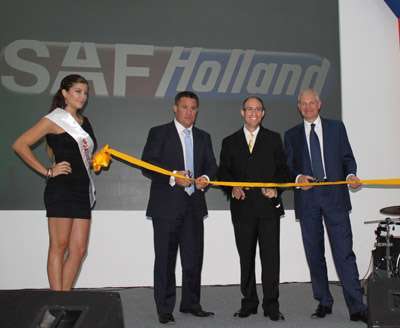 he grand opening of its parts distribution center in Queretaro, Mexico.
The new PDC is part of the company's goal of expanding its global distribution and service network in the aftermarket business. SAF-Holland says the grand opening was celebrated July 10, 2013 with more than 100 guests in attendance. The ribbon-cutting ceremony included SAF-Holland executives: Detlef Borghardt, CEO; Alexander Geis, president, aftermarket business unit; and Ken Hurst, executive vice president, powered vehicle business unit.
According to the company, the facility was developed to satisfy the demand for SAF-Holland aftermarket parts in Mexico. Serving the Mexico market, the facility is more than 12,000 sq. ft. The PDC benefits the customer with reduced delivery times, better availability to parts and a simplified order process, the company says.
Mexico is one of the largest growth areas in North America, the company says the new facility will allow it to better serve its fifth wheel market and advance opportunities for SAF-Holland to further penetrate the truck and trailer suspension markets.
"Our customers appreciate our strong global network of service stations and product distribution centers. We thereby ensure the global supply of spare parts for them at all times," says Alexander Geis, president, aftermarket business unit.