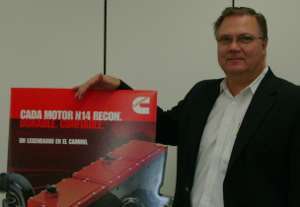 The Motor and Equipment Remanufacturer's Association (MERA) announce the election of Shawn Zwicker, general manager, ReCon Europe and Joint Ventures, Cummins Inc., to the position of chairman of the MERA Board of Directors.
Zwicker succeeds MERA Founding Chairman Michael Cardone, Jr., chairman, CARDONE Industries, Inc., who will continue to serve as a member of the executive committee on the MERA Board of Directors.
"I am honored and humbled to have been elected as the next chairman of MERA," says Zwicker. "I believe MERA is the right organization to represent the interests of our industry, and acknowledge and thank Michael Cardone for his dedication to MERA and the remanufacturing industry."
"As MERA continues its strong growth, it will be important for us to balance the business interests of original equipment suppliers, independent aftermarket manufacturers, and suppliers of cores and other raw materials," says Cardone. "Shawn understands this, and will bring a wealth of experience and a new perspective to the chairmanship."
"Shawn has a shared passion for remanufacturing, and will serve the industry well as the next chairman of MERA," saiys John Chalifoux, president and COO, MERA. "Shawn will continue the work of Michael Cardone, MERA's founding chairman and visionary leader."
Zwicker is a 20-year industry veteran. MERA says his experience includes various leadership roles within the OE and remanufacturing operations of Cummins, Inc.