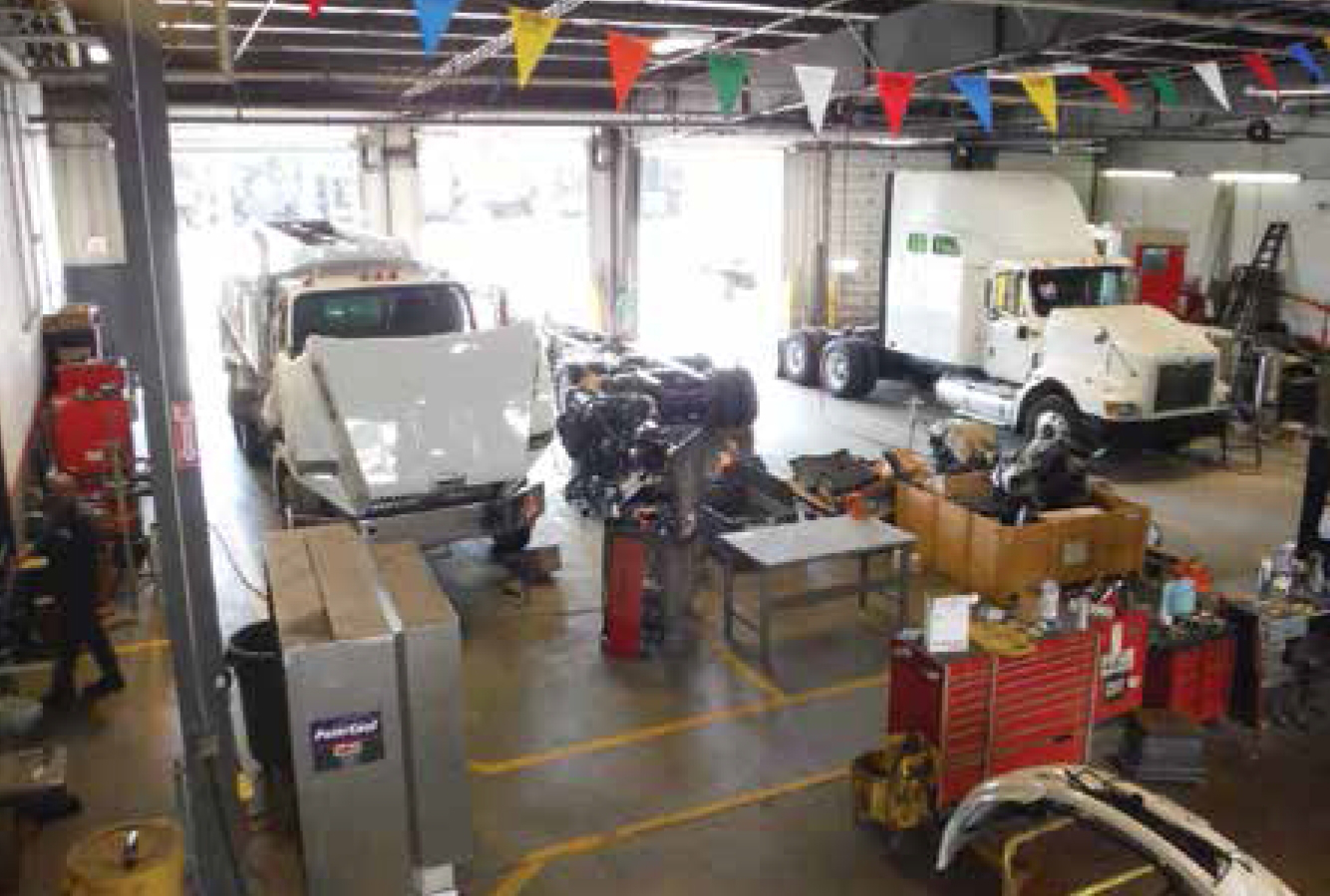 Have you ever considered building a body shop? If you haven't, now might be the time.
Adding body shop capabilities to an existing repair facility allows heavy- duty service providers to capitalize on an underserved market with increasing demand, says Don Putney with Collision Equipment Experts.
"There aren't a ton of businesses out there offering heavy-duty [body shop] service," he says. "So many service facilities are started by technicians … and they are so focused on what they are doing mechanically they don't really think about the body shop side [of service]."
Customers love the concept of one- stop shopping, but very few heavy-duty service providers truly offer it.
Dave Chandler, president at Chandler Services, Inc. in Mokena, Ill., says that's one of the reasons his business entered the body shop business in 2013.
"We wanted to be able to cover all the bases for our customers," says Chandler. "We've been in the truck repair business for 32 years, but [body shop service] was one area we had not entered."
Chandler says he started considering body shop service when he noticed growing concern among his customers' with their current body shops.
They didn't enjoy relying on multiple shops for different areas of service.
"We had one customer in particular who was very vocal," Chandler says. "They told us we were doing everything else and if we also did that [body work], it would make it easier on them."
Body shops also offer service providers an opportunity to capitalize on a recent insurance trend to fix, not total, crashed trucks.
"I think we're going to see a whole lot more of that down the road," says Greg Witt, vice president of operations for Virginia Truck Centers in Harrisonburg and Richmond, Va. "With these new engines being so much more expensive, it makes sense."
He adds, "For a while the used truck market dropped and insurance companies were totaling them out, but now their value is coming back up and we're repairing more of them."
"I talked to a customer recently who had a truck with more than a million miles get into an accident and he said they were going to get it fixed," says Doug Edwardsen, national sales manager at Bee-Line. "The cost to repair the truck is less than the price of a new one, so the insurance company wants to get it fixed."
Putney says service providers willing to enter the heavy-duty body shop market will have an opportunity to grab this increased customer supply.
"The market is going to grow," he says.
But adding body shop and collision repair to a service facility takes more than dedicating a bay for the work. Putney says the body shop and crash service is substantially different than mechanical heavy-duty repair, and requires different facilities, equipment, tools and technicians.
"Collision repair usually takes a lot longer, and is much more labor intensive," he says.
Chandler worked with Collision Equipment Experts to prepare for his operation's entrance into the body shop world. He says the two spent months outlining how Chandler Services' existing location would be retrofitted to create a working body shop.
Putney says body shops have different requirements for bay availability and workflow than regular service facilities. Businesses that attempt to build a body shop without accounting for those differences can meet significant obstacles, he says.
"Flow is really key," he says. "You don't want to move anything more than you have to, and it's best if a vehicle never has to be backed up."
Chandler says his bays are designed so a vehicle can be repaired, then brought through a paint prep area and eventually a paint booth.
And when possible bay space is limited it's a good idea to rely on a supplier's expertise, adds Mike McCoy, Midwest region sales manager at Bee-Line.
"Our products are very versatile," he says. "We try to get with a prospective customer and decide how we can best fit their needs in their new shop."
Opening a new body shop also requires a different breed of technician, one that isn't always easy to find.
"Staffing a body shop is different than typical heavy-duty service," Putney says, noting it can be easier to transition a light-duty collision service expert to heavy-duty work than to move an existing heavy-duty maintenance technician.
"The best way to do it is find an old- school guy who has done the job and recruit students from automotive body shops, then have a training program in house," Putney says. "They will learn the basics in tech school and your older guy can train them on your operation."
Scott Witt, vice president of operations at Virginia Truck Centers' Roanoke location, says his dealership uses
a mentoring program to strengthen its body shop/collision center team. With a significant veteran presence within its 20-plus member unit, Witt says the company is constantly preparing its younger technicians for the future.
Though it isn't working with tech schools yet, Witt says Virginia Truck Centers has identified trade programs as its best option for finding future employees.
Future customers, however, can be found throughout the industry.
"If you spend $200,000 on a piece of equipment, you're going to want to keep it for a while," says Richard Perry, global region product manager at Chief Automotive. "A single truck owner these days can't afford to get rid of a truck because it's been damaged."
But just because customers require body work doesn't mean they're actively searching for options. Because of the market's underdevelopment, new entrants must be energetic in promoting their business.
Virginia Truck Center promotes its body shop as an all-makes operation, and the Witts are active in getting that message out in their market areas.
"Some customers might think of us as a Freightliner and Mack dealer and think that's all we work on," Greg Witt says. "That's not true. We are truly an all-makes operation in our body shop and we tell customers that every day."
Chandler Services' best marketing tool has always been its quality work, and Dave Chandler hopes to build a similar reputation with his body shop.
"I'm happy with the way things are going," Chandler says. "There is definitely an opportunity for us within our area and I think the [body shop] has a lot of potential."
Adds Perry: "There is a lot of money in the collision repair business. Now is a good time to get into it."