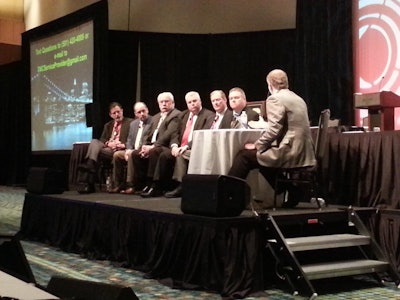 Fleet utilization is defined as the percentage of power units a fleet has on the road generating revenue at any given time. But when it comes to actually describing utilization, the explanation is a lot longer than a single sentence definition.
During a technical session Wednesday at the Technology & Maintenance Council (TMC) Annual Meeting in Nashville, fleet and service providers professionals addressed what asset utilization means to them, and the how they work together to achieve the highest utilization rates possible.
The panel says the most important factors keeping a fleet's utilization rate high has nothing to do with hard parts or repair orders.
Fleet utilization is completely dependent on people. Specifically, and unfortunately, people in positions (drivers, technicians) where the trucking industry currently has its largest employee shortages.
"The No. 1 response we get from service providers when we have trouble with them is that they are low on technicians," says Mike Jeffress, director of maintenance and Maverick Transportation.
Kenneth Calhoun, vice president of customer relations at Truck Centers of Arkansas, says a lack of technicians is no excuse for poor service performance, but he does acknowledge that the tech shortage is a real and growing issue.
Calhoun says he recently became aware of a statistic that all technical trades had a shortage of 5 million employees in 2010, and a projection that that number is expected to climb to 14 million by 2020.
What this means, Calhoun says, is not only are service providers and fleets competing against each other for the few technicians available, but they are also competing against all other industries and technical careers as well.
And with truck tonnage, truckable economic activity and vehicle age at or near all-time highs, that doesn't make it easy on the service provider community.
Dwayne Haug, vice president at Werner Enterprises, believes conscious decisions made to United States education policies have led to this enormous talent gap.
He says today's parents, teachers and schools don't promote vocational careers the way they did in the 1960s and 70s. He says students are completely unaware of the stable, long-term career opportunities (and career growth opportunities) that can be found in trucking, and worst of all, he says the industry doesn't have enough power to reverse that trend alone.
Until it does, fleet utilization rates will forever be capped at sub-optimal numbers.
That's why the industry (and TMC in particular) are focusing on improving shop processes and building best practices, says Brian Mulshine, director of parts and service technology at Rush Enterprises.
Mulshine is active in the TMC S.16 Service Provider study group that Calhoun chairs and has spent years working to help build comprehensive RPs for service providers and fleets to use in conjunction to streamline service performance.
Mulshine says addressing the technician shortage must always be a focus, but it can't be the only focus.
Communication matters, too, notes John Sullivan, director of maintenance at Reliable Carriers and TA/Petro's Skip McGary, senior vice president, truck service marketing and operations.
The duo says clear, concise and free flowing communication between fleets, their drivers and their service providers is the best way to maximize utilization for both sides.
Both offered examples, with Sullivan noting that a fleet has to be responsive to their service providers in the same way their service providers are expected to be responsive to them.
"When the service provider calls us, he can't get a voice mail," he says.
McGary adds TA/Petro now contacts fleets directly about part requests and component needs when they don't have a part in stock. He says the travel centers know the customer needs to get back on the road and they are willing to everything they can to help them do that.