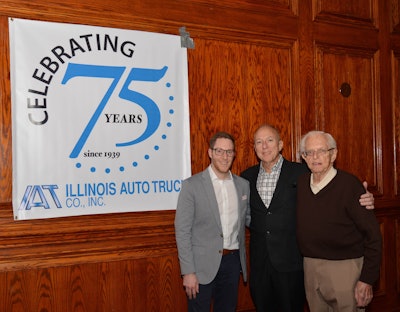 Illinois Auto Truck Co., Inc. (IATCO) has concluded its 75th anniversary celebration.
Recognized as one of the industry's premier manufacturers of new clutch assemblies, components and supplemental parts for Class 6, 7 and 8 vehicles, IATCO has grown from a small, family-run parts business, to an international manufacturer and distributor with more 100 employees, working both domestically and internationally.
Dedicated to quality, customer service and growth in the medium- and heavy-duty clutch market, IATCO currently operates out of Des Plaines, Ill.
Started in 1939 by Sarah and Fred Greenberg as a truck parts retail outlet, IATCO began manufacturing clutch components under the direction of its second generation, Leonard Stein, who at the age of 90 still frequents the office on a regular basis. Third generation Richard Stein continued to grow the company upon entering the business in 1974. IATCO says his engineering expertise and knack for sales catapulted IATCO to the next level making them known throughout the world as "Best in the Clutch."
Fourth generation Jordan Stein entered the business in 2008 and serves as IATCO's vice president of marketing and sales.
"As a fourth generation, 75-year old company, IATCO still operates under the same guiding principles that were set by its founders – develop quality products for and by quality people," says Richard Stein, CEO of IATCO. "In an environment of large multi-billion, multi-national public companies, the IATCO way of customer service, attention to detail and quality product prove that even the small company can survive amongst an industry of corporate giants."
While product and customer needs have shifted throughout IATCO's 75-year tenure, the company says it has made changing with the times through systematic innovation a priority, while still keeping true to its roots. Despite rising costs of raw materials over the last few years, IATCO says it has continued to manufacture its product in Des Plaines, Ill., always using the highest quality materials known in the clutch industry throughout their manufacturing process.
"Customer Service, quality control and availability play a big role in IATCO's product lines, thus keeping us competitive vs. off-shore products," adds Stein. "While many of the industry giants have shifted operations overseas to cut costs, we are proud to say that our products are still made in the United States. IATCO customers in turn are impressed, appreciative and enjoy supporting a U.S. based company."
The company says its 75-year anniversary was celebrated at several events including a beautiful banquet dinner and carnival for all employees and their families.