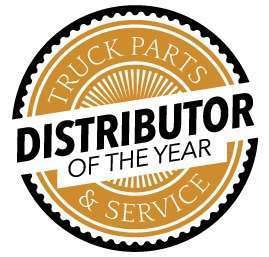 Dear readers,
Truck Parts & Service has opened the nomination period for its 2015 Distributor of the Year award.
Now in its 14th year, the Distributor of the Year award recognizes the best of the independent aftermarket. Announced annually in January at Heavy Duty Aftermarket Week in Las Vegas, the Distributor of the Year award is presented to a distributor who exemplifies excellent customer service, product knowledge and willingness to improve and evolve their business with industry changes.
The Truck Parts & Service Distributor of the Year nomination process is open to the entire trucking industry. We would like to encourage you to nominate any distributor in the United States or Canada you believe worthy of this prestigious award.
To nominate a distributor, please click the link in the paragraph below and follow the instructions on the form provided. Truck Parts & Service is accepting through Friday, June 26, 2015. Once the nomination process is complete, Truck Parts & Service will release its five finalists on this website in July.
PLEASE CLICK HERE TO NOMINATE A DISTRIBUTOR FOR THE 2015 AWARD.
(NOTE: Last year's winner Six Robblees' is not eligible for this year's award, but all other 2014 nominees are. Six Robblees' will be eligible for the award again in 2016.)
Truck Parts & Service also is thrilled to announce a new partnership with RigDig Business Intelligence that will offer extended free trials to all 2015 Distributor of the Year finalists.
RigDig is a data-driven program that provides business intelligence on more than 900,000 trucking entities operating in the United States. It includes fleet and owner-operator data, CSA data, vehicle spec'ing data and more.
Distributors will have access to all of RigDig's tools during the trial.
This year's Distributor of the Year winner will be chosen by a select panel of industry veterans and Truck Parts & Service's editorial staff. Nominees will be evaluated on a variety of factors, including customer service, industry involvement, relationships with suppliers, product knowledge, growth/expansion success, technology adaptation and business innovations.
Each finalist also will be profiled in Truck Parts & Service magazine in the fall leading up to the award presentation in January.
It is our sincere hope that opening the nomination process for the Distributor of the Year award will continue to provide well-deserved recognition for distributors nationwide. We look forward to your nominations, and encourage everyone to participate.
Sincerely,
Lucas Deal
Editor, Truck Parts & Service