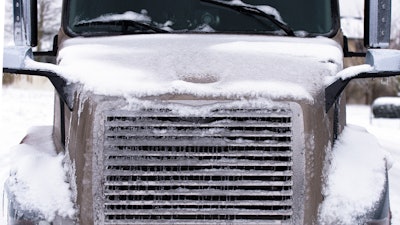 Bendix has released its most recent Tech Tips report with guidance for vehicle owners and service providers for brakes, air systems and other safety technologies.
The company says even though winter is making an entrance in some parts of the North American market, there's still time for truck owners and shops to perform essential winter preventive maintenance work before the worst weather of the season arrives.
Be on top of all brakes
So much depends on what happens at the wheel-end, and in winter's road conditions, the importance of brake performance heightens. Mark Holley, Bendix director of marketing and customer solutions, Wheel-End says companies must get their preventive maintenance in before your wheel-ends are put to the tests of snow, ice, and more.
Use your eyes down under: Check the air brake chamber housings for corrosion or damage that could give corrosion a foothold. Make sure the dust plugs are properly installed, which helps prevent corrosive materials taking hold from within. Fleets may also want to consider replacing their air chambers.
Lubricate, lubricate, lubricate: Several components on drum-braked wheel-ends require regular lubrication as a standard maintenance procedure that keeps moisture from building up and enabling corrosion. Make sure automatic slack adjusters, clevis pin connections, cam tubes, shafts, and bushings are all newly greased in preparation for winter.
Inspect air disc brakes: Any opening into the caliper can permit corrosion, so inspect the boots for tears or punctures and check the integrity of the guide pins, replacing parts where necessary. Make sure the shear adapter cover is in place and fully seated. Additionally, make sure the pads move freely in the carrier

—

remove them and clean the carrier surface with a wire brush if you need to — and check that the brake moves freely on its guidance system.
Take care of the air
Rick Conklin, Bendix director of engineering, Air Supply and Drivetrain, says compressed air powers the braking system and on today's vehicles, other crucial functions as well, including automated manual transmissions (AMTs), advanced safety systems, and emissions controls. Winter conditions increase the vulnerability of air systems, so be vigilant.
Drain the tanks: Draining every three months tends to be sufficient for typical line haul trucks, but if you're driving something with high air demand, like a vocational truck, monthly or even weekly is recommended, depending on job conditions. In any case, it's a good idea to manually drain the tanks at the beginning of cold weather season to get rid of any moisture from the warmer months.
Check your dryer cartridge: If it hasn't been replaced lately, then now's the time: If you see moisture in your tank drainings or have reached the OE's recommended preventive maintenance (PM) interval for the air system, then an inspection for excessive air consumption (air leaks) and replacement of the air dryer cartridge to an OE-recommended cartridge, may be wise before the winter season hits. Moisture in the air system can condense and freeze in the winter, upping the chances of brake and valve malfunctions. Additionally, because oil aerosols that are passed into the system can be particularly harmful to the air system, air dryers equipped with oil-coalescing cartridges are common on most manufacturers' vehicles. If the vehicle was equipped with an oil-coalescing cartridge from the factory, then it's especially important to replace it with the OE-recommended oil-coalescing cartridge. Failure to replace like-for-like may cause accelerated deterioration of system components and other malfunctions in the air system caused by the oil aerosols and other contaminants.
Replace the purge valve: This step is a quick and simple bit of preventive maintenance that can really save you some trouble down the road, so if you spot corrosion or grit accumulation, then go ahead and put in a new one. Corrosive road chemicals – the kind you'll run into during winter – can damage this valve and cause bigger system issues.
Save de-icers for emergencies: We know sometimes they're necessary to get trucks back on the road, but de-icing solutions can corrode O-rings and valve seals within your air system, so you should limit the exposure to as small an area as possible. And afterward in the shop, keep an eye on the affected parts.
Look after advanced safety systems
Systems like stability control and collision mitigation may play an even larger role in winter, adds TJ Thomas, Bendix director of marketing and customer solutions, Controls. Even the most advanced technologies depend on basic upkeep of tires, brakes, and other components to deliver at their best out on the road. As the cold months take hold, we recommend you look at a few things.
Double-check your wheel-ends: On the tires, you're looking for adequate tread depth and proper wear, and you should examine wheel-ends for cracks and check to make sure all bolts are tightened.
Watch your tire pressure: Winter's temperature swings make running on the right tire inflation exceedingly important. Make sure your tire pressure monitoring systems are operating properly, and run diagnostic checks if you encounter any DTCs (diagnostic trouble code).
Clear the sensors: Before you get on the road each trip, inspect for and remove any snow, ice, or debris from external cameras and radars that are a part of forward- or side-mounted collision mitigation technology or lane-departure warning systems. Obstructions will reduce their ability to perform effectively.
Examine electrical connections: Secure and watertight connectivity is even more important in the winter, when even small amounts of salt or other road chemicals can ruin connectors and components.