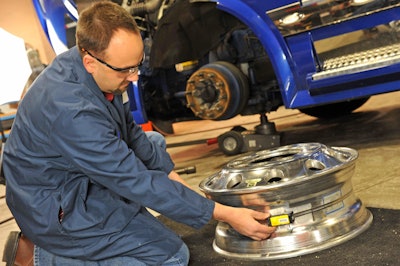 With the Commercial Vehicle Safety Alliance's (CVSA) International Roadcheck looming, the group on May 11 issued two new inspection bulletins regarding hill start aid/brake hold modes and automatic tire inflation and tire pressure monitoring systems.
Regarding brake aids, CVSA said some newer tractors have a "hill start aid" and/or "brake hold mode" function that automatically keeps the service brakes applied after the tractor is taken out of gear when stopped. These systems may activate at the beginning of an inspection, and if so, the brake lamps will remain on, and the service brakes will also be activated.
[RELATED: The sales potential of modern tire inflation management systems]
The purpose of HSA is to allow automatic transmissions to engage the clutch while on a grade. HSA also has an extension called the "brake hold mode" function, which is intended to relieve drivers when driving in stop-and-go traffic by allowing the driver to hold the service brake on without constant pressure on the brake pedal. The bulletin noted that the hill start aid (HSA) function has been around for several years, but recent updates have allowed the function to be active for more than three seconds.
CVSA told inspectors that if they are conducting an inspection and the brake lamps are continuously burning and/or the service brakes are constantly applied, they should ensure the brake hold function is not activated, instructing drivers to press the "HSA OFF" switch on their dash to deactivate the system.
The other bulletin, related to tire pressure monitoring systems (TPMS) and automatic tire inflation systems (ATIS), clarified that air exhausting from an ATIS "is considered a part of normal operation and should not be recorded as a violation." CVSA added that an ATIS is not required equipment on commercial vehicles, so they are not required to be operative.
"If an ATIS is defective, inoperative or in an alert status, there is no corresponding violation," the bulletin said. "If a faulty or defective ATIS causes a violation of the Federal Motor Carrier Safety Regulations (FMCSRs), that individual violation should be addressed on a roadside inspection" report as, for example, a "flat tire," an "air leak other than normal system operation" or whatever the appropriate violation.
The bulletin also pointed out that, while removal of components is generally discouraged during a roadside inspection, "if there is an indication that a tire is flat, have the driver remove and replace any necessary components so that tire pressures may be verified on vehicles equipped with ATIS or TPMS in accordance with this bulletin."