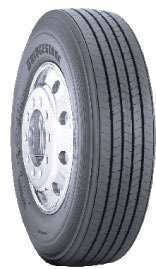 BBTS Rolls Out Low Rolling-resistance Radial
Bridgestone Bandag Tire Solutions' Bridgestone-brand R197 low rolling-resistance radial, designed for enhanced fuel efficiency and long, even tread wear, is approved for use on U.S. Environmental Protection Agency SmartWay-certified equipment and also is suited for fleets running California Air Resources Board-compliant vehicles.
The tire, available in the 295/75R22.5 size with a G-load rating, is suitable for all-position use but is designed for single- and tandem-axle trailer and dolly applications in long- and regional-haul service.
Building on an energy-efficient casing and adding low rolling-resistance tread and sidewall compounding, BBTS said the R197 combines fuel-efficient tread designs and a shallow 11/32-inch tread depth to help improve fuel economy. Additionally, for long, even tread wear, the company said the R197 incorporates its Defense Groove design that helps create uniform pressure across the shoulder to minimize edge wear and cupping.
Stress relief siping along the rib edges promotes even wear for higher mileage. A classic straight-rib tread design evacuates water from the footprint for added wet traction, while cross-rib sipes provide solid grip on wet roads. To enhance durability, BBTS said the R197 incorporates tough shoulder protector ribs on both sidewalls to fight damage from cuts and abrasion from curbing; when one set of ribs is worn away, the tires can be reversed to expose a fresh set of ribs for continued protection.
Bridgestone Bandag Tire Solutions
Visit tpsdigital.com/info
Panasonic Introduces Toughbook 31
Panasonic Solutions Co. introduced the Panasonic Toughbook 31 which it said is engineered to be the most powerful fully rugged notebook computer on the market and has an Intel Core i5 or i3 processor, 1,100 nit touchscreen display and rugged certifications beyond MIL-STD-810G and IP65.
The new device enables superior data access and productivity for any mobile professional facing extreme environments, the company said, in industries such as transportation, telecommunications, construction, mining, utilities and energy.
"The Toughbook 31 combines the best of three worlds – mobility, performance and ruggedness," said Erik Reid, mobile client marketing director, Intel Corp.
The Toughbook 31 includes a 13.1-inch XGA LCD touchscreen and is available with Panasonic Circu­Lumin technology, allowing for full-circle viewability from the brightest sunlight to pitch darkness. The notebook features the brightest standard screen available, at 1,100 nits, but can drop as low as 2 nits for concealed nighttime use.
Panasonic said the Toughbook 31 offers up to 11 hours of battery life; significantly reduced charging time; a 47 percent faster processor; Wi-Fi 802.11a/b/g/n and Bluetooth v2.1 +EDR; and an optional built-in webcam.
Panasonic said the Toughbook 31 maintains a platform footprint virtually identical to past flagship products, allowing customers to upgrade Toughbook computers without replacing vehicle docks and significantly lowering the total cost of ownership.
Panasonic Solutions Co.
Visit tpsdigital.com/info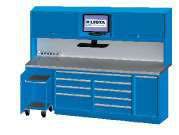 Lista's Redesigned Technician Workbench
Lista International Corporation announced a newly redesigned Automotive Stationary Storage and Workbench System, specially designed for service and repair technicians. The company said the workbenches come with a durable stainless steel work surface and backsplash and that the stainless steel wet clean base is adjustable for leveling and for cleaning under the component.
To customize overhead workbench space, Lista offers a stationary riser shelf which can be configured either as open shelving, or as a support for overhead cabinets with retractable or hinged doors. This new riser system can support multiple lighting options and power requirements. The overhead cabinets allow access to a computer monitor and keyboard tray, binders, manuals, supplies and other bulky items.
Lista International Corporation
Visit tpsdigital.com/info
Penray Introduces Non-chlorinated Brake Cleaner
Penray announced it added a California compliant, non-chlorinated brake cleaner to its Performance Products professional automotive product line.
The brake cleaner contains the maximum strength allowable by standards while meeting the California VOC regulations.
"This brake cleaner quickly and effectively dissolves and removes grease, oil, brake fluid and other contaminants," said Mark Fryar, national sales manager for the automotive division. "With tightening VOC regulations, Penray continues to be innovative to meet the needs of our customers in California."
Penray
Visit tpsdigital.com/info
Alliance Parts Launches Air-conditioning Compressors Line
Alliance Parts announced an expanded line of air-conditioning compressors now available for all makes and models of Class 6-8 vehicles.
"Air-conditioning compressors are fundamental to the operation of commercial vehicles in the summer months," said Todd Hooper, director of Parts and Service Marketing for Daimler Trucks North America LLC. "With a lifespan of three to five years, air-conditioning compressors typically aren't part of a set maintenance schedule. But efficient A/C is essential to driver comfort as the season heats up."
According to Alliance, its full line of A/C compressors offers high quality, low-cost, all-makes solutions to help drivers keep their cool. These direct drop-in replacement parts were developed and tested to original equipment specifications for the heavy-
duty truck market. Equipped with double end-capped PAC oil with special anti-wear additive, they're produced by T/CCI, a leading heavy-duty U.S. compressor manufacturer.
"Alliance Parts has long been recognized in the industry as a leader in quality, OEM-backed parts at a competitive price," said Hooper. "The expansion of the Alliance A/C compressor line for all makes of trucks and buses fills yet another critical category, just in time for warm weather."
Alliance Parts
Visit tpsdigital.com/info
Snap-on Touts Portable Heavy-duty Road Chests
Snap-on said its portable heavy-duty road chests (KRA6200 with ISO-frame, KRA6210 with side handles) provide more versatility and efficiency, making service calls less time-consuming and more productive.
The KRA6210's handles are reinforced for easier lifting and to serve as an additional transport point, while the KRA6200's ISO-frame can be removed and used with standard side handles for in-shop use on a roll cab; both handle systems can be combined in the same unit if needed. An exterior lid lock has a T-handle to allow the lid to be locked or opened without a key, while the lid's top compartment has an internal drawer release for independent drawer operation, allowing the user access to drawers even if the lid cannot be opened.
A strong bottom panel with two sets of support channels helps absorb shock, sliding and lifting, while Snap-on's Lock 'n Roll technology helps keep drawers from jostling open; dividers in the bottom drawer provide organization and keep tools from sliding. The exterior lid lock has a water-resistant flap, while an independent drawer cover panel uses an intuitive two-point latch system and operates separately from the lid, preventing moisture from entering and allowing drawer access when the lid is closed.
Snap-on Tools
Visit tpsdigital.com/info
Dana Develops Eco-friendly Exhaust Gasket Coating
Dana Holding Corp. announced it developed a high-temperature exhaust gasket coating designed to meet the increasing challenges of modern gasoline and diesel engines. Dana said the technology, which can withstand temperatures as high as 1000°C, is currently in production with a large diesel-engine manufacturer.
Dana said the Victor Reinz ThermoGlide 1000 high-temperature exhaust gasket coating is created using water-based chemistry and an environmentally friendly manufacturing process that produces significantly fewer carbon emissions than traditional volatile organic compound-based adhesives.
"We're excited to introduce this new technology for high-temperature sealing of gasoline and diesel engines," said Rich Kozerski, director of engineering for the Dana technology center in Lisle, Ill. "With ThermoGlide 1000, we're providing higher temperature resistance, fretting reduction and improved sealing – all while being environmentally considerate. And most importantly, we continue to deliver high value to our customers."
Dana Holding Corp.
Visit tpsdigital.com/info
Pouch Protects Important Papers

RNR Plastics, Inc. introduced its Critical Documents Pouch, a clear PVC document protector designed for use in the service shop. The new holder features a bright red strip that overlaps the opening on top to keep the contents visible and protected from oil spills, stains and water.
RNR Plastics said it is constructed of durable, 12-gauge thick PVC and can be custom printed with company logos and titles,
different colors, special openings and sizes from 4-sq.-in. up to
24-sq.-in. They can include eyelets for hanging, magnetic strips, two-sided tape and full adhesive backings.
RNR Plastics, Inc.
Visit tpsdigital.com/info