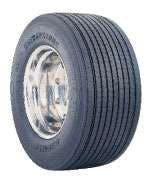 BBTS Releases Greatec R125
Bridgestone Bandag Tire Solutions announced its Bridgestone-brand Greatec R125 wide-base trailer radial, designed for low-rolling resistance and increased payload, is approved for use on U.S. Environmental Protection Agency SmartWay-certified equipment and is suited for fleets running California Air Resources Board-compliant vehicles.
Greatec R125 uses several irregular-wear-fighting proprietary technologies to facilitate long, even tread life, including Bridgestone's Equalizer Rib and Defense Groove designs that promote uniform rib wear for longer mileage.
The company said stress-relief sipes help absorb rib stresses for even wear, while tough sidewall protector ribs on both sides help fight curbing damage to protect the casing; should the protector rib on one side wear away, the tire can be flipped over for continued protection. The Greatec R125 uses casing-saving stone rejector platforms in each tread groove to help prevent trapped stones from pushing deeper into the tread grooves and piercing the belt layer, damaging the belts and exposing them to rust.
The R125 benefits from Bridge­stone's proprietary Waved Belt design that helps balance stiffness and resiliency to facilitate a strong, stable casing that, in turn, produces a stable footprint shape throughout the life of the tire. The T.I.P. (Turn-In Ply) design helps increase bead durability by removing the ply end from harm's way and wrapping it around the bead bundle to promote a stronger, more resilient bead.
Bridgestone Bandag Tire Solutions
Visit tpsdigital.com/info
Phillips Adds Push-to-Connect Composite Air Fittings
Phillips Industries announced it added a full line of compact, lightweight, high-performance Push-to-Connect Composite Air Fittings to its line of air and electrical connection products.
The fittings, which the company said are engineered for proper sealing even when the tubing cut is not straight, are available in union, tee and elbow configurations and sized to fit common tubing and pipe dimensions. The one-piece fittings are suited for emergency situations and require no special tools.
Phillips Industries
Visit tpsdigital.com/info
Minimizer Improves Tanker Fenders
Minimizer announced it improved its tanker fenders for added protection in harsh environments such as oil fields, farm fields and industrial work, all of which are subject to tough, messy roads with rocks, mud and other debris.
The fender now has a deeper lip that provides added control of water spray and rocks, and also now comes with the company's poly brackets that never need paint and are designed to soften road vibration and counter stress cracks common to metal brackets.
The fender is available with all of the company's optional finishes, including diamond plate, liquid platinum and a paintable version.
Spray Control Systems
Visit tpsdigital.com/info
Fontaine Intros Fifth Wheel With Infinite Adjustment
Fontaine Fifth Wheel introduced its new Fontaine Ultra NS which the company said is the first fifth wheel to offer infinite, automatic slack adjustment in order to provide a more comfortable ride and reduce component wear. The Fontaine Ultra NS is part of the company's new Ultra family of fifth wheels.
Fontaine said the new product features the next generation of Fontaine's patented No-Slack lock design. Slack, which is open space around the kingpin when the fifth wheel lock is engaged, causes many problems, including a jarring ride for the driver and increased inputs into the vehicle frame that can cause premature wear to truck components.
According to the announcement, Fontaine engineers replaced the jaw and wedge utilized by previous No-Slack locks with a cam and moveable jaw system. The cam "swings" the jaw into position behind the kingpin, where it is kept in place by constant spring pressure. That pressure, combined with various design elements, provides infinite slack adjustment for zero slack at all times.
"The lock on the Ultra NS fifth wheel also provides additional contact to the kingpin, helping to increase kingpin longevity," said Terry Mennon, vice president of sales and marketing for Fontaine. "The Ultra NS has an automatic secondary lock and a positive lock indicator that provides a quick visual signal to the driver that the lock is properly closed. Like all Fontaine fifth wheels, the Ultra NS is equipped with a safety trigger that prevents high hitching."
Fontaine Fifth Wheel
Visit tpsdigital.com/info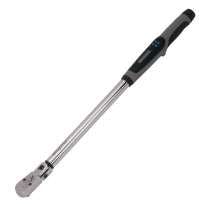 Snap-on Touts Electronic Torque Wrenches
Snap-on's electronic torque wrenches are designed to help take the guesswork out of how much torque to use. The tools have an audible alarm that alerts the user to an over-torque condition, a gyro chip that measures 360 degrees of angular rotation, an enhanced strain gauge design that translates beam movement to torque value and durable construction for use in harsh environments.
Snap-on Tools
Visit tpsdigital.com/info
Meritor WABCO Air Disc Brakes Available for Trailer Suspensions
Meritor WABCO Vehicle Control Systems announced the availability of its proprietary single-piston PAN 22 Series air disc brake on three Meritor trailer suspensions – the new Meritor Trailing Arm air suspension 23,000-lb. unit and RideSentry air-ride trailer suspension MPA 20 and 38/40,000-lb. models. The brake can be specified immediately.
The lightweight disc brakes package includes the new Meritor integrated weld on the axle's torque plate, an aluminum hub, flat-style rotor and axle ratings up to 23,000 lbs. An optimized pad size increases lining life to maximize vehicle uptime, while an integral molded friction pad impedes rust jacking.
"We continue to expand the availability of PAN 22," said Mark Melletat, director of Trailer Systems and field operations for Meritor WABCO. "Our reliable internal-sealed automatic adjuster lessens brake out-of-adjustments, along with minimal fade. This provides uniform stopping performance, which is especially important with the demands of today's highly congested roadways. It's a cost-effective and lightweight solution that is optimized for on-highway line haul axle ratings up to and including 23,000 pounds and ideal with 22.5-inch wheels."
The PAN 22 also features a design that results in fewer parts to service while maximizing braking torque performance. Melletat said the brake is suited for customers who want the outstanding stopping performance, directional stability and superior fade resistance of an air disc brake, but "at a life-cycle cost that adds value to trailers."
Meritor WABCO
Visit tpsdigital.com/info
Tracer Products Intros New Detection Kit
Tracer Products introduced its new TP-3900 Dye-Lite Coolant/Auto Body Dye for detecting various leaks in trucks and trailers.
Tracer said the TP-3900 fluorescent dye helps technicians quickly find leaks in radiators, hoses, water pumps and fittings by adding the dye to the cooling system and letting it circulate. The dye leaks where the coolant leaks and can be detected by technicians using a Tracerline or similar leak detection inspection lamp.
Tracer Products
Visit tpsdigital.com/info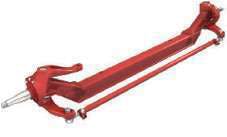 Hendrickson Expands Steertek Warranty
Hendrickson Truck Suspension Systems announced that its Steertek fabricated front steer axle now comes with a standard 10-year or 1-million-mile limited warranty. The limited warranty – which covers Steertek axles equipped on approved vehicles built after Jan. 1, 2010 – includes the axle beam, steering arm, knuckle assemblies and kingpins when used in Hendrickson-approved applications in the United States and Canada and within the proper guidelines of Steertek.
"Offering a 10-year, 1-million-mile standard limited warranty on Steertek shows our confidence in the durability of the product," said Sean Coleman, director of sales and marketing for Hendrickson Truck Systems Group. "This reinforces Hendrickson's continued commitment to making high-quality and durable products."
Steertek, available in capacities up to 14,600 pounds, is the platform for Hendrickson's line of front suspension solutions, including Airtek front air suspensions and Softek, an advanced lightweight front mechanical suspension featuring Monoleaf springs. Based on proprietary design and manufacturing technology, Steertek's fabricated design saves up to 30 pounds compared to traditional I-beam axles, Hendrickson said.
Steertek's rigid, fabricated box-shaped design resists twisting forces more effectively than traditional I-beam axles, which can help increase steer tire life. In addition, the patented two-piece knuckle assembly simplifies kingpin bushing serviceability, while the integrated steering arm and tie rod attachments increase strength and further reduce weight, providing greater durability and reduced maintenance costs.
Hendrickson
Visit tpsdigital.com/info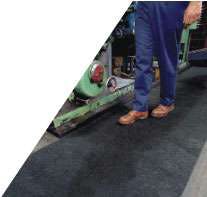 New Pig's High-traffic Mat
New Pig Corporation introduced the Pig Traffic Mat Rug which it said is "highly durable…to keep extreme-traffic walkways dry and safe, especially in areas prone to overspray and drips."
The new flame-resistant mat is made of 100 percent polypropylene, is heat-fused and needle-punched for greater durability, allowing it to withstand even heavy forklift traffic without balling or fraying.
It is available in 300-foot long by 36-foot wide rolls. New Pig said the rug absorbs and retains oils, coolants, solvents and water. Additionally, its dark gray color hides grime so that it can stay on the job longer. The company said it can be incinerated after use to reduce waste or assist in fuels blending.
New Pig
Visit tpsdigital.com/info
Webb Transit Introduces W43 Friction, Super Kits
Webb Transit said its W43 friction for the heavy-duty transit and coach markets was developed to provide both exceptional performance and value with high durability, low brake drum wear and quiet operation. The asbestos-free formulation – a blend of multiple cross-linked fibers coupled with a high-temperature-capability resin – is designed to restore OE performance when used with Webb Transit brake drums and OE or OE-equivalent replacement air and foundation brake system parts.
The FMVSS121-certified friction, a result of extensive dynamometer and transit bus testing, is available as axle sets, on new lined brake shoes and in Webb Transit's Super Kits, complete axle kits consisting of two Webb brake drums, four new lined brake shoes and two hardware kits. Super Kits are designed to eliminate additional machining, increase safety and stopping power, reduce or eliminate brake noise, provide excellent durability, eliminate procurement of individual foundation brake parts and eliminate brake shoe processing.
Webb Wheel
Visit tpsdigital.com/info
Dometic Offers Reman Auxiliary A/C Systems
Dometic, a provider of mobile HVAC and refrigeration technology, announced the availability of remanufactured auxiliary HVAC units for truck sleepers. The Dometic HVAC systems operate on 115-volt AC power and work with most types of auxiliary power units as well as shorepower hookups. The combination cooling-heating units provide 14,000 Btu/hr of cooling and 2.5 kW of heating capacity.
"These products have been totally overhauled and thoroughly tested to ensure years of reliable performance under the most rigorous over-the-road conditions," said Lou Siegel, Dometic spokesman. "They come with a one-year warranty, backed by our nationwide service network."
Siegel said Dometic has more than 50 years of experience in manufacturing rugged air conditioning systems for difficult environments.
Dometic
Visit tpsdigital.com/info