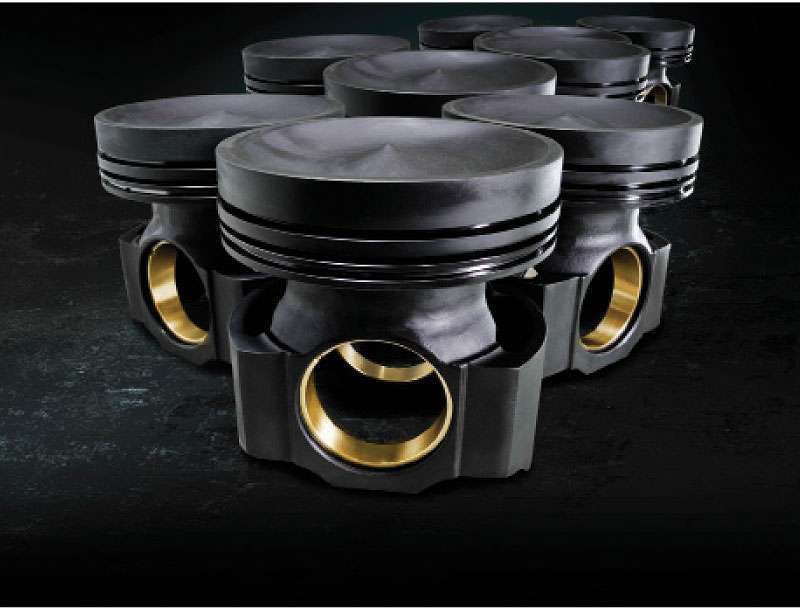 IPD Intros One-piece Steel Pistons for Cat 3500 Engines
IPD announced a new one-piece steel piston for Caterpillar 3500 engines. According to the company, the piston has design enhancements that include a patent pending one-piece oil gallery retention plate.
IPD said the design limits plate movement and secures the oil gallery retention plate firmly in place, helping prevent extreme thermal loading.
Additionally, according to the announcement, the new pistons will use IPD's patent-pending technology for manufacturing one-piece steel pistons from a high-strength alloy and heat-treated steel casting.
"Clearly, IPD's commitment to innovation is showcased in these new product launches. Not only are we the first in the aftermarket industry to offer one-piece steel pistons but we have significantly improved the product design with our one-piece dam plate," said Steve Scott, IPD's director of Product Development. "This unique and original design can eliminate incidences where the plates can work themselves loose, preventing catastrophic damage."
IPD said it has increased production capacity at its Torrance, Calif., manufacturing facility to support the new 3500 series steel pistons due to growing customer demand for quality steel pistons in the aftermarket.
"The evolution in diesel piston design from the traditional aluminum pistons to steel pistons played an influential role in IPD dedicating resources for this new product offering," said Bob Straw, IPD's vice president of sales and marketing. "Steel piston technology has been widely recognized to promote significant gains in performance and durability."
IPD
Visit tpsdigital.com/info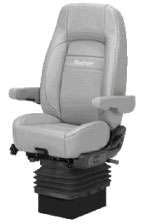 Accuride's New Bostrom Pro Ride Seat
Accuride Corporation announced the availability of its new Bostrom Pro Ride seat that the company said is designed for "best in class comfort."
"We're extremely excited to release the new Bostrom Pro Ride. This seat is loaded with enhancements that provide drivers with solutions for increased comfort, durability, serviceability and style," said Rick Schomer, Accuride's senior vice president of Marketing and Sales. "The Bostrom Pro Ride was designed to address drivers' needs as identified during extensive ergonomic testing and supported by subsequent consumer comfort evaluations. We engineered an entirely new seat to include enhancements ranging from the basic frame and suspension, selection of fabric and length of the armrest, to the positioning and types of controls; demonstrating we understand every feature of a seat that impacts a driver's comfort."
Among the new foam design features are greater density and contoured styling.
"We conducted pressure-point mapping which helped us identify areas to increase both lower- and mid-back support so that the pressure on a driver's shoulders would be decreased," added Schomer. "Through the mapping we were also able to confirm that the new lower and wider suspension decreases high pressure points on the seat bottom while offering the same mounting pattern and hip point our customers expect from the current suspension. At the same time, the suspension provides greater stability with the increased footprint."
The Bostrom Pro Ride is available in three option levels, each offering unique styling to ensure that there is a seat to meet each individual driver's needs, according to the announcement. Options include a new Titan cloth, air lumbar, bellows, swivel and dual armrests with an improved larger adjustment wheel.
Accuride Corporation
Visit tpsdigital.com/info

TRP Debuts CleanBlue DEF
TRP Aftermarket Parts' CleanBlue diesel exhaust fluid can be used in all diesel-powered vehicles that use selective catalytic reduction technology to reduce nitrogen oxide (NOx) emissions.
CleanBlue – formulated to be clear, nontoxic, nonpolluting, nonhazardous and nonflammable – is available at TRP authorized retailers, including Kenworth and Peterbilt dealerships, in 2½-gallon jugs, 55-gallon drums and large 275- and 300-gallon totes.
TRP Aftermarket Parts
Visit tpsdigital.com/info
Chemique Adhesives Introduces Saba Sealtack Range
Chemique Adhesives broadened its product lineup with the addition of the Saba Sealtack range of adhesives to the company's American offerings. The range – Sealtack 700, Sealtack 750 and Sealtack 780 – serves primarily for bonding and sealing of trucks, coachwork, containers, RVs and buses.
According to the company, the new adhesives are environmentally friendly as they are free of solvents, isocyanates and silicones. Additionally, the entire Sealtack range offers primerless adhesion to many surfaces, fast drying, minimal shrinkage, no blistering, UV stability and high temperature resistance. Also, the adhesives are almost odorless and can be painted wet-on-wet (if possible after skin forming) with one- and two-component finishing paint systems.
"In coachwork, adhesive joints provide more freedom in design (without riveted assemblies and screw joints), improved constructive rigidity and strongly improved acoustic and vibration absorption," said Eric Burrill, Chemique Adhesives' North American Operations Manager. "As strength, safety, reliability and efficiency have become increasingly important in the transport industry, Chemique has developed adhesives that are able to meet these high standards. The Saba Sealtack range complements Chemique's other environmentally friendly adhesive used in the manufacture of transportation vehicles, Solfre2."
Chemique Adhesives
Visit tpsdigital.com/info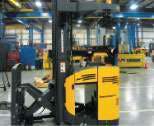 Mitsubishi-produced Jungheinrich Forklifts Now Available
The first forklifts manufactured by Mitsubishi Caterpillar Forklift America for Jungheinrich AG are now ready for distribution and include 3,000 to 5,500 lb. stand-up end control lift trucks and 2,500 to 4,500 lb. reach trucks.
Per the terms of the 2009 manufacturing and distribution agreement, which went into effect this year, Jungheinrich will design products through its newly established Design Center Houston located on the MCFA campus, with products being distributed exclusively through MCFA's North American dealer network.
"It's exciting to see the results of the agreement materializing," said Jeff Rufener, vice president of marketing, MCFA. "Having the first new products roll off the line makes us very optimistic about the future."
According to the announcement, other models are expected in 2011.
Mitsubishi Caterpillar Forklift America
Visit tpsdigital.com/info
Truck-Lite Touts Flex-Lite LED Line
Truck-Lite's Flex-Lite line of LED lighting products is designed to allow for flexible mounting without the need for additional accessories and with versatile wire options. The line features two robust thermo­plastic housing designs, both allowing for a flexible mounting surface to be molded directly around the lens.
The design of the "winged" version allows for a wide array of mounting options and is suited for the corner radius on trailer and body applications. The "non-winged" version is suited for the aftermarket because of its versatility to immediately replace failed lamps without tools or additional parts and its ability to cover holes left behind from initial installation.
The lamps are affixed to the surface with a heavy-duty peel-and-stick adhesive that's designed to hold up to weather, impact and heat entrapment while maintaining a strong hold; the backing has been tested against pressure washing and other elements. Available with both a rear-exit and side-exit wiring housing style, the lamps allow for both installation without a wiring feed hole – for installation against any flat surface – and a clean installation with power and ground wires feeding into the vehicle or trailer body.
The small low-profile design has less than a ½-inch protrusion from the vehicle, making it a suitable option along narrow mounting rails, above loading doors or wherever space is at a premium.
Truck-Lite Co.
Visit tpsdigital.com/info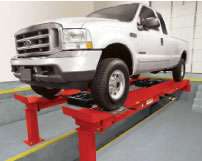 Hunter Debuts High-volume Pit Racks
Hunter's P441 and P444 pit racks for high-volume shops are designed to provide a comfortable work height and plenty of space around and under the vehicle to help make service fast and easy. The drive-on rack design saves time over raising and lowering a lift and makes either model a suitable alternative for shops with low-ceiling height. Both the P441 and P444 feature an 18,000-pound capacity and 22.5-inch runway width to handle a wide range of vehicles.
The P441 provides maximum wheelbase limits of 177 inches (two-wheel alignment) and 158 inches (four-wheel alignment). The longer P444 provides maximum wheelbase limits of 211 inches (two-wheel alignment) and 158 inches (four-wheel alignment). Each model is available with 36-inch, 30-inch or 24-inch pedestals, depending on desired pit depth. An optional center pit also is available.
The P441 and P444 further improve service efficiency with optional time-saving features. Select models include Hunter's proprietary Fully Integrated Alignment (FIA) console, PowerSlide system and Inflation Station feature. The FIA console is designed to allow Hunter's WinAlign aligners to communicate directly with the rack to operate the PowerSlide system automatically and to set tire pressure limits for Inflation Station.
PowerSlide is designed to lock and unlock turn plates and slip plates automatically as needed during an alignment, eliminating multiple trips around the vehicle and the hassle of removing and replacing lock pins. Inflation Station is designed to set tire pressure automatically for each wheel simultaneously with air hose reels integrated into the rack runways at each wheel position; the tire pressure can be preset at the rack console or the aligner.
Hunter Engineering Company
Visit tpsdigital.com/info