Advanced component designs properly paired to the vehicle application, bolstered by regular inspections, play vital roles in ride quality and suspension life.
It can be difficult to think of suspension systems as examples of "refined" engineering. After all, robust spans of metal, axles and shocks are hardly delicate pieces of hardware.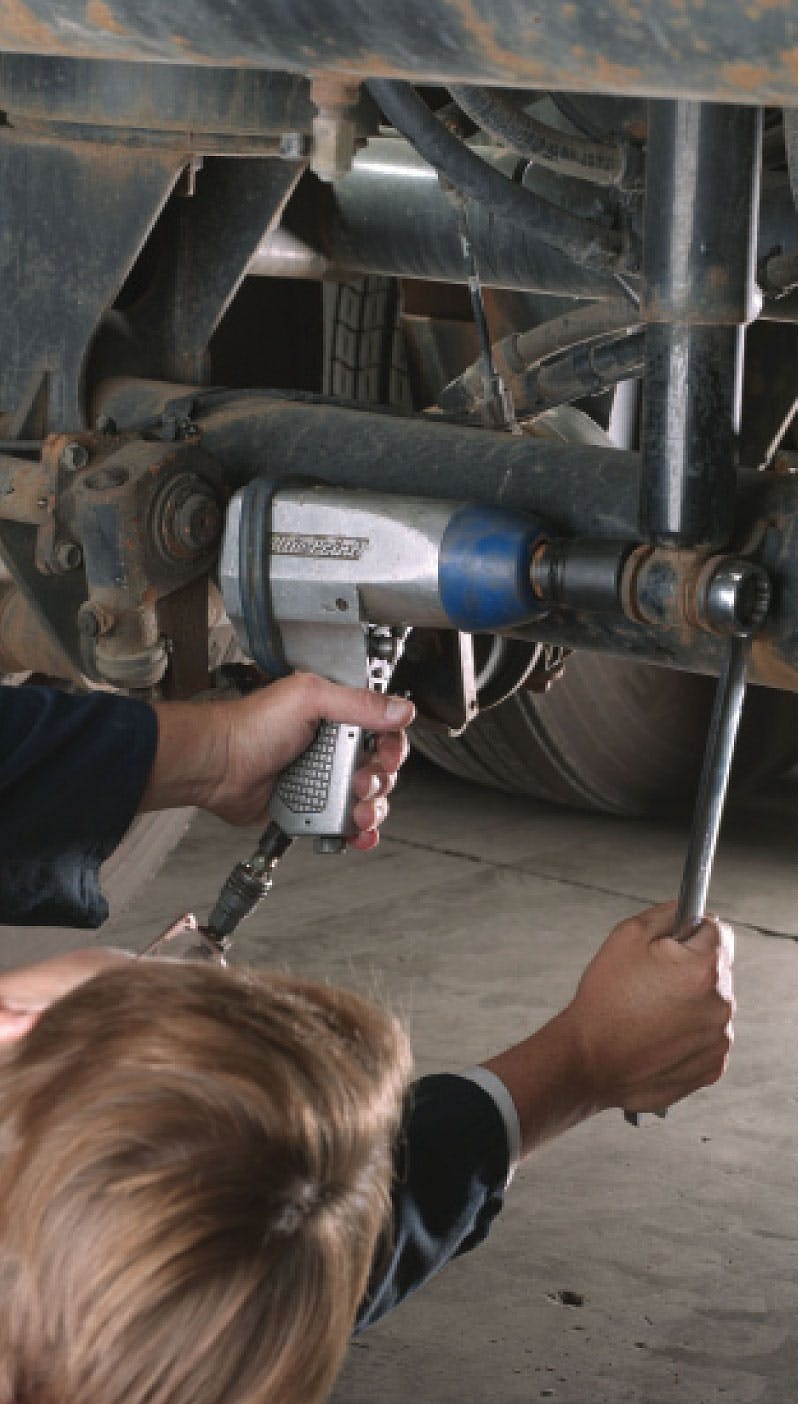 But tools like Finite Element Analysis – a computer-generated modeling process to identify areas of high stress – have made it possible for engineers to take weight out of the suspension while increasing durability and better meeting application-specific requirements.
Axle weights alone have been reduced thanks to the introduction of refined large-diameter designs. "You hear 'thin wall axle' and you think that it's cheap," admits Jim Rushe, program manager for on-highway products, Hendrickson trailer suspension systems. A traditional axle has a 5-inch diameter and nominal 5⁄8-inch wall, and the designs with a 5-3⁄4-inch diameter allow for material as thin as 3⁄10 inch, but the end result is actually a stiffer product.
The modern design tools have allowed engineers to think outside of the box, and a clear example of this involves new slide boxes, adds Mike Lynch, ArvinMeritor's product manager, North America trailer systems. "These designs take advantage of high-strength steels and optimized design structures that have advanced slide boxes beyond the historical 'ladder-style' design. Today's modern slider is structurally more durable while providing lighter weight." Meanwhile, the added strength helps to protect other components such as the door seals and hinges on refrigerated trailer units.
The changes have not ended there.
"Probably the main thing to impact a maintenance person is you're seeing more integration of the components. So you're not replacing just an axle. You're seeing more of a case of axle and beam or suspension arm assemblies," adds Rushe. On their own these changes have helped to limit many traditional installation challenges. For example, an integrated beam and axle already are square and parallel, and that can be difficult to accomplish in the field without some sort of related fixture.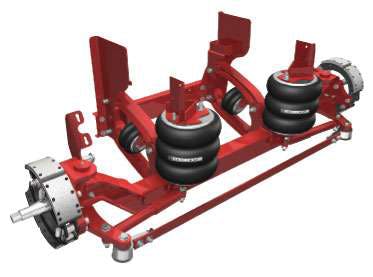 But those spec'ing suspension systems of any sort still need to be honest about the related requirements. One issue that often is overlooked is the difference between loads that the system will need to support on a highway and those that exist off the road, Rushe says. An axle may have a capacity of 46,000 pounds, but the loads can increase to 60,000 pounds or more once other axles are lifted and the equipment rumbles through a dump or fill site.
"That weight goes someplace," adds Bob Borson, technical support manager for Hendrickson's truck suspension group. "Those are the kinds of problems that fester after a year-and-a-half, two years, three years in service. It can start off by fasteners loosening and not staying tight or finding things at an early age." The softer components, such as rubber blocks or bushings, tend to show the problems first. Air spring bottoms may fatigue and break as well. "Each suspension will develop its own pattern," he says.
This makes it particularly important for buyers to pay attention to "creep ratings," which account for the stresses that can take place during 10 percent of the truck's operating time at speeds of less than 5 mph.
Any steps to shortchange the required support will lead to trouble down the road.
INSPECTION PROCEDURES
As much as suspension systems have evolved, the maintenance and inspection procedures for the related components remain a largely visual process.
"In general, (annual) inspections should include looking for broken or bent components, loose or missing fasteners, key fastener torques, and trailer and suspension alignment. Each of those inspection items have significant impact on tire wear and ride quality. For example, loose fasteners can cause the suspension to go out of alignment and create increased tire wear. Loose fasteners, if not addressed, will also increase structural wear," says Lynch.
Indeed, larger issues can often be avoided if someone spots the rust weeping out from behind a fastener that otherwise appears to be holding everything tight.
When it comes to vocational applications, maintenance teams will need to pay particular attention to problems like this. "They settle in," Borson explains of the fasteners. That's why, in addition to being part of a thorough Pre-Delivery Inspection (PDI) when a truck is first put into service, torques should be rechecked after 1,000 to 2,000 miles of service.
"If you get the torque right, the fastener will work as designed," he notes, referring to the recommended spec's that will be posted by the manufacturer of every suspension system.
Meanwhile, an air-ride suspension's ride height deserves some attention of its own because of the damage that can occur if an improper adjustment is made. The heights may be altered with the best possible intentions – and all it involves is a quick adjustment to the length of the linkage on the height control valve – but an incorrect setting can damage air springs, shock absorbers and, in some cases, even the frame itself. "You'll get much more dynamic input into the frame," Rushe explains.
Some of the earliest damage connected to such a change can emerge at the height control bracket itself. "They're not particularly heavy-duty because their function does not require a lot of strength," he adds.
Still, some of the choices in ride heights might be made because of confusion about the related measurements. While the measurement from the bottom of a mounting surface to the center of the axle may be pretty straightforward on a trailer, trucks present a different challenge. "Some tell you to measure the height of the air spring, or to another point on the suspension," Rushe says, referring to the importance of following each manufacturer's recommendation. There also needs to be some care to ensure there is no miscommunication between the person ordering a trailer and the dealership, which will incorporate a measurement for a specific floor height.
"There are some ranges you can operate in. It doesn't have to be dead to nuts. In some cases you can measure an inch taller," he says.
SHOCKS WITHOUT SURPRISES
Shocks play their own role in dampening the oscillation of a suspension, helping to limit tire wear, excess vibration or even the premature wear of electrical components. As such, they deserve some focused inspections. In this case, inspections will largely involve watching for signs of leaking fluid, although there is a difference between the problematic losses and a gentle "mist."
"There is a seal against the rod and they do wind up heating up, and some of the oil escapes. That is perfectly normal," Rushe says of the misting. A steady trickle of oil running down from the upper seal is something altogether different. That problem will be spotted when the shock is fully extended, making it possible to look as far underneath the dust cover or tube as possible.
Another step in the inspection will be as simple as touching the side of a cylinder after the vehicle has traveled about 10 or 15 minutes down the road. If it is warm to the touch, the shock is still performing its dampening function.
Once a failed shock is discovered, it should be replaced right away. Without the related support, air springs can begin to overextend and pull apart, especially if the driver begins to back up in an "aggressive" way, Rushe says. "You can suddenly have a suspension facing forward instead of rearward."
As simple as the related shock installations appear to be, technicians will need to apply the correct torque to the pivot fasteners. In the case of lower shocks, most of Hendrickson's products include a shear bolt, with a head that will shear off once the fastener reaches the required torque of 210 to 235 ft-lb.
The choice of other mounting components will make a difference of their own.
"The washers we have, it's a smaller ID [inner diameter] because we're trying to use it as part of that whole clamping," Rushe explains. And soft washers will also sacrifice a tight fit over time.
"Not all shocks are the same," Lynch adds. "Replacing with a different shock, there could be a reduction in suspension performance and could potentially cause structural damage to the suspension mounting points and shock."
AIR WAYS
When it comes to air springs, failures are more likely to occur because of outright damage rather than general wear.
"It's flexing down over a piston," Rushe explains, "but it is a piston that's rubber-friendly."
The air springs' flex member should be regularly inspected for cuts and abrasions, and the air spring will need to be replaced immediately if it is cut or damaged, ArvinMeritor says. Even simple signs of scuffing or abrasions will require securing items such as air hoses that are making contact with the rubber.
Still, the replacement of air springs can be relatively simple. It involves airing up the trailer, placing jack stands under the trailer, exhausting the suspension and taking off the air line at each air spring. The exhausting of the air will involve unseating the valve at the bottom of the air tank, which will remove the air-pressure supply, according to ArvinMeritor.
Then three or four bolts are removed and the old spring is pulled away. "It's kind of foolproof. You can't put them in backwards," Rushe says.
Once the new spring is attached, it's a matter of connecting the supply line, seating the valve at the bottom of the air tank and pressurizing the supply side of the air system to check for leaks.
The most common installation problems tend to involve the air fittings, which should only be a prescribed amount beyond finger tight. "An air fitting on an air spring is a tube, a hollow threaded rod…You can torque that down too far and start distorting the tube," Rushe adds.
Meanwhile, a regular inspection of air-suspension components will include a look at hanger assemblies, trailing arm and axle subassemblies, shock mounts, connections between the axle and trailing arm, interference from brake cams or chambers, the bracing of hanger assemblies, and pivot connections, according to ArvinMeritor. And air lines should be inspected at the air spring upper bead plate, piston and mounting studs.
A SYSTEMATIC APPROACH
As important as the maintenance of individual components can be, technicians should also be careful to look for the root cause of the different failures that can occur.
"We see a lot of shops trying to repair as little as possible and sometimes not going the extra step," Borson says. Perhaps a U-bolt came loose and parts began to move, eventually leading to a broken leaf spring. A technician may change the support member but fail to recognize that the damage rounded off the axle seats as well. "Sometimes it's a lack of looking at the mating parts," he adds.
A technician who simply re-tightens a pivot connection may also be overlooking the source of the problem. Instead, a better inspection at the sign of some movement will involve taking out the pivot bolt, dropping down the suspension and looking for signs of wear at the point where the bushing interfaces with the frame bracket, Rushe suggests.
And like any other mechanical repairs, some extra protection in the form of a lubricant wouldn't hurt during any component replacement.
"Grease is cheap," Borson says, advocating regular applications of NLGI 2 Extreme Pressure lubricant everywhere from steering knuckles to spring eye bushings. "And grease it until you see clean grease coming out."
Just keep in mind that there are different lubricants to be used. Bushings, for example, tend to be shipped with a package of the proper grease.
Like anything, the proper repairs involve following manufacturer recommendations. That will lead to the smoothest ride of all. n