Proper lubrication is vital to protecting driveline components such as universal joints. Just don't forget the inspections that should come with it.
Universal joint bearings face more than their fair share of challenges these days, and Jim Holman points to rising engine horsepower as an example. "It's not that they are fracturing the driveshaft or twisting the driveshaft," says Dana's chief engineer of heavy-duty applications. "They [the bearings] are purely wearing out."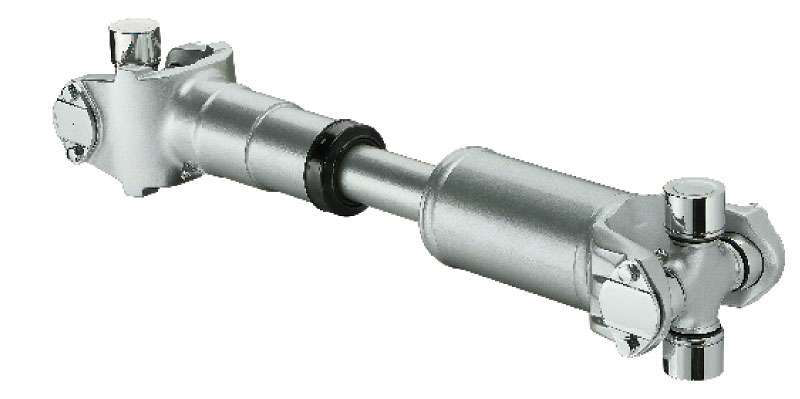 Other factors adding to the stress include the shock loads that can come with spinning wheels on slippery road surfaces, or drivers who slam into loading docks under power. Driveline components simply need all the support they can get.
When manufacturers are asked about related maintenance secrets, the discussions inevitably turn to the importance of lubrication – the formula that is selected, the way it is applied and the frequency of related service intervals. When it comes to improving the lifespan of the individual components, the humble zerk fitting is a technician's friend.
The best lubrication for a U-joint will come in the form of an NLGI 1 or 2 extreme pressure grease with a lithium base, notes Leslie Kern, SKF's product development manager-heavy duty. And she stresses that the recommended frequency of the grease applications needs to be maintained. "The most common cause of a universal joint failure," she says, "[is] they've gone beyond their lubrication cycle, or contaminants have gotten into the bearings and caused them to run hot and dissipate the lubricant."
Most line-haul operations will require the grease to be applied every one or two months, or 20,000 to 30,000 miles, Kern says. Specific vocations ultimately will determine their own needs. But there is a challenge in the fact that recommended drivetrain lubrication intervals may not align with those set up for the engine itself, and that has led some truck owners to wait a little longer than they should.
"It makes the type of lube you use more of an issue because you're taxing it more, working it harder," says Holman. "There's just vast differences in the greases that are out there. There's different properties." A grease used to combat water washout around a shackle bushing, for example, may not meet the needs of a U-joint. "We're still looking at selecting greases that will perform in all the applications so they can still use the one-barrel approach."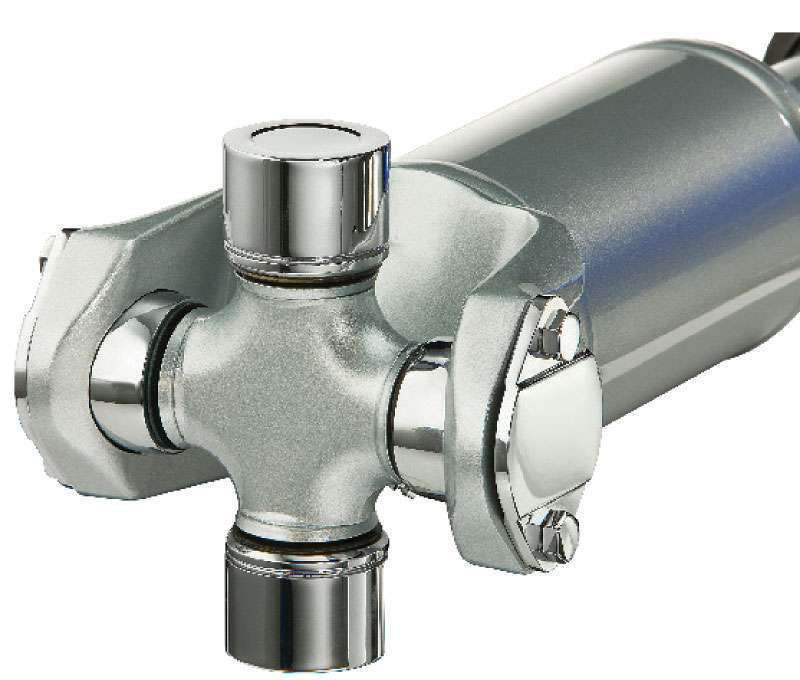 As important as the frequency of a grease application can be, service technicians also need to be careful to ensure that the lubricant is properly applied to the U-joint, ensuring that grease purges from all four locations.
"If [the technician] finds himself in a position where he's getting a lot of purging in one or two particular locations and not in the others, it's a good time to look at it. He could have a damaged seal," suggests Bob Ostrander, ArvinMeritor's chief engineer-drivelines.
Bob Crepas, a Dana service specialist, also stresses the importance of ensuring that contaminants are completely purged, and that means continuing an application until all of the dark grease around the needle bearings has been pushed out, and the fresh supply of grease begins to emerge. He prefers the exclusive use of NLGI 2 grease, suggesting that an NLGI 1 offering could be too thin. Kern, meanwhile, suggests loosening bearing caps before applying the grease, ensuring that everything flows as easily as possible.
EVOLUTION AND LUBRICATION
Today's U-joints have changed little in the last 20 years, admits Lou Fivaz, director of cataloging and product development – driveline products, for Federal-Mogul's Precision Brand. "It's a mature line. There's not a whole lot of new technology." Most advances can be found in the seals that provide a barrier to contaminants, and swing diameters have become more compact to reduce weight. The U-joints, instead of being wider with smaller bearings, are simply denser and more stout than the models of the past.
When looking at the innovations that have made the biggest change in a shop, however, he points to the half-round end-yoke designs that allow quicker, easier disconnection of the driveshaft from the vehicle.
"It takes some amount of time to pull that universal joint from the yoke," Kern agrees, referring to the importance of a two-piece option. "The whole point in that is quicker service."
There are other factors that can distinguish one U-joint from the next. Precision U-joint designs from Federal-Mogul, for example, incorporate an anti-drainback valve into the thrust washer, ensuring lubricant is retained for every bearing, even when the U-joint is positioned straight up and down. "The anti-drainback feature keeps a percent of the lubricant right up there in the area of the trunion," Fivaz explains. "This helps absorb axial loads and prevents galling."
Looking further along the driveline, many product advances have focused on extending the required lubrication intervals as far as possible.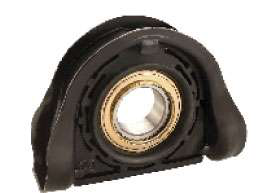 Two major product developments in drivelines have come in the form of extended lubrication options and permanently lubricated drivelines, notes Ostrander. The lubrication intervals on typical line-haul applications were set round 50,000 miles, while extended lubrication options such as the Meritor XML were extended to 100,000 miles. One thing supporting the longer intervals has been the introduction of an e-coated metal shroud that protects against salt and other environmental contaminants. "It ensures the seal is firmly in place on the slip yoke," he explains. "You don't run the risk of airborne contaminants in the form of water, sand, salt, corrosive type materials entering into that slip section." It overcomes a challenge that occurs when the lips on a seal want to lift away from the power of centrifugal force created by a spinning shaft.
In line-haul applications, permanently lubed RPL drivelines have even been known to last one million miles. "It takes the worry of whether or not somebody did lubricate it, did they lubricate it with the right grease, those types of things," says Ostrander.
PHYSICAL INSPECTIONS
Still, there are maintenance needs that need to be addressed with any of these components. "It's not maintenance free," Ostrander stresses. Periodic checks will involve rotating the driveshaft back and forth to find signs of looseness, moving the slip section to inspect for signs of damage, or looking for any signs of damage caused by debris.
Visual inspections are largely dedicated to uncovering a dented tube or lost balance weight. "Those are the types of [problems] that can propagate into other areas," Ostrander says. Once out of balance, for example, the driveline begins to place a greater load on input bearings, leading to vibration through the transmission and damaged synchronizer pins.
A visual inspection that identifies any signs of leaking oil is another cause for concern. "You can't lower your [lubrication] level unless you have a leak. It doesn't evaporate. It doesn't dissipate," Crepas says.
And Holman refers to the importance of checking the condition of the rubber around the isolator for the center bearing.
Ultimately, it is important to inspect drivelines from one end to the other.
"The drivetrain is a system, and we have to think of it holistically," Ostrander says. A problem with a U-joint, for example, affects everything attached to it. Any related vibrations can have an impact on everything from the transmission to seals at the axle.
When driveline angles are altered by something as simple as the adjustment of an air-ride suspension, damaging torsional vibrations can cause some significant damage as well. "As you increase the angularity of the driveline, you're shortening the life," Ostrander explains. "You're making that U-joint, that kit, work harder."
Of course, one of the most frustrating experiences for a technician can involve searches for the specific source of noise or vibrations that a driver can feel through the steering wheel or seat. That is particularly true today, when the industry standards for the trifecta of noise, vibration and harshness (NVH) have been set at half the levels that were acceptable just a few years ago.
The noise that appears to be coming from a driveline could be linked to a shock absorber, king pin or ball joint, Kern notes. Even low tire pressures or wearing motor mounts could be a sign of the problem. "You also could get vibration because maybe the input and output yokes are loose."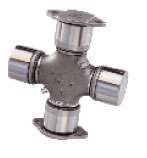 Vibrations connected to poorly balanced wheels might even be more of an issue today than ever. "There's a lot of cost-cutting, and a lot of truck manufacturers are looking for ways to save money," Ostrander explains, noting how some suppliers are not balancing wheels after the tires are installed. "There are chassis rolling off the line today that are not having [the wheels] balanced."
So how does a technician track down the specific source of the problem?
"Vibration diagnostics in a truck is almost a black art," Crepas admits, but tools such as an Eaton Driveline Vibration Analyzer use sensors to help maintenance teams track down any culprit, whether it is a U-joint, engine harmonics or a problem wheel end.
Sometimes the biggest source of help can emerge when someone tells you where to look. n