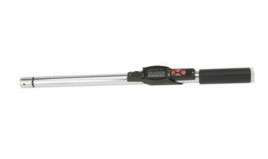 Interchangable Head Torque Wrenches
Stanley Proto has introduced nine new interchangable head torque wrenches and 125 head attachments. The wrenches consist of three electronic, two micrometerand four pre-set versions.
They come in ¼-, 3/8-, and ½-in. drives, with torque values from 25 in-lbs to 250 ft-lbs. The attachments include ratcheting, open-end and box heads, in metric and inch sizes.
The new wrenches allow users to remove the ratchet head and replace it with an open end or box head, whose narrower profile can fit into tighter spaces, according to the company.
The new wrenches also can change heads without having to re-calculate torque values. Each attachment also is marked with a recommended maximum torque value, to prevent over-torquing of fasteners.
Open ends are angled to 15 degrees. Ratcheting heads combine a low profile with a 15 degreee arc swing and a reversing lever design. The 24-tooth configuration fits 4-, 6- and 12-point fasteners. Box heads feature the Proto Torque Plus Design that engages the fastener flats, not the corners, and is countersunk on both sides. The 12-point box end is indexed to 7.5 degrees to help keep the shank clear of obstructions.
Stanley Proto
Visit tpsdigital.com/info
Parker Chelsea has introduced the new 892 series PTO, designed to make hydraulic pump installation simpler in oil field exploration and maintenance trucks.
According to Parker, the 892 series provides maximum clearance for 4700 series transmissions and includes a wet spline system that lubricates the mating PTO and pump shafts. The wet spline system is said to increase the life of these components by seven to 10 times over a dry mating connection.
The 892 series also features six speed ratios, eight output types and six shift options.
Parker Chelsea
Visit tpsdigital.com/info
Phillips Industries has added its Clear Vu and Sta-Dry technologies to the new Window Crimp & Seal connector product. The product is designed to provide optimal visual assurance that wires are sealed and crimped properly, and that corrosion build-up is being prevented.
According to Phillips, standard connectors do not allow an installer to see the wire, which if stripped too short or not fully seated properly can result in poor terminations. Phillips claims to have solved those problems with Clear Vu adhesive-lined tubing that allows for easy see-through inspection and guarantees a waterproof seal to prevent corrosion.
Color-coded stripes identify wire gauge size and also guide the installer to the proper crimp position in the center of the barrel.
Phillips Industries
Visit tpsdigital.com/info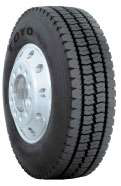 SmartWay Verified Tire Introduced
Toyo Tires has introduced the new M657 on-highway drive axle position tire for commercial vehicles. This new tire is a U.S. EPA SmartWay verified tire and is designed for long haul, highway applications while reducing greenhouse gas emissions.
According to Toyo, the M657 was developed using its e-balance technology that includes a stiffer belt package, stiffer bead construction and optimization through simulation technology. The company claims this technology improves tire life, endurance, irregular wear resistance as well as fuel consumption.
The M657 is suitable for single and twin drive-axle applications and features a 28/32 in. tread depth. Inside the M657 is a high-tensile rust and fatigue resistant body ply cord. The G-rated M657 is available in four sizes: 11R22.5, 295/75R22.5, 11R24.5 and 285/75R24.5.
Toyo Tires
Visit tpsdigital.com/info
Automated-Manual Transmission For M2 Trucks
Freightliner Trucks has introduced its AMT3 automated-manual transmission for Business Class M2 vehicles. The new transmission technology combines the design principles of a manual transmission with electronics to form an automated two-pedal shift system designed to equalize driver performance and improve fuel economy.
The Freightliner AMT3 eliminates the torque converter and instead couples the engine to the transmission with an hydraulically actuated clutch, resulting in minimal torque interrupt during acceleration and shifting, while providing constant lock-up, the company says.
In addition, clutch control and gear shifts are managed by the transmission control unit. According to Freightliner, TCU's intelligent shift logic is designed to evaluate road, grade and load conditions to perform shifts at optimal engine RPMs, resulting in fast and smooth shifting and fuel savings.
Freightliner Trucks
Visit tpsdigital.com/info

Refractometer For Diesel Engines
SPX Service Solutions has released the new 5025 refractometer to meet EPA nitrogen oxide (NOx) standards for diesel engines.
The refractometer is a portable, precision, optical instrument used for measuring the DEF concentration, the company says. When a liquid sample is placed on the prism, the light passing through it is bent. The more concentrated the liquid, the more the light will bend.
SPX says the refractometer contains a reticle, or scale, that is enlarged through the eyepiece to measure this light; and the values on the scale have been established to evaluate the DEF condition.
The kit includes the refractometer, a dropper, a lens wipe cloth, instructions and a quick reference guide. It also includes a screwdriver and a case.
SPX Service Solutions
Visit tpsdigital.com/info
Tracer Products has introduced the Tracerline Marksman ultrasonic diagnostic tool, an instrument that Tracer claims converts and amplifies inaudible ultrasonic sound into audible "natural" sound.
According to Tracer, the Marksman can hear sounds that signify problems such as air brake leaks, gear and bearing wear, as well as vacuum, EVAP system, exhaust refrigerant and passenger compartment leaks.
The Marksman uses a two-tiered process to ensure accurate diagnosis. First, Tracer says the receiver unit converts inaudible sound into audible sound using a process known as heterodyning. Then, the receiver's sound signal technology fine-tunes the audible sound into the natural sound emitted by the defect itself. A 10-bar LED display indicates the intensity of incoming signals from the problem source to ensure error-free diagnosis, according to the company.
The kit comes with a receiver, full-sized headphones, two anodized probes and an ultrasonic emitter. Standard 9-volt alkaline batteries are included for both the receiver and the emitter. All components are packed in a storage case with foam insert.
Tracer Products
Visit tpsdigital.com/info
Snap-on has created a new Clear Coat Series, which it says is the highest shine finish ever created for tool storage. Clear Coat is an additional top layer that adds depth and a mirror-like gloss over select colors to create a look that is said to be similar to the finest automotive finishes.
Snap-On
Visit tpsdigital.com/info
PIAA says it has advanced halogen bulb design with the introduction of its Night-Tech halogen bulb series.
According to the company, the Night-Tech bulbs feature several advancements in performance, durability and manufacturing. Night-Tech technology combines a higher proportion of inert gases with a new filament material, which is said to create a halogen bulb that delivers up to 90 percent more light than a conventional halogen bulb and a 50 percent longer life span.
In addition, Night-Tech's new combination of gases, filament material and glass coatings creates a color temperature in the 3600 Kelvin range — a light output PIAA says is whiter than standard bulbs — yet retains critical DOT/SAE approval. The company says the bulb also delivers a range of up to 35 meters longer than conventional halogen bulbs.
Night-Tech bulbs are available in several formats, including H1, H3, H4, H7 and H11. Each 12 volt-bulb is 55 watts. The H4 Night-Tech is rated at 12 volts and 60/55 watts.
PIAA
Visit tpsdigital.com/info

Deep-tread Drive Tire Unveiled
Goodyear introduced its G572 LHD drive tire with Fuel Max Technology, which features 30/32nds of tread. The tire is SmartWay-verified.
The G572 LHD features Goodyear's exclusive TredLock Technology, which interlocks microgrooves to stabilize the tread for enhanced tread life while promoting even wear, the company says.
The G572 LHD's belt package features four ultra-tensile steel belts to reinforce the tread while giving the tire a solid foundation for retreading.
It comes in four sizes: 11R22.5 and 11R24.5 (in G and H load ratings); and 295/75R22.5, and 285/75R24.5 — both in G load ratings.
Goodyear
Visit tpsdigital.com/info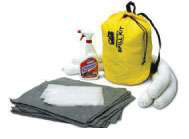 Clean-Up Kit For Hazardous Spills
The new Oil Eater Transportation Spill Kit is an all-in-one emergency clean-up system for hazardous chemical spills that the company says helps to comply with DOT requirements.
The system comes in a water-resistant storage bag that fits inside the vehicle.
It includes everything needed to handle the first response to a hazardous spill situation: gloves instructions, universal pads, snakes and high-temp disposal bags.
Also included is a quart of Oil Eater Original Cleaner/Degreaser formulated to clean surfaces after absorption of a spill.
Oil Eater
Visit tpsdigital.com/info
K-Line Industries has introduced a tire runout gauge that measures both radial and lateral tire runout conditions. According to K-Line, the use of this tool can help eliminate irregular tire wear, ride vibration and lengthens the life of tires.
K-Line's Tire Runout Gauge utilizes a roller wheel placed against the tire tread combined with a gauge bar, individual low and high spot sliders and a magnified measurement readout that quickly shows the amount of runout present, the company says.
If the runout exceeds the stated limits, K-Line claims a check can be made and repairs completed for the possible reasons including bent or cocked rims, improperly adjusted wheel bearings, improper tire bead seating, tire flat spots, improperly tightened rim clamps and rear rim spacers.
The runout gauge is said to pinpoint problems either directly related to the tire and rim or some other trouble areas that may be causing runout. It is also said to be an early indicator of wheels and/or tires that need to be reworked or discarded.
K-Line industries
Visit tpsdigital.com/info