Two new tires released
Yokohama Tire Corporation's two latest tires are the RY407 wide-base single trailer tire and the prototype 702 drive tire. The RY407 is a U.S. Environmental Protection Agency SmartWay-certified tire recognized for low rolling resistance.
The super single, size 445/50R22.5, offers improved durability and less casing fatigue high-tech compounds designed to enhance fuel efficiency; a zero-degree mid-belt designed to distribute the load evenly, lessen running distortion and provide a more consistent footprint; straight grooves for enhanced wet traction; and cross sipes for wear resistance.
The prototype 702 uses Yokohama's Zenvironment technology for enhanced fuel efficiency and will be available in the United States in early 2012 in sizes 295/75R22.5 and 11R22.5.
According to the company, the tire offers low rolling resistance, a unique drive tire tread design, a solid shoulder rib and serpentine grooves designed to provide extra rigidity and stability, Yokohama's patented Stress Control Groove designed to redistribute the shoulder load to prevent step down wear, and a Z Block design to facilitate improved wet traction and lower rolling resistance.
Yokohoma Tire Corporation
Visit tpsdigital.com/info
New fifth wheel trailer grease introduced
Plews & Edelmann announced the introduction of UltraLube 5th Wheel Trailer Grease.
Specifically formulated with extreme-pressure and graphite additives, UltraLube 5th Wheel Trailer Grease is said to provide superior protection against friction and corrosion, even in extreme weather and heavy-duty operating conditions.
The grease is offered in a two-ounce smash pack, helping better control the amount of grease applied to the fifth wheel. Users simply place the appropriate number of packs on the plate and drop the trailer. The packs burst, and the grease is distributed evenly across the plate.
UltraLube 5th Wheel Trailer Grease contains plant-based oil with four times the natural lubricity of petroleum-based oils, allowing UltraLube to instantly penetrate into areas where lubrication is needed most and create a long-lasting bond, according to the company. It also is said to be eco-safe and non-toxic, making it safer for use on vehicles.
Plews & Edelmann
Visit tpsdigital.com/info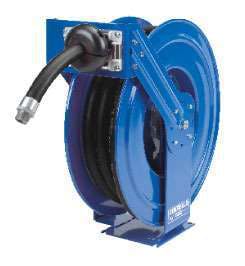 Diesel exhaust fluid hose reels
Coxreels has introduced a complete line of diesel exhaust fluid (DEF) hose reels. The new SH series and T series reels are built from steel, and are equipped with a stainless steel external full-flow swivel and chemical-resistant Viton seal.
According to Coxreels, the swivel is easy to access for simple maintenance and fast DEF dispenser hose installation. The SH series reels come with a heavy-duty single pedestal and the T series comes with a supreme-duty dual pedestal. Both designs can handle DEF hoses of ¾ in. diameter up to 75 ft. in length, and 1 in. diameter hoses up to 50 ft. in length.
The two designs also feature a Super Hub dual axle support system, which Coxreels says supports the reel's stability and reduces vibration during use.
Coxreels
Visit tpsdigital.com/info
SKF introduces its lug lock device, a mechanism designed to alert maintenance personnel of a loosened wheel nut before it backs off the stud.
The lug lock is constructed with flexible slits that allow it to slip onto the nut while maintaining the ability to tightly grip the OD of the nut. The slip-on locks interconnect with the hub piloted wheel to provide a visual alert of a loose wheel nut . Additionally, the lug lock helps maintain the proper wheel nut torque to allow the tires to run truer, leading to reduced fuel consumption. The lug lock resists water, road salt and debris to withstand the harsh environments of North America, the company says.
The new lug lock fits all two-piece wheel nut systems commonly used on trucks, buses and trailers. The lug locks are available in a 60-piece bag (part number LL33MM) and 20 bags of 60, totaling 1,200 in point-of-sale barrel (part number LL33MMB).
SKF
Visit tpsdigital.com/info
New battery power indicator released
Phillips Industries has introduced the new Battery Status Indicator, designed to show the power available in any truck battery with one look. It monitors the state of power for any battery, particularly lift-gate batteries, and alerts operators during pre-trip inspections when a battery may be lower than required.
According to Phillips, when battery voltage is more than 12.4 volts or 75 percent power, the Battery Status Indicator flashes a green light. When the voltage falls to 12.39 volts or below, the light will blink red to indicate the battery needs to be charged or changed.
Phillips Industries
Visit tpsdigital.com/info
Drivetrain product line introduced
Dana Holding Corporation has announced the launch of a new line of SVL drivetrain components for the aftermarkets. Designed specifically for post-warranty vehicles, Dana says SVL products offer replacement parts for vehicles with lower usage cycles.
The new SVL product line will initially launch in North America and features universal joints for the light- and commercial-vehicle markets, and ring and pinion gear sets for heavy-duty applications.
Shortly following the launch, Dana will begin offering SVL-branded light-duty axle components.
Dana Holding
Visit tpsdigital.com/info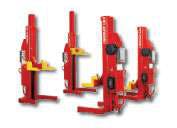 Wireless lift product released
Rotary Lift has released the new Wireless Mach 4 column lift. The lift is powered by batteries and communicates with other columns wirelessly.
According to Rotary Lift, the wireless lift is configured just once a day to eliminate downtime and is operated by a patent-pending control panel. The panel features a graphic layout of the column set-up, on-board diagnostics, easy-to-read LEDs and one-touch controls.
The Wireless Mach 4 is available in sets of four or six columns, and each column has a rated lifting capacity of 18,000 lbs. and is powered by two deep-cycle marine batteries. Rotary Lift claims a Wireless Mach 4 can raise a vehicle 70 in. in just 78 seconds, and says the lifts can be used indoors and outside. The Wireless Mach 4 also has locking mechanisms every three inches and a lower-to-lock function.
Rotary Lift
Visit tpsdigital.com/info
Networkfleet has released the AT-1400 asset tracker, a battery-powered tracking device for fixed and movable assets without a constant source of power.
According to Networkfleet, the AT-1400 can track property and equipment, and includes GPS mapping, dashboards, reports and alerts. The AT-1400 uses the latest wireless communication and GPS technology to report location and movement for field assets, including heavy-duty equipment. The AT-1400 is said to have a six-year battery life, offers configurable location update rates and is programmable over-the-air. The AT-1400 also comes with a three-year warranty.
Networkfleet
Visit tpsdigital.com/info
New Drive Tire
Bridgestone Commercial Solutions Group (BCSG), a division of Bridgestone Americas Tire Operations, is introducing the new Firestone brand FD695 PLUS drive tire.
The FD695 PLUS is approved for use on Environmental Protection Agency (EPA) SmartWay-certified equipment and is suited for fleets running California Air Resources Board (CARB)-compliant vehicles. The FD695 PLUS is designed for optimum performance on tandem axle drive tractors in long-haul and regional operations, according to the manufacturer.
With what the company says is the latest fuel-efficient casing technology and low rolling resistance tread and sidewall compounds, the FD695 PLUS is said to offer rolling resistance that is among the industry's best. It also includes a cap/base tread compounding design and has a 26/32 in. tread depth.
Continuous shoulder ribs distribute weight and torque evenly to fight irregular wear, and they are coupled to an aggressive center lug tread design to provide solid wet traction, the company says.
The FD695 PLUS casing was designed with retreadability in mind. The casing, with four full steel belts and a steel body ply, can be retreaded for either trailer or drive axle service.
Bridgestone Commercial Solutions
Visit tpsdigital.com/info
Fuel priming and filter tool
Davco Technology announces the Shop Pro FXP for sweeping diesel fuel tanks to remove water and contaminants, to filter the fuel when transferring to another tank and to prime diesel engines. The priming pump is designed for performance and durability when filtering fuel and priming fuel systems, according to the company.
Shop Pro FXP features include:
* A large capacity Fuel Pro filtration and water separation unit
* Patented "Seeing Is Believing" clear cover
* Custom designed heavy-duty cart
* Quick disconnect fittings
* Industrial motor and high capacity diesel engine lift pump
Davco Techology
Visit tpsdigital.com/info