Tips, techniques and features to enhance and maintain heavy-duty suspensions
When it comes to suspension systems, David McCleave knows that effective maintenance programs have a lot in common.
Grease guns are applied to zerk fittings; bushings are inspected regularly for cracks or tears; and, fasteners are tightened to the appropriate levels of torque.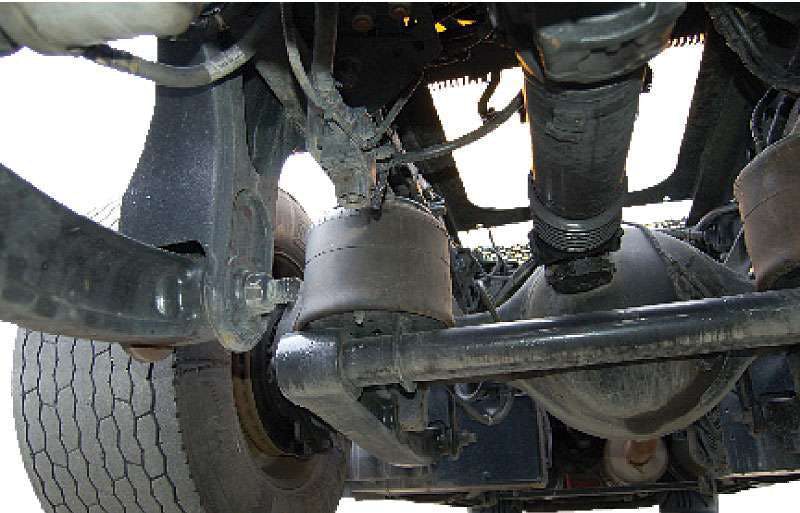 "The intervals can be very different from on-highway to vocational system applications," says the director of aftermarket and technical services at Hendrickson, "but the key components to inspect are the same."
Worn or failing suspension components can manifest themselves a number of ways, whether the challenges come in the form of extra vibrations or uneven tire wear.
"Incorrect ride height, worn longitudinal torque rod bushings or improper alignment can cause U-joint wear and vibration," he says as an example.
"Also, improper rear suspension alignment can cause front-tire wear. This happens when a driver turns the steering wheel to compensate for the out-of-alignment suspension," McCleave adds.
Ongoing inspections can keep issues like these from spiraling out of control.
While daily pre-trip inspections are an important tool in the search for damage, wear or loose components, annual inspections of a trailer suspension can offer the opportunity to dig a little deeper, says Michael Lynch, Meritor's director of NAFTA customer service and product support.
This is when shops can check wiring and air systems for signs of abrasion; measure alignment; look for any loose, worn or missing components; check the torque on fasteners; and look for signs of oil leaks.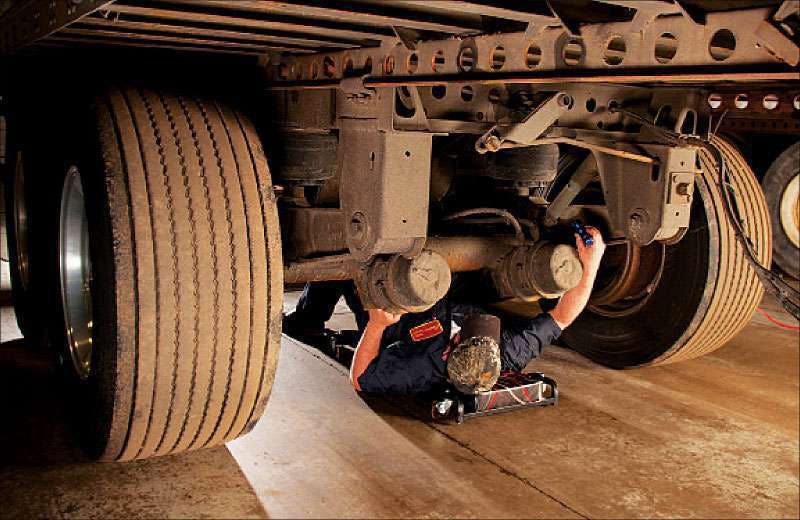 Abnormal tire wear can be one of the first signs of trouble, he adds. This issue may be linked to something as simple as improper tire pressure, but it also can indicate loose, worn or damaged parts.
Proper alignments will have a real impact on the life of the tires, says Brent Jones, SAF Holland's national service manager – Canada. A one-hour realignment process could make a measureable difference in the life of treads that account for one of the largest operating expenses in any fleet.
In fact, SAF Holland's SwingAlign system for highway trailers allows a realignment to be completed in less than 15 minutes, and without breaking the torque at the pivot connection. The key to the system is a set of teardrops connected to the pivot connection.
As a bolt is turned in the front part of the hanger, the beam is moved forward or backwards.
"Most trailer shops may consider alignments on a yearly basis," Jones says. "This allows them to do alignments almost on a preventive maintenance basis."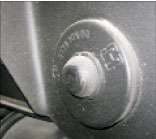 Unwanted issues such as cupped tires or damaged air springs can be traced to broken or bent shocks, McCleave adds. Shocks that show signs of outright fluid leaks or other physical damage will need to be replaced.
One of the most important tools used to inspect a shock will involve the simple touch of a technician's hands. Once the equipment completes a 15-minute test drive, a working shock should feel warmer than the nearby frame.
"That's because it's doing exactly what it's supposed to be doing," Jones says. "It's dampening or resisting movement."
Proper torque for fasteners throughout the suspension system also will play a key role in ensuring that components of every sort move exactly as they should.
In some cases, the fasteners themselves will make the difference. The head of a shear bolt actually will shear off once the proper torque values are reached, McCleave explains.
The fasteners used on air bag pedestal mounts offer a good example of the need for proper torque.
"If you've got a loose pedestal, that air bag is going to be able to rock around on its mount, and then you end up cracking the pedestal or damaging an air bag," Jones says.

"When you are reassembling a suspension it's always important to re-torque the pivot connection with the unit adjusted to its proper ride height," he continues.
"When you re-torque that pivot connection, it's going to clamp down on the bushing area and potentially hold it in place so that when it's relaxed or in its ride height position, the bushing itself is relaxed."
This isn't the only way that proper ride heights will play a role in suspension maintenance. A simple 2-in. change in the height of a fifth wheel could force an air bag to work outside its sweet spot, forcing the rubber to stretch more than it should and requiring more air pressure.

"Air bags have design limits, whether it's fully compressed or fully extended, and there is a power curve that goes with that," Jones says.
And the challenges are hardly limited to the air bags. "Ride height really affects a lot of components outside of the suspension itself."
Granted, few flexible components are under more stress than rubber bushings. Inspections of these parts are largely limited to looking for signs of physical wear, McCleave says.

But original equipment manufacturers balk at the idea of shops experimenting with different bushing designs.
"The hardness of a bushing or a rubber material is really engineered into the product to allow enough give that the shock loads are absorbed, and the components have the ability to flex or twist in the manner they are designed," Jones says.
A shop that opts to replace a rubber bushing with a rigid bushing in the search for a longer life actually may be transferring other stresses into welds, hangers or other components.

"There are certain components where the system requires a bushing to be bonded," McCleave says, observing how a urethane bushing cannot bond to inner metal like its rubber counterpart.
Their focus on sticking to recommended components does not end there. Says Jones, "Suspensions are designed as a package. Each component complements the other, and if you take one of those components out and replace it with an external component outside the family of pieces it was designed for, you certainly can introduce problems."
Of course, there still are plenty of cases where suspensions are being altered successfully in the aftermarket.

Truckers who buy used linehaul tractors and convert the equipment for use on a farm, for example, would likely face more than their fair share of broken springs if everything was left untouched.
An option in this case can come in the form of rubber springs, which will reduce the flex in a pack of leaf springs, and offer some added roll stability, says Ed Sanders, national sales manager for Timbren.
These rubber additions also can help to level a truck when adding something like a 3,000-lb. wing on a snow plow.
As simple as the related installations may be, technicians installing the springs still need to maintain a 1-in. preload on a spring suspension and a ½-in. preload on an air suspension.
"In the heavy vehicle, because of the spring travel, we have to be engaged all the time, so it actually acts as a shock absorber as it works," Sanders explains.
A few shims may be required to keep everything engaged. Individual suspension designs also can require some unique modifications of their own.
The rubber springs normally rest on a U-bolt pad, but sharp edges in some castings could lead to damage. Special brackets sometimes are needed to avoid this threat.
Regardless of what shops already have seen roll into their bays, technicians can expect to see more changes in the years to come. Engineers continue to fight the ongoing battle against unwanted suspension weight, using tools like Finite Element Analysis to identify areas of high stress, and finding other areas where metal can be removed.
Each manufacturer continues to unveil different approaches. Meritor's RideSentry suspension, for example, uses structural "belly pans" to resist frame racking and increase the stability and strength of the frame.
SAF Holland introduced a cast suspension beam rather than the welded pieces of a fabricated beam. And Hendrickson's integrated axle and suspension eliminated traditional U-bolt assemblies.
Who knows where this ride will take us next?