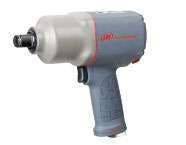 Quiet Impactool Wrench
Ingersoll Rand has expanded its MAX family of air tools with the all new 2145QiMax Impactool
The new impact weighs 7.4 lbs., and delivers 1350 ft-lb of maximum reverse torque. This is made possible by a new seven-vane air motor that is said to be 16 percent more efficient than its predecessor. It features a patented four-position power regulator dial, a feather-touch trigger and a patented one-hand
forward/reverse mechanism.
The 2145QiMAX utilizes the original Ingersoll Rand twin hammer mechanism, which features proprietary advanced metallurgy for increased performance and longer tool life, and an innovative new steel wear plate that provides extreme wear resistance, according to the company.
The impact also features a new easy-to-clean inlet prescreen that captures debris and is said to be easily serviced by tool operators, along with an improved grease fitting for easy maintenance which reduces downtime while increasing tool life and performance.
Ingersoll Rand
Visit tpsdigital.com/info
Three Mixed-Service Tires
Bridgestone has introduced two new truck tires and a wide-based trailer tire.
The M799 mixed-service drive tire, available in sizes 11R22.5, 11R24.5 and 12R22.5, is suited for on-highway service but also can be used for occasional gravel applications.
The company says the tire has an all-steel casing for added durability and, while a stone-rejecting platform helps prevent rocks from being trapped in the tread and drilling into belts.
Bridgestone says thick ribs help protect casings from cuts and abrasions.
The M770 on-highway drive-axle radial, now available in size 295/75R22.5 and later in sizes 285/75R24.5, 11R22.5 and 11R24.5, has a groove and block shape to help fight lug base cracking and tearing. A stone-rejecting platform in all grooves helps prevent stone trapping for added retreadability, the company says.
The Greatec R125A wide-base trailer radial has a belt system designed to maintain casing shape. A wide belt is designed to fight irregular wear, while a waved belt design is said to help hold the tread flat against the road. The tire also features the company's equalizer rib and defense groove designs to help fight irregular wear, the company says.
Bridgestone
Visit tpsdigital.com/info

Chrome Poly Fenders
Minimizer has released its newest product, a chrome poly fender currently available in multiple sizes.
The new fender is designed with the gleam of traditional chrome metal but with the company's poly features and durability for less maintenance, while lowering the potential for damage and bending, Minimizer says.
The fenders won't fade, rust or crack and don't require painting, according to the company. The total weight of each rear fender kit is less than 60 lbs. and it is guaranteed for life.
Minimizer
Visit tpsdigital.com/info
Portable Display Tablet
Glacier Computer's T507K 7-in. portable tablet is said to be suited for remote work applications that need a smaller display. The sunlight-readable touchscreen has been drop-tested 6 ft. to concrete.
According to Glacier, data collection features include a camera, RFID and 2D barcode scanner, while communication is provided by a 802.11 b/g/n and GOBI 3000 3G module.
The T507K is powered by the Intel Atom processor and comes standard with Windows XP or Win 7. Mobility is provided via grip-and-go handles and both desktop and vehicle cradles.
Glacier Computer
Visit tpsdigital.com/info

Under Hood Shop Light
Blue-Point's Under Hood Shop Light (ECUB6HO) is designed to increase under hood visibility for technicians who need both hands free for work.
According to Blue-Point, features of the rechargeable light include:
* Six high-output LEDs that provide 1,600 Lux light output at 0.5 meters;
* A cordless design for added convenience and safety;
* A 4,400 mAh battery that provides about four hours of constant light output;
* A 47-in. to 71-in. extendable lightweight aluminum holder designed to cover a wide range of vehicles;
* Rubber-coated hooks that help protect paintwork from damage; and
* LED light distribution to help provide wider coverage.
Blue-Point
Visit tpsdigital.com/info