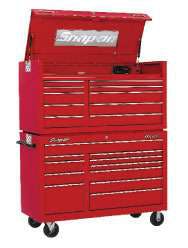 Light Box For Top Chest Lids
Snap-on's KALED24 light box provides LED lighting with lower power use for top chest lids, cart lids and risers.
The light box is equipped with a 28 in. by 7 in. polished stainless-steel case with a mirror-like finish, while the internal LED system contains two pre-assembled 27 in. LED strips. Other features include a white diffuser and a wall outlet/switch adapter. The KALED24 is compatible with U.S. and Canadian electrical requirements.
Snap-on
Visit tpsdigital.com/info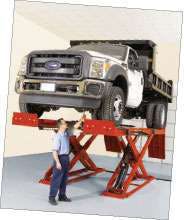 New Scissor Lift Product
Hunter says its RX16 scissor lift combines a space-saving low-profile design with added power and advanced features. The dual-capacity system is said to offer the ground-clearance advantages of a standard-capacity lift to handle most vehicles, yet adds Hunter's Power-Up feature to boost capacity up to 16,000 lbs. if needed.
Surface-mount installations offer a 76-in. maximum height and a low drive-on height of 9 in., allowing clearance for vehicles with low ride height or low-hanging spoilers, according to the company. The RX16 also can be installed in a shallow recess that sets the runways flush to the floor when fully lowered.
Hunter says the lift's Hi-Speed feature has a two-stage hydraulic pump that controls the fast rise and descent and also slows the lift automatically during the last several inches of descent. Two 9,000 lb. capacity swing air jacks lift vehicles off runways during alignment procedures and other service operations. Stainless-steel turnplates come standard, with PowerSlide turnplates available.
Hunter
Visit tpsdigital.com/info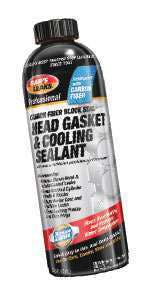 Winter Cooling Sealant Product
Bar's Leaks has introduced a new cooling sealant product designed to be used during the winter months.
Bar's Leaks says its cooling sealant is the strongest formula available to permanently seal any coolant leak in plastic, cast iron, copper and aluminum radiators, heater cores, freeze plugs, gaskets, intake manifolds, cylinder heads and engine blocks. It is said to repair blown head and intake gasket leaks, seals cracked cylinder heads and blocks, stops heater core and radiator leaks, fixes leaking freeze and core plugs and stops overheating.
The company says its new cooling sealant is antifreeze-compatible, so there's no need to flush the cooling system before using it. It also says the sealant doesn't need to be removed at the end of the repair, which means the cooling sealant stays in the vehicle to protect the cooling system against future leaks long after the initial repair.
Bar's Leaks
Visit tpsdigital.com/info

New 877 Series PTO
Parker Chelsea says power density is what customers will find in the new Chelsea 877 Series power take-off.
The series provides a compact housing that helps eliminate clearance issues and two assembly arrangements that maximize installation possibilities, the company says.
High capacity bearings and superior gear designs provide torque ratings up to 670 lbs.-ft. for performance, Parker says, and there is no need to de-rate the PTO for continuous applications.
According to the company, the 877 Series has a 10-bolt mounting pattern that will fit on today's popular automatic transmissions. One hose is required for installation and eight internal gear ratios provide a wide variety of speeds to meet application requirements. The direct mount pump flange options are available with the company's wet spline design that it says provides increased PTO and pump shaft life.
Parker Chelsea
Visit tpsdigital.com/info

LED Lamp For Docks, Trailers
The APS Resource E-Saver LED Lamp is designed to fit into most existing dock light housings to provide maximum illumination throughout a trailer.
The lamp, which uses 27 watts has a 50,000-hour lamp life, is built to withstand dock impact, while its LED technology helps keeps the lamp head cool to save facility cooling energy, according to the company.
APS Resource
Visit tpsdigital.com/info
Improved Brake Parts Cleaner
Gunk brand has announced a reformulation of its Chlorinated Brake Parts Cleaner. According to Gunk, the new cleaner has been reformulated to remove brake fluid, dust build-up and oil from all brake parts.
Leaving no residue, Gunk says the new formula cleans better and dries faster than its predecessor and is still non-flammable. The reformulation degreases brake linings, cylinders, drums, rotors, clutches and CV joints to ensure the removal of brake dust, brake fluid, grease and other contaminants.
Gunk
Visit tpsdigital.com/info