Unlocking the Secrets of ABS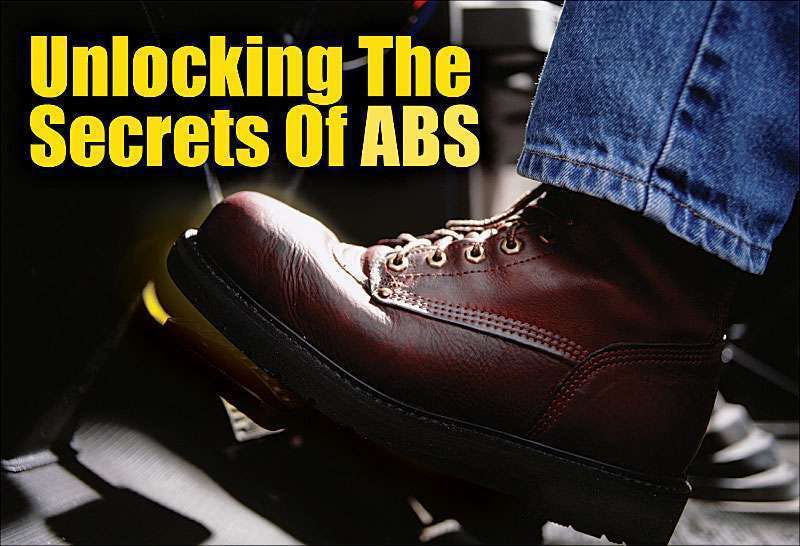 A little extra attention will keep ABS equipment working as designed.
There were more than a few doomsayers who thought antilock brake systems (ABS) would create a nightmare for the trucking industry. The government tried to mandate the equipment before its time in the 1970s, resulting in the so-called "121" brakes that faced a long list of problems.
Almost two decades after that disaster, many manufacturers still questioned whether they would need to string a second electrical connector between tractors and trailers to make antilock brakes work.
However, a different story emerged after the latest generation of ABS equipment was mandated in 1997. Related signals hitch a ride across the pins and wires of existing J560 connectors — thanks to power line communications technology — and the sensors, modulators and valves have been relatively trouble-free.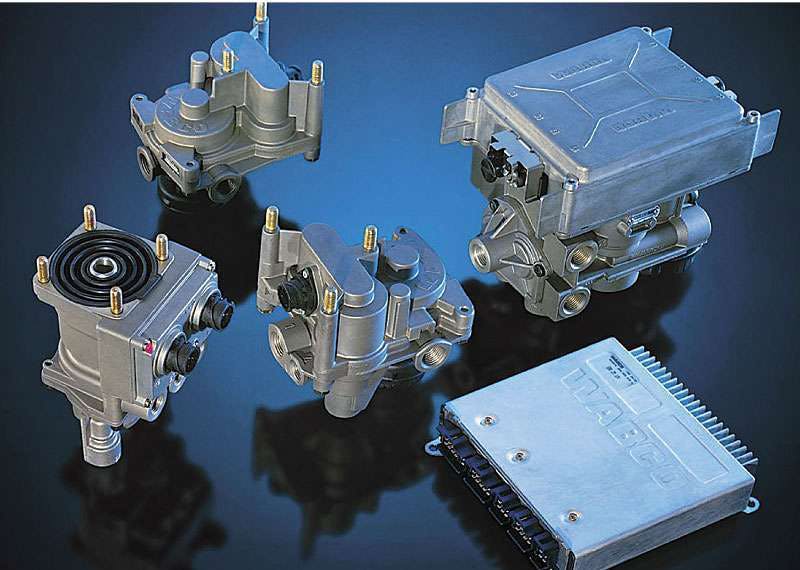 Most important, wheels are unlocked. Properly equipped tractor-trailers have a better chance of staying on a straight and narrow path during a panic stop.
Of course, there have been a few changes over the years.
As one example, Mark Melletat, Meritor WABCO's director – field operations, refers to the way that individual components can be packaged together.
Combining a relay valve with a traction control valve and two modulator valves for antilock braking means fewer fittings and connections, and lessens the chance for leaks in the process, he notes.
But the biggest change of all has been the addition of technologies like stability controls, which have been built on the all-important backbone of ABS.
Wheel speed sensors now are joined by sensors that monitor everything from the driver's actions (steering wheel sensors) to the lateral shifts of the truck (yaw sensors). The same components that help to keep trucks on a straight path now are helping to keep everything upright.
With all the sensors and electronics, there should be little surprise that any troubleshooting tends to begin with the ABS light.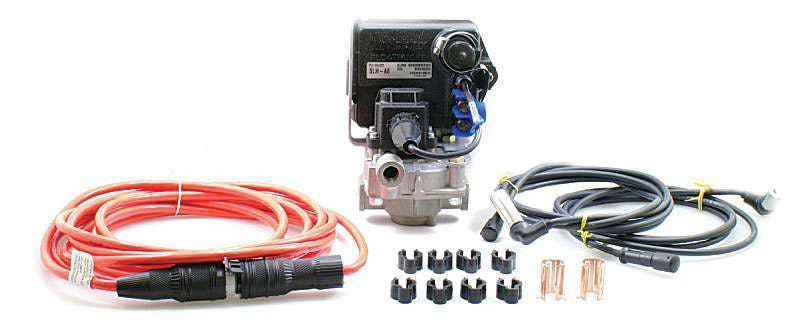 "The bulb check on the ABS light is clearly your No. 1 diagnostic flag to give you an idea of whether the system is operating properly or not," says Randy Petresh, vice-president of technical services at Haldex.
"Any time I power up the unit, the ECU (electronic control unit) will go through a self test," Melletat adds. Technicians inspecting the equipment should hear the solenoid's 'click,' and the sound will be clearest if brake pressure is applied before the key is turned, he says.
"Then they'll hear some air exhausting from those valves as they go through that exercise. That provides a pretty clear, audible indicator to the technician that the system is in operating condition," he adds. "[If] I hear my valve cycling, I know I'm getting power, I know my valves are in good condition, the [ABS] light's out.
"I don't know the condition of the wheel speed sensors until I roll, but it would certainly give you a pretty good diagnosis of the system."
The codes stored in the ECU can climb deeper into a diagnostic tree.
Granted, some fault codes can lead technicians astray.
A code that suggests a problem with a wheel speed sensor actually can be traced to a faulty connection between the sensor and the ECU, says Tim Frashure, product manager – ABS with Bendix Commercial Vehicle Systems. "It really should say 'Wheel Speed Sensing Circuit.'"
There is no question these sensors are a vital part of the system, watching for any sign of locked wheels during a braking event, but they also face more than their fair share of abuse.
"They get damaged because of the location they're in," Petresh explains. "Stuff flies off the road, and there's debris off the road, and the stuff drivers run over — parking curbs and blocks in parking lots."
It all conspires against efforts to maintain the proper gap between the sensor and tone wheel.
Installers simply can push a sensor back in place until it contacts its corresponding tone wheel, and the runout of the turning wheel will create the required gap, Melletat says. If the resulting gap is too wide, it may be time to inspect the hub or bearing for problems with the wheel end itself.
"Treat the tone wheels carefully," adds Bendix engineer Craig Haehn. The teeth on these wheels can be damaged if they are dropped on a hard surface.
"During maintenance on the wheel end, sometimes they become fixed in their hole and sometimes guys will just use hammers or whatever to try to get them out of position," he says, referring to another source of problems.
Lubricants can offer some protection of their own.
A light coating of a high-temperature grease will help protect the sensors, and dielectric grease will help protect related electrical connections from a long list of contaminants, particularly the de-icing compounds that love to wick their way up exposed wires.
"Corrosion problems are horrible and they have been for years, and of course electronics is one of the things that take the [biggest] beating," Petresh says, referring to the integrity of connectors. The grease simply has to be applied sparingly to prevent the hydraulic forces that might push everything apart.
"If you remove any cables during the troubleshooting, you need to reinstall them and make sure the seals are good," Frashure adds, noting how this also gives technicians a chance to look for chafed wires or damaged connectors.
Haehn even suggests making sure the connectors are clean before they are reattached.
Of course, sources of many intermittent shorts often can be spotted by wetting down the vehicle and looking for any signs of rubbing wires. From there, a standard multi-meter will offer plenty of insight. Frashure, however, points to a hipot tester that could offer the quickest insight into partial shorts.
"If I had a garage I would have one because it's the fastest way to tell if you have some sort of connection that's not supposed to be there," he says.
Truck designs will determine where many of the required connections can be found. While some manufacturers mount the ECUs to the frame to limit the number of wiring harnesses that head into the cab, others choose to mount this electronic nerve center inside. "The more connections you have, the more likely it is that things can go wrong," Frashure notes.
No matter how the system is designed, any wires will need to be properly routed and protected.
"There's a large magnitude of wires that run on the vehicles, and making sure they're properly routed, tie wrapped, protected and have all the seals in place, is very important to keep the ABS system functioning," he says.
"The ABS system has a lot of self checks to verify the continuity of all the components, and any time you have an open or an intermittent or a connection that could have some kind of contamination in it, it would show some faults," Frashure adds.
Melletat, meanwhile, refers to the value of running a wheel speed sensor's cables behind the axle, which can serve as a shield. "Don't secure them to air lines," he adds, referring to a mistake that was more common in earlier days of ABS. Air lines will deflect and move. "That generated a lot of problems before people figured that out."
The dynamic controls that enhance ABS equipment deserve some attention of their own.
The design of a typical antilock brake system is "pretty black and white," Frashure says, but technologies like stability systems are tuned for specific vehicles, accounting for everything from steering geometry to weights, center of gravity and sensor locations.
"You wouldn't want to be changing the vehicle set-up," he says, referring to changes such as a switch from a 6×4 to 6×2 tractor. Even moving a single yaw sensor to a different location could wreak havoc with any readings.
"You can't move it from the frame rail to the front of the vehicle," he says. Work like that will likely require some advice from the OEM.
While a steering angle sensor will be able to compensate for small changes like a simple alignment, the readings could be off by as much as 180 degrees if someone disconnects the steering wheel shaft from the gear box, says Bendix technician Jeff White.
After work like this, it is important to hold the steering wheel in the zero position, pointing straight ahead, and then recalibrating the configuration into the controller.
The yaw rate sensor will require similar attention, right down to the choice of bracket, Frashure says, noting how the sensor combines readings through the bracket and frame rail to sense how the truck is moving.
"[The bracket is] not just there to hold it onto the vehicle. It's there to transmit energy to the sensor," he explains. A change in bracket might allow everything to shake too much when crossing every bump in the road.
No matter which components are included, installers also need to be careful to stick to an original design as closely as possible. Even the smallest change in a valve's crack pressures, or the addition of a 90-degree fitting, could affect the brake timing. It is why Haehn also stresses the need to work across an entire axle when replacing brake modulators.
Of course, regardless of what the equipment includes, it always will rely on a steady supply of clean, dry air.
The challenge is that contaminants can enter the system a number of ways. Exposed gladhands can be filled by everything from insects to debris and anything else severe weather might want to deliver, but there are options that can keep the pathways clear, Melletat says.
Meritor WABCO, for example, offers gladhand filters with a bypass function, to ensure that air will continue to flow no matter what happens. Other models will install in the line itself.
"We are seeing increased utilization of those components," he adds. The only related service might involve removing the filter element and cleaning it once a year.
Petresh isn't much of a fan of the inline filters. "When they get contaminated, which they will, you're worse off than you were with nothing," he says. It's why he prefers options mounted at the gladhand, because they have to be touched by drivers and technicians on a regular basis.
But those who choose the right components and take proper care of their ABS equipment know they can always breathe a little easier.