Who says customers need to bring equipment to your shop? Maybe the shop should go to them.
Time is a valuable commodity. Just ask any fleet manager who assigns drivers to take its trucks to a third-party shop, or schedules preventive maintenance around the working hours set by a service provider.
Mobile maintenance providers are helping to recover much of this downtime by bringing services directly to their customers — stressing the "out" in the world of "outsourced" maintenance.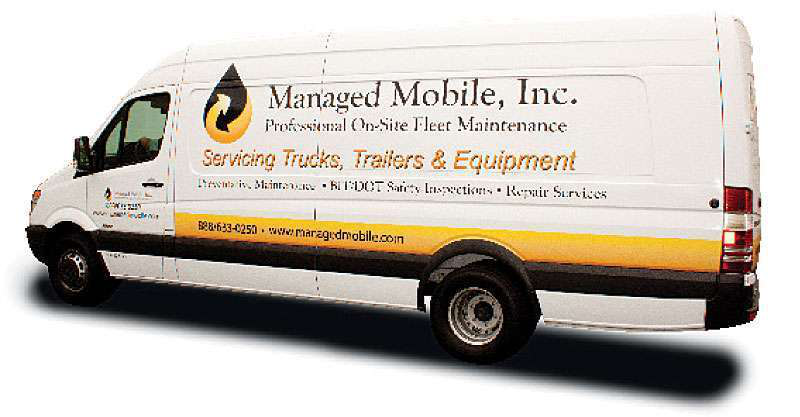 Managed Mobile in Orange, Calif., for example, maintains a wide array of vocational fleets from utility companies to food services businesses, and all in their respective fleet yards.
"Eighty percent of our customers don't know anything about trucks," says Paul Rygalski, president and CEO. "They don't have a fleet manager or a transportation manager. They're delivering produce. They're delivering industrial gases. They rely on us to manage their fleets."
In fact, any preventive maintenance service, safety inspection or light maintenance is an ideal fit for a mobile maintenance program, says Claris Ramos-Sukkar, CEO of On-site Fleet Services.
The business case often makes the best sense when a fleet's drivers make much of their revenue outside the truck itself, whether they are installing phone or internet connections, or changing gas meters.
"That's when we become a compelling value proposition," says Rick Sukkar, the company's president.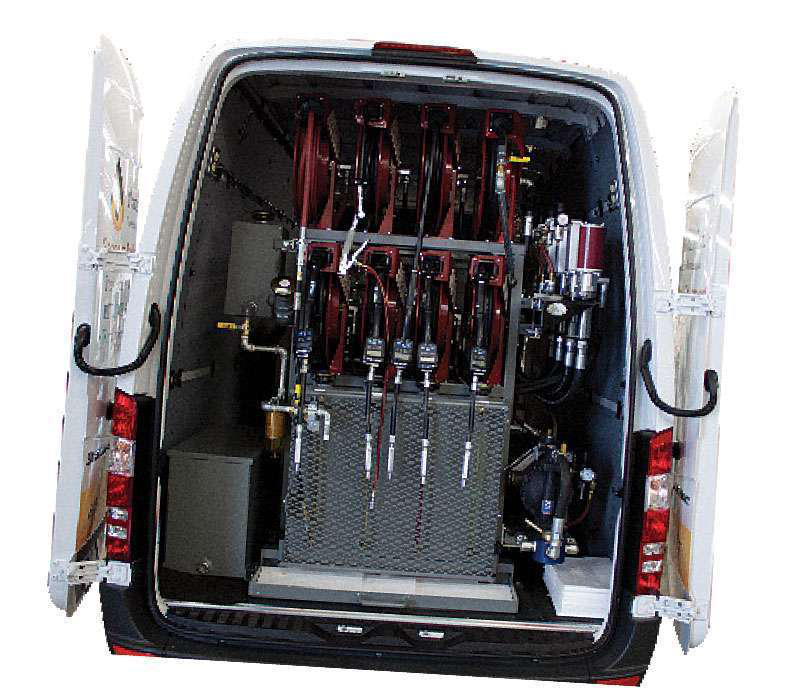 A mobile maintenance program allows work to be completed during the vehicle's traditional downtime, and without requiring anything to be delivered to a shop. The secret is to strike a balance between the volume of work and the cost of the on-site service.
On-site Fleet Services, for example, tends to limit its business to yards that have at least a dozen vehicles, since a technician can complete tasks like an oil change on 10 to 15 vehicles a night. "That's not a hard bar for a lot of these fleets to come up to," he says.
The ideal time to conduct the maintenance will likely differ depending on the type of business as well. Rygalski notes how food services companies tend to want maintenance work completed on a Wednesday night, so the trucks are available for weekend and early-morning deliveries to restaurants.
Of course, service providers face some unique challenges with mobile maintenance programs of any sort.
Weather is a prime example. Depending on the fleet's facilities, much of the work tends to be completed in parking lots that are exposed to the elements.
"It can reduce the technician's ability to do a thorough job," says Chris Holman, CEO of Advanced Maintenance, based in North Carolina, South Carolina and Florida. This requires a little extra planning.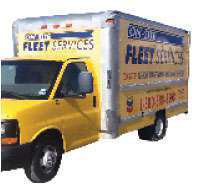 The first line of defense obviously will include schedulers who recognize that it might take longer to get to a location or complete a particular task. But some of Holman's technicians have solved many issues simply by propping a beach umbrella through the steering knuckle whenever they are working on an engine.
Rygalski notes how mobile service providers need to be aware of the need to address environmental threats in a customer's yard. "We're in California, so you have a hyper-sensitive environment," he says.
Besides that, customers would hardly welcome a yard littered with debris, grease and oil. "They don't want their yard or loading dock to look like a service bay," he adds.
His teams address the issue with 100-yard rolls of polyurethane absorbent mats, which are pulled under every truck no matter what service is being completed. The mats help catch things like oil spilling out of a hub when a technician is working on a wheel end.
As important as the individual tasks may be, complete mobile maintenance services are designed to work just like an in-house shop, scheduling ongoing work and offering guidance.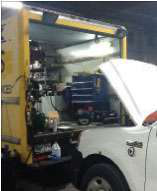 When brakes wear down to 11/32 of an inch, for example, Managed Mobile knows that it's time to schedule a brake job, and can combine that knowledge with an understanding that the job is best scheduled on a Friday if that is a slower day for the customer.
Programs like that require a detailed understanding of the fleet and business alike. It is why successful service providers all base their programs on a detailed list of vehicles. Managed Mobile collects data as diverse as the year, make, model and VIN for each truck, right down to the spec's for engine filters and the type of transmission.
If someone reports that the right air bag on the third axle is leaking, the company's computer system identifies the exact part that is needed.
"We already know everything on the truck, so we can get the parts just in time and have them delivered to the job site," Rygalski says.
One company employee is responsible for managing the procurement of the related parts, sourcing material from aftermarket suppliers or dealers, and basing part of the decision on where this work actually is conducted.
Since many mobile maintenance contracts are based on known equipment and preventive maintenance programs, shops often try to stock their service trucks with as many common parts as possible, whether they come in the form of brake chambers, coiled air lines, batteries, valves or fittings.
Companies that service a large captive fleet may even store a container of common parts in a fleet's yard, Rygalski says.
In the case of a light maintenance provider like On-Site Fleet Services, the inventory might be limited to oil, fuel filters and a variety of fluids.
For its part, Advanced Maintenance trucks have enough supplies to last two or three days without a return trip to the home shop.
Holman says quarterly inventories demonstrate how well the technicians are accounting for their parts. They seldom vary by more than two percent from one truck to the next, and the differences usually can be traced to parts like bulbs or wipers.
But the most experienced technicians tend to consume the most parts, Holman says. "He's the guy doing more difficult jobs."
The trucks themselves also need to be equipped for the jobs at hand.
Without the benefit of a shop's lift, Advanced Maintenance trucks are equipped with 20-ton pneumatic jacks, eight-to-12-ton bottle jacks, and three-ton floor jacks.
"Normally we're not lifting the whole unit," Holman says, explaining why these jacks address most needs. The equipment also comes with a 55-gal. tank of fresh oil and a 70-gal. reservoir for waste fluids.
Compressors also become a key tool, since technicians don't have the benefit of a shop's air supply.
At Advanced Maintenance, the related lines feed everything from a half-inch air gun to an air chisel and die-cutting tool. Small propane and oxygen tanks also are on hand for jobs that require an occasional cut.
As important as these traditional tools may be, many vehicles are adding notebook computers loaded with the software that would rival some traditional service bays.
"That is one of the greatest tools you can have on board," Holman says, referring to his company's Panasonic Toughbooks loaded with more than 30 different diagnostic programs from the likes of Eaton Roadranger, Alison, Detroit Diesel and brake manufacturers. "The only thing we can't get into is the ECMs."
Managed Mobile prefers laptops with Noregon Systems diagnostic tools, and each technician is equipped with the Isuzu software used by 10 percent of the trucks monitored by the company. Several other laptops also are loaded with a wider range of diagnostic software, ranging from Hino to Caterpillar.
Technicians simply sign these out of the central shop as they're needed, much like someone would sign out a library book.
As unique as the tools may be, these businesses also require a unique breed of service technician, and the differences are hardly limited to a willingness to work odd hours. These employees tend to complete most of their work in the field, far away from a shop manager's watchful eye or the guidance of co-workers in an adjacent service bay.
It's why managers of mobile maintenance operations look for candidates who are self starters and punctual.
"When we schedule appointments with our customers, they look at them just like a doctor's appointment," Holman says.
Managed Mobile actually hires new employees as members of the preventive maintenance team, giving them the chance to work their way up to an apprentice role.
At that point, they will ride with another experienced technician for six months to a year.
As the face of the maintenance business, the technicians in a mobile maintenance program also need the communications skills to maintain the business relationships. "They communicate with customers more than our managers do," Holman says.
Still, there are ways to monitor the activities outside the shop.
On-Site Fleet Services has a roving master technician who will show up for an inspection without notice, just to make sure that teams stick to the programs.
And Sukkar stresses the need to work closely with multiple departments within a customer's company. "You can't have just one touchpoint. You've got to know the clerks. You've got to know the supervisors of the yard. You've got to be talking to the administrators to make sure they're satisfied with the schedule you provide," he says.
Since mobile maintenance services will come at an added cost, providers need to be able to work with whoever oversees revenue-generating activities, to identify the return on investments that can emerge.
After all, they are the details that maintain lasting relationships.