CAROLINA RIM & WHEEL, FLEET BRAKE NAMES DISTRIBUTORS OF THE YEAR
Carolina Rim & Wheel of Charlotte, N.C., and Fleet Brake of Calgary, Alberta have been named co-winners of Truck Parts & Service's 2011 Distributor of the Year award, sponsored by Minimizer.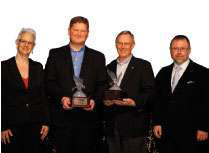 The award was presented during the opening session of HDAW 2012 at The Mirage in Las Vegas. This is the third time in the award's 10-year history that multiple winners have been selected. Other 2011 nominees were Tidewater Fleet Supply of Chesapeake, Va. and Weldon Truck Parts of Oklahoma City.
Tom Stewart, president of Carolina Rim & Wheel, and John Bzeta, president of Fleet Brake, accepted the awards for their companies.
"We're really excited to win this tremendous award," says Stewart. "This goes to my employees. The reason our company is successful is because of our employees."
"I'd like to thank Randall-Reilly, Truck Parts & Service and Minimizer for this award," says Bzeta. "This award is a credit to our employees and the work they do."
He added, "Thanks to everyone here for all your support of the aftermarket. I believe the people in his room are what this industry is all about."
Denise Rondini, executive editor of Truck Parts & Service, Chip Magner, Truck Parts & Service executive director of sales and Craig Kruckeberg, Minimizer CEO, presented the awards.
Stone Truck Parts of Garner, N.C. was the award's 2010 winner.
Dealership news
The following is news from dealerships in the trucking industry:
* Yancey Bros. Co. announced it has entered into a definitive agreement to acquire the operating assets of Mays International Trucks in Augusta, Ga.
* Bruckner Truck Sales, based in Amarillo, Texas, expanded its network of Volvo/Mack Truck dealerships by adding a second, full-service location in Dallas. The new location is located on I-20.
* Wisconsin Kenworth has opened a 15,200-sq.-ft. full-service operation in La Crosse, Wis.
* M&K Quality Truck Sales, based in Byron Center, Mich., announces it is relocating its existing collision repair center to its new location, M&K Truck & Trailer, LLC in Wyoming, Mich.
* Worldwide Kenworth of South Carolina is the latest addition to the Kenworth dealer network. Worldwide Kenworth has locations in West Columbia and Greenville, S.C.
FleetPride to open distribution center in Illinois
FleetPride, Inc. has announced the opening of its new 122,000 sq. ft. regional distribution center in Bolingbrook, Ill.
"Bolingbrook is our fifth regional distribution center, allowing us to continue to expand and streamline FleetPride's national parts logistics network," says Robert Lindley, FleetPride's vice president of Supply Chain. "By opening this location, we can provide overnight delivery service to over 30 FleetPride stores in the Midwestern U.S."
Bolingbrook's inventory includes more than 40,000 SKUs and reflects the demand of FleetPride's regional customer base, the company says. In addition to the sizable parts inventory, the Bolingbrook distribution center also will offer kitting and light packaging.