CARB Compliant UnderTray System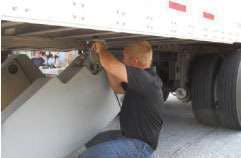 SmartTruck has unveiled its new UT-1 System, the newest addition to its family of CARB compliant UnderTray Systems.
The UT-1 is a smaller, low-cost version of SmartTruck's UT-6 System and has fewer components underneath the trailer, the company says.
SmartTruck says the system can be installed by one person in less than one hour and improves airflow and cooling over temperature-sensitive tires and brakes. Additionally, the UT-1 system is said to provide ground clearance to avoid everyday road and loading facility obstacles and challenges.
According to SmartTruck, customers can upgrade to the full UT-6 System and its 7 percent fuel-efficiency improvement by adding a single component. Customers also can integrate SmartTruck's side fairings, which are said to further improve fuel-efficiency performance by more than 10 percent.
SmartTruck
Visit tpsdigital.com/info
Portable DPF Cleaner

OTC's portable diesel particulate filter cleaner is designed for both shop and field use.
The lightweight device operates on 110V electricity using shop or compressed air of at least 100 psi, cleaning each DPF chamber individually as it moves in a spiral pattern toward the DPF's center, the company says.
Flexible seal rings are said to allow the unit to clean most DPFs from 6 to 15½ in. in diameter. The cleaner has no internal filter to maintain, and the cleaning process, once started, can be completed with minimal oversight, according to the company.
OTC
Visit tpsdigital.com/info
Mobile Column Lift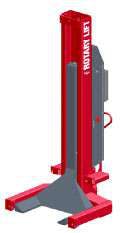 Rotary Lift has added to its line of mobile column lifts with the RCH4 mobile column lifting system. According to Rotary Lift, the RCH4 has an operator-friendly design that makes it faster than competitive lifts, for greater bay productivity and reduced vehicle downtime.
The RCH4 is sold in sets of four, six or eight battery-operated columns. Each column is identical and has a rated capacity of 18,000 lbs., for total lifting capacity of up to 144,000 lbs., the company says. The RCH4 claims to be able to lift a vehicle 70 in. in 78 seconds.
The RCH4 is battery operated with an internal charger, which Rotary Lift says eliminates the need for power cords and improves the lift's portability. The company also says its hydraulic cylinder is inverted so the chrome piston rod is protected from debris and damage at all times, extending the life of the lift and reducing maintenance costs.
Rotary Lift
Visit tpsdigital.com/info
All Weather Mobile Tool Chest
Snap-on says its All Weather Mobile Tool Chest is designed to provide convenient, secure, versatile and watertight storage for tools that must be moved readily.
The tool chest comes in four colors (black, olive, tan or orange) and two configurations: two 2-in. drawers plus six 1-in. drawers, or three 2-in. drawers plus four 1-in. drawers.
Snap-on says a 22-in. wheelbase provides added stability, while solid rubber wheels help absorb the shock of rough surfaces. A telescoping trolley handle extends to two positions and the lid can serve as a seat when the case is open.
Snap-on
Visit tpsdigital.com/info
WD-40 Product Line Extension
WD-40 Company is introducing WD-40 Specialist, a new line of specialty products.
The new WD-40 Specialist line consists of five products: Rust Release Penetrant Spray, Water Resistant Silicone Lubricant, Protective White Lithium Grease, Long-Term Corrosion Inhibitor and Rust Remover Soak.
All of the new WD-40 Specialist products are 50-state VOC compliant.
WD-40 Company
Visit tpsdigital.com/info