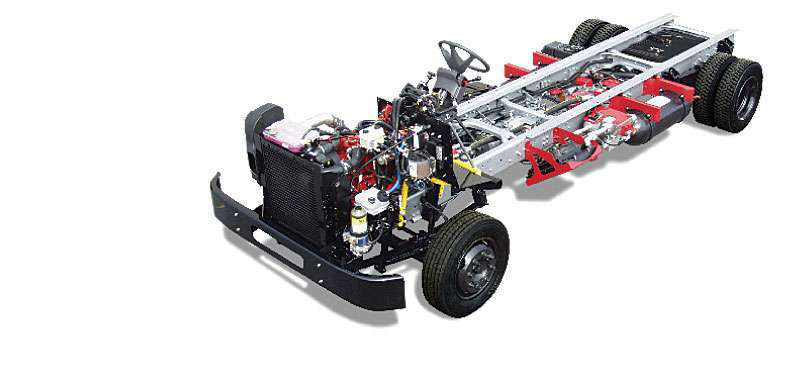 There's a new generation of equipment on the road, but ongoing maintenance may be easier than you think
In an era of soaring fuel prices and ever-tightening emissions, hybrid trucks seem to offer the best of both worlds. The energy stored in their battery packs or hydraulic accumulators already is being called on to power everything from PTOs to wheels, while traditional diesel engines still are sitting under the hood.
But these emerging systems also present shops with new technologies to understand.
Setting aside the components specific to individual manufacturers, today's versions of these trucks rely on hydraulic or electric power.
Hydraulic versions, such as those adopted by several waste haulers, use the kinetic energy created by a braking truck to drive a pump/motor.
When working as a pump, this component transfers hydraulic fluid from a low-pressure reservoir to a high-pressure accumulator. Stored energy in the accumulator can then be used to power the motor, helping the truck accelerate on its own or adding to the power of a combustion engine.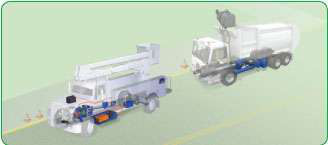 In contrast, the electric hybrids that power a growing number of walk-in delivery vans or utility trucks have a generator and motor. The energy captured with the generator is stored in batteries that can be used to power the motor, which can help move the truck or drive a PTO for tools such as cherry pickers.
While any technology requires some maintenance (name a truck part that doesn't), hybrid systems seem to require little in the way of added attention. Related warranties certainly demonstrate the faith designers have in the equipment life. Eaton, for example, expects the lithium ion batteries in its hybrid electric systems to last as long as seven to 10 years, and it warranties the systems for three years or 150,000 miles.
Preventive maintenance tends to focus on issues like changing filters or fluids. And much of this attention involves the systems needed to cool down the energy-capturing equipment.
In Eaton's electric hybrids, for example, a pair of lithium ion batteries is cooled by air, in a bid to keep the system under 122°F.
From a maintenance perspective, a related air filter will need to be changed every four months, says Jerald
J. Havenaar, Eaton Roadranger Field Marketing's product service manager – hybrid/automated products.
"Our biggest challenge is a dusty environment," he explains, referring to equipment like a boom truck that might need to travel through a dusty job site or down a dirt road. As simple as the filter may appear, it is the key to the ongoing supply of clean air. If it is allowed to plug, drivers might begin to report a vehicle that struggles to launch in a hybrid mode, or a short cycling of the auxiliary power generator [APG].
Dust isn't the only potential enemy. Even a well-intentioned cleaning can cause damage. "We don't recommend pressure washing the hybrid PEC [the power electronics carrier that is effectively the system's brain] and the high-voltage cable areas," Havenaar notes, referring to the way water could be forced in the area. "Just be cautious of the areas."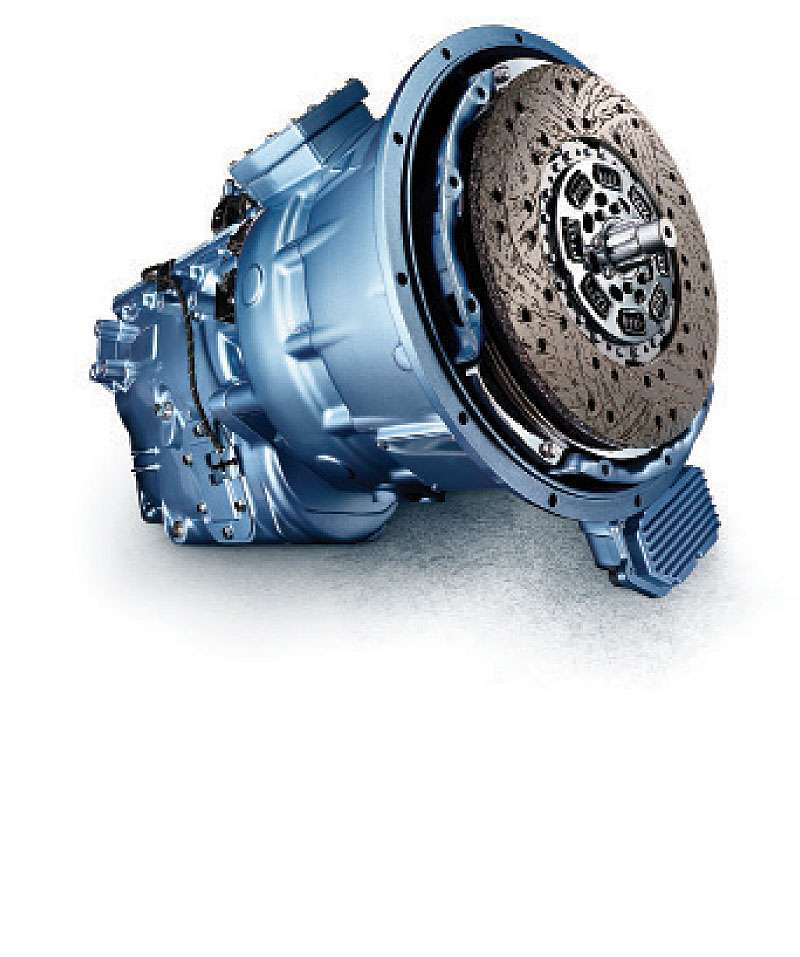 Of course, clean and dry air is merely part of the cooling process. Eaton, for example, also requires original equipment manufacturers to install a separate cooling system for components including the motor/generator and inverter. "Everybody does it a little bit differently," he adds.
Granted, the cooling systems don't require much ongoing maintenance, says Kris Hus, Freightliner's product manager – commercial chassis. Freightliner equipment includes fans on either end of the battery pack in its hybrid electrics, drawing or pushing air through the space, and coolant lines care for components like the motor/generator.
On fully electric vehicles, a completely independent liquid cooling system includes a heat exchanger and about four gallons of coolant.
But there is one important difference when comparing this equipment to a diesel engine's cooling system: The electric vehicle's coolant is not exposed to contamination from combustion gases.
"You're really just maintaining it for electrolytes and its freeze level," Hus says.
Cooling systems could play an expanding role in the technologies to come. "Moving forward, with some large systems for cooling and larger output of motor/generators, we may consider cooling the PEC," Havenaar adds.
It is not the only way that temperatures can play a role in the performance of a hybrid truck.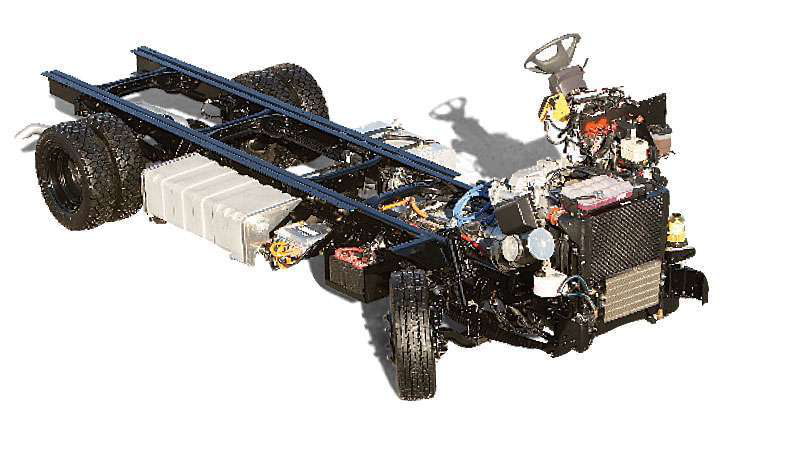 Lithium ion batteries work well between ambient temperatures of 0°F and 140°F, explains Eric Reynolds, Freightliner's electrical engineering manager.
"Charging is a different story." This process requires a temperature above 32°F. Some manufacturers even are exploring ways to add heating systems to maintain that temperature.
Engineers also have needed to address the threat of moisture attracted by the ongoing heating and cooling of the battery packs. This is why a Freightliner electric truck also includes a desiccant canister to remove moisture from the internal air, Reynolds adds.
"Lithium ion batteries need to be as dry as possible. They don't react well to water." Left unaddressed, this moisture could wreak havoc with the electronics.
Like the oil found in an engine's crankcase, the 21 gallons of oil in a hydraulic hybrid also can benefit from an oil sampling program. "You can tell a lot about the oil and what is going on in the system," says Brad Fraley, product service manager for Eaton's hydraulic launch assist (HLA), referring to tests that can search for everything from water to the particulates from a wearing pump.
The hydraulic oil certainly has to be designed for this specific use. It can be expected to perform at temperatures of up to 180°F when the system's cooler will turn on, so the fluid's extreme limit needs to be as high as 212°F.
And it typically will need to be changed about once a year, depending on operating conditions.
A scheduled preventive maintenance check every 300 hours will give technicians a chance to raise the truck to look for visible signs of trouble such as wet spots, or any hose clamps and wiring harnesses that are coming undone.
But even though debris in a landfill has been known to snag anything hanging underneath the truck, these parts are not left openly exposed to the threat.
Eaton has included some extra sheathing to protect the hoses, while electrical wiring is routed above that.
The hydraulic reservoir is mounted in a protected area of the frame rail, while the 500-lb. steel accumulator, which holds the pressurized fluid and a charge of nitrogen gas, is pretty robust on its own.
Setting aside any unique maintenance needs, hybrid systems of every sort actually help to reduce the stress on common truck components.
"We've seen anywhere from two to three times the brake life from the standpoint of replacing your friction material," Hus says of the brakes.
Havenaar refers to the reduced clutch wear because of the ease with which a hybrid system and its automated transmission launch a truck in motion.
A hybrid motor used to start a truck also lessens the strain on the 12-volt starters. According to Hus, that can be a big issue for traditional package delivery vans which can power down during each of the 100 to 150 stops a day, wearing out a starter every one to two years.
No matter which hybrid system is used, however, technicians will need to be aware of the related lock out and tag out procedures before any maintenance on something like an inverter begins.
This equipment was designed to store energy, after all. Eaton, for example, has a nine-step shutdown process for its 380-volt hybrid electric systems, complete with a tag placed over a service switch and a five-minute wait for any voltage to discharge.
The state of charge itself is monitored through related ServiceRanger software, and everyone is advised against working on a system that still holds more than 30 volts.
In the case of the hydraulic system, there is a three-step process to prepare the hydraulics for maintenance and service. First, the key needs to be turned off, followed by a five-minute wait to allow the hydraulic state of charge to drain the accumulator to the reservoir.
Next, technicians should access a relief valve at the bottom of the pump, to relieve any hydraulic pressure in the system.
To complete the procedure, use the ServiceRanger diagnostic tool to check that the pressure in the accumulator has drained to zero.
"Hydraulically it's safe to work on," Fraley says, adding that nitrogen gas pressure in the accumulator still remains at 1,800 psi. "Following the prescribed procedures, it's a relatively safe system to work on."
Anyone who works on Freightliner hybrid electric vehicles is reminded to engage a manual disconnect switch that isolates all the high-voltage power in the battery pack.
"None of the cables are live anymore. After that, it's to be treated and regarded as any normal vehicle on the road," Reynolds says.
Of course, shops can expect to see new forms of this equipment in the near future.
Freightliner is preparing to roll out Class 5 trucks with a new hydraulic hybrid system, which will include a pair of Parker hydraulic pumps and a planetary gear set, allowing the truck to work in two separate modes. "It's kind of a hybrid between a series and parallel system," Hus says.
At lower speeds the engine actually is decoupled from the rear axle and works as a generator set to power hydraulics.
At higher speeds, the planetary gear creates a mechanical link between the engine and the rear axle.
Under the right conditions, it should be able to capture more of the potential power generated during braking.
"A battery is limited in how much energy it can absorb and dispel over a given period of time," Hus notes. "That's not quite the case with hydraulics.
You can spin the pumps pretty much as aggressively as you want." Another advantage is that it allows the engine to turn off when the hydraulic accumulator is charged.
As new systems continue to emerge, they all will require more training. But as advanced as the systems sound, many of the components still will seem familiar. Remember, the maintenance always seems to come down to filters and oil, coolant or batteries. All of those will seem familiar to any technician.
"I know there's a lot of technicians out there who are used to working on diesel trucks and know how the technology works," Reynolds says. "There's nothing that can't be learned, and moving forward can get us better fuel efficiency."