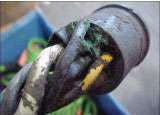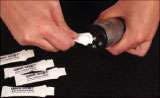 Since many states have increased the use of magnesium and calcium chloride as a road de-icer, which are corrosive to brass and copper, it is important to check contact pins used in plugs. (See Figure 1.)
To keep the products working properly and to slow the corrosion process, Phillips recommends the following maintenance tips.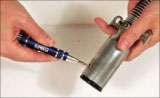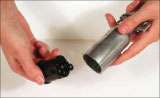 Apply dielectric grease to every plug and socket. Phillips says this will keep moisture out and increase the flow of energy through the connection. (See Figures 2, 3 and 4.)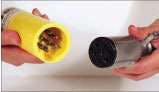 Phillips recommends that you clean and grease the 7-way interface plug at every preventive maintenance interval. The company recommends PM inspections every three months or more often if the vehicle is exposed to magnesium or calcium chloride. (See Figure 5.)
Wash electrical cable, plugs and sockets more frequently in winter weather. Do not power wash because water can be forced into areas from which it cannot escape, leading to corrosion.
Safety Recalls
The National Highway Traffic Safety Administration (NHTSA) has issued the following recalls:
* There is a problem with certain Meritor Wabco electronic stability control modules with part numbers 446 065 020 0, 400 850 179 0, 400 850 195 0, 446 065 027 0 and 400 850 185 0 shipped from August 2005 through September 2011. Under certain road and driving conditions, vehicle body roll and road inclination characteristics may adversely affect the slip angle calculation of the ESC system. This may cause the ESC to perceive an over-steering situation and apply the outer wheel brake on the front axle until the vehicle is perceived to be stable. If the driver is slow to react during the ESC intervention, the vehicle may deviate from the intended line of travel, increasing the risk of a crash.
* The weld that attached a bracket to the housing on certain Meritor 16 mm C89-3121-2-24 and C61-3121-2025 housings assembled into RD-23-164 drive axles produced from Dec. 1. 2010 through Feb. 14, 2011, may crack as a result of improper welding procedures. These axles were installed on certain Mack and Daimler trucks. If the weld cracks, the bracket may detach resulting in loss of vehicle control.
* There is a problem on certain Transcraft model year 2010 and 2011 platform trailers manufactured from Oct. 15, 2010 through Jan. 31, 2011, and equipped with Gunite automatic slack adjusters. As a result of incomplete knitting of the iron at the time of casting, there can be inadequate structural integrity of the slack adjuster housing. This can cause the housing to break at the handle under normal operating loads. If the slack adjuster housing were to break, the wheel brake to which the slack adjuster is attached would no longer function.
* The pinion bearing on rack and pinion steering systems on certain Daimler model year 2005 to 2011 Cascadia, Columbia, Century, Coronado and Classic XL trucks manufactured from Nov. 1, 2004 through June 15, 2010 may corrode and fail. A failed bearing may lead to damage of the spool valve seats. A damaged spool valve seat may allow hydraulic fluid to flow to the right- or left-turn port instead of flowing to the return port. The steering could unexpectedly turn left or right, making the vehicle more difficult to control and increasing the risk of a crash.
* There is a problem with certain Meritor drive axles and front non-drive steer axles produced from July 25, 2011 through Sept. 9, 2011 that were sold and installed as original equipment to Hino Motors. Some of the axles with wheel ends may have improperly assembled fastening hardware or nut locking features. This could result in wheel separation, which could lead to loss of vehicle control.
* Coolant in certain Blue Bird school buses equipped with Caterpillar C7 diesel engines, 7L, 6-cyllinder turbo and air-to-air aftercooled engines with 190 to 300 hp rating, built from Dec. 14, 2006 through Jan. 6, 2009 can degrade. This may cause the engine components to deteriorate prematurely possibly resulting in coolant leaks.
* The grid heater ground wire on certain model year 2011 through 2013 Freightliner S2 106 CH and S2C 106 cab chassis manufactured from Nov. 15, 2010 through Oct. 6, 2011, may contact the relay power terminal and rub and chafe. This could lead to a short circuit or an electrical fault.