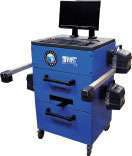 Wheel Alignment System
Greg Smith Equipment has the added Atlas' Edge 801 heavy-duty alignment system to its product line.
The Atlas Edge 801 BlueTooth alignment system features wireless data transmission and is customized for all heavy-duty truck axle configurations, Greg Smith Equipment says.
The system is PC driven and uses components managed by Windows XP Pro, and can print and save each alignment report to file in a service provider's records, the company says.
The alignment system also includes a patented non-runout fast clamp system that is designed to improve accuracy, the company says. Both products come with a warranty and tech support.
Greg Smith Equipment
Visit tpsdigital.com/info
New Suspension System Line
Ingersoll Axles says its Ingersoll Suspension System features an I-beam trailing beam design, a fully-wrapped axle connection and industry-standard parts to help maintenance needs.
The line includes 15 different designs and is offered in conjunction with the company's full line of axles, which includes standard, drop-center, steerable, in-line and others.
Ingersoll Axles
Visit tpsdigital.com/info

Fuel Efficient Tires
Bridgestone Tires says its Ecopia series of fuel-efficient tires are designed to reduce overall tire wear costs by fostering retreading.
NanoPro-Tech polymer is said to help control particle movement by bonding the carbon black in the tread more securely at an atomic level, which Bridgestone says reduces flexing and related energy loss.
Fuel Saver sidewall compound is said to run cooler, while the IntelliShape sidewall — found in the M710 Ecopia drive radial and R197 Ecopia trailer tires — contains less bead filler volume, which lowers tire weight, improving fuel economy and conserving natural resources.
Bridgestone
Visit tpsdigital.com/info

Wheel Balancer
Hunter's Road Force Touch GSP9700 wheel balancer is designed to automatically apply the load roller against the wheel and tire assembly to simulate how a wheel performs under the weight of a vehicle to find hidden causes of vibration and vehicle pull, the company says.
Software tools are said to include Hunter's eCal auto-calibration, on-demand training videos and the company's StraightTrak lateral force measurement that measures pull forces in one or more tires and recommends wheel placement to cancel vehicle drift.
Hunter
Visit tpsdigital.com/info
Portable Fuel Filter
Parker Hannifin's Racor Division designed its Racor FBO Filter Dolley for onsite cleaning of fuel storage and transport tanks to remove damaging particles and water from diesel fuel.
Available with a range of filters from 1 to 25 micron, the mobile unit can be maneuvered and operated by one person.
The cart can run unattended and has maintenance alarms and shutdown features that detect clogged filters and water level, the company says.
Parker Hannifin
Visit tpsdigital.com/info
Two Spring Brake Models
Haldex is offering Gold Seal and Life Seal spring brakes with OEM specified welded clevis pushrod assembly.
These new models come with the clevis welded to the pushrod and in the exact pre-set position used in new vehicle production, the company says.
This OEM grade replacement comes in both standard stroke and long stroke.
According to Haldex, benefits of the welded clevis include:
■ Saves time and money during installation by eliminating measuring and cutting of the pushrod, threading of clevis and setting
■ Reduces scrap costs associated with pushrod cutting errors
■ Uses exact pre-set OEM specs, reduces opportunity for application errors and risk of DOT fines
■ Cut-to-length push rod eliminates need for jam nut, improving push rod to clevis clearance and increases vehicle safety
■ Makes spring brake and automatic brake adjuster installation faster Haldex
Visit tpsdigital.com/info
Tire Lifter
Kiene's tire lifter is designed to allow a technician to lift 22.5- and 24.5-in. single tire and wheel assemblies, as well as 300-lb. super-single tire and wheel assemblies.
The lightweight portable tool weighs 13 lbs. and can be stored when not in use by hanging it on a wall.
Kiene
Visit tpsdigital.com/info

Connector Plugs and Electrical Sockets
Phillips Industries has added two-seven way male connector plugs and an electrical socket to its Sta-Dry product line.
According to Phillips, the first connector is an unbreakable glass-filled nylon connector and the second is a hybrid combination that uses unbreakable glass filled nylon and zinc die cast.
Each connector is said to have added protection from moisture with a three-blade Nitrile wiper seal at its mating end. Phillips says the seal effectively blocks any contaminants from entering at the seven-way connection.
The electrical socket is said to upgrade and improve the connection between a tractor and trailer.
The swiveling electrical socket can turn up to 80 degrees (40 degrees in each direction) and will disconnect automatically if a turn exceeds that angle, the company says.
Phillips
Visit tpsdigital.com/info

New Engine Start Module
Maxwell Technologies, Inc. has introduced a 12-volt ultra-capacitor module that it says ensures reliable engine starting for commercial trucks and other heavy vehicles.
The new product will be sold as original equipment or as a retrofit solution to avoid vehicle starting problems in cold weather or when batteries are drained by repetitive starting or climate control and other driver comfort functions, the company says.
Features of the product are said to include:
* Reliable starting for diesel engines up to 15 liters at temperatures down to -40°C
* Maintenance-free operation and "life of the vehicle" reliability
* Group 31 battery form factor
* Built-in quick charging system (15 minutes or less)
* Extended battery life, full compatibility with existing battery systems
* Green technology with no heavy metals or toxic substances requiring special recycling
Maxwell Technologies
Visit tpsdigital.com/info
Tandem Rear Axle
Meritor, Inc. has unveiled its new FUELite tandem axle. Meritor says FUELite is the first member of its SoloDrive Series axles that features 6×2 tandem rear axles.
Based on the Meritor 160 series drive axle, the FUELite tandem axle is designed for line-haul applications to maximize weight savings and increase fuel efficiency, the company says.
The Meritor FUELite tandem axle is said to deliver nearly 400 lbs. in weight savings and approximately a 2 percent increase in fuel efficiency when compared to a traditional 6×4 configuration.
Features and benefits of the axle are said to include:
* Meritor's 160 DualTrac housing that allows the option of running wide-based single tires or duals
* A 2.50 to 4.10 ratio range
* A 12.7-mm wall housing that is compatible with all current 40,000-lb. tandem air suspensions
* All SoloDrive Series axles will utilize the same rear-tag axle and are designed to function optimally with Meritor brakes and options
Meritor
Visit tpsdigital.com/info

New Drive Tire
Yokohama's 709ZL drive tire, available in 295/75R22.5 and 11R22.5 sizes, employs the company's Zenvironment technology designed to provide low rolling resistance and improved fuel economy due to its tread design, a solid shoulder rib and serpentine grooves for extra rigidity and stability, and a Z Block design to help improve wet traction.
Yokohama
Visit tpsdigital.com/info
Fuel Tank and Configuration Tool
Alliance Truck Parts announces the availability of new aftermarket cylindrical fuel tanks offered with an online configuration tool.
The online configuration program allows customers to spec their tank and provides a corresponding part number, Alliance says. A printable ticket can then be taken to any Freightliner, Sterling or Western Star dealership, though the tank is compatible with all truck makes.
The configuration tool is available at alliancetruckparts.com and allows customers to specify truck make, tank capacity, finish and fill-neck placement.
Alliance Truck Parts
Visit tpsdigital.com/info