PEOPLE IN THE NEWS
* Meritor has made multiple staffing changes. The company has appointed Michael Boe to managing director, Aftermarket, Europe; Craig Cartmill to vice president, Aftermarket Americas; and Doug Wolma to general manager, Global Aftermarket Operations.

* Karmak, Inc. has named Duff Bell its new director of sales.
* Haldex has named Tim Shaw product manager for all remanufactured products produced in the Marion, N.C. remanufacturing plant, and named Dan Dunkleberger product manager for friction products and remanufactured brake shoes for the company's network of friction centers.
* VIPAR Heavy Duty has named James McGuire director of business development with responsibility for stockholder development in the central U.S.

* Noregon Systems has added Mike Maxwell as sales manager – distribution, and George Farmer as sales solutions manager with a focus on customer retention.
* Phillips Industries has hired Perry Criscuolo as mid-Atlantic territory sales manager.

* BorgWarner has announced several staffing changes. It has appointed Ronald Hundzinski to chief financial officer and James Verrier to the newly created position of president and chief operating officer. Robin Adams also has been promoted to vice chairman of the board of directors.
* Bar's Products has named Max Douglas national sales manager, responsible for the U.S. and Canadian markets.
* Jacobs Vehicle Systems has appointed Thomas Howell as director of new technology.
ECONOMIC NEWS
The following is economic news from the trucking industry:
* The American Trucking Associations announced its advanced seasonally adjusted For-Hire Truck Tonnage Index rose 0.5 percent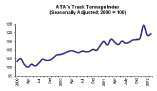 in February after falling 4.6 percent in January. The latest gain put the adjusted index at 119.3, up from January's level of 118.7. Compared with February 2011, the adjusted index was up 5.5 percent, better than January's 3.1 percent increase.
* Trade using surface transportation between the United States and Canada and Mexico, was 11.5 percent higher in January 2012 than in January 2011, totaling $75.5 billion, according to the Bureau of Transportation Statistics.
* FTR's Trucking Conditions Index for February eased very slightly to a reading of 5.9. FTR says it is forecasting the February reading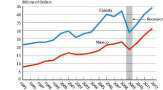 to be the low point for 2012 with strong month-over-month increases throughout the remainder of the year.
* FTR Associates also has released preliminary data showing March Class 8 truck total net orders were 11 percent below February at 19,682 units for all major North American OEMs. March orders were 32 percent below the same month in 2011.
* After hiring about 20,000 new payroll employees in the past three months, trucking companies cut 1,900 jobs on a seasonally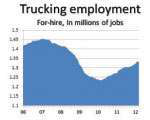 adjusted basis in March, according to the latest numbers released, by the Bureau of Labor Statistics. The last time payroll employment dropped month-to-month in for-hire trucking was August 2011.
Heavy-duty aftermarket up nearly 30 percent since 2009
MacKay & Company has reported since the trough of the heavy-duty aftermarket in December 2009, U.S. parts sales have increased by 29.4 percent. The news was reported by MacKay & Company to subscribers of its Aftermarket Index program.
According to MacKay, sales to both original equipment service programs and to the independent heavy-duty aftermarket have all increased substantially — although not identically. Furthermore, MacKay says meaningful sales increases have been experienced not only in the U.S., but in Canada and Mexico as well.
Technical training center opens in Mercer, Pa.
Hovis Auto & Truck Supply has opened its new Hovis Technical Training Center located in Mercer, Pa.
The 10,000-sq. ft. hands-on training facility is equipped with advanced tools and equipment and is dedicated to instructing professional service technicians about time-saving and problem-solving techniques, the company says.
The center offers a fully equipped body shop with mixing rooms; prep deck and oversized paint booth; a 14-ft. overhead door for heavy-duty truck access as well as four- and two-post lifts; a wireless alignment machine; tire changer and balancer; and diagnostic labs.
Dealership News
The following is news from dealerships in the trucking industry:
* Schow's announces the building of a new facility, Schow's Truck Center, featuring NationaLease, CIMC and used truck sales, in Salt Lake City. The business will operate as NationaLease of Utah.
* Diamond International of Russellville, Ark., has completed the final phase of a $2.5 million facilities expansion. The renovated dealership is now 30 percent larger with a 21,000-sq. ft. footprint.
Fontaine Parts opens Canadian distribution center
Fontaine Parts Connection has opened a distribution center in Calgary, Alberta to serve its customers in Western Canada.
Fontaine has contracted with FMi Logistics Inc. to fulfill its parts orders from its warehouse, the company says.
"Adding this distribution center enables our customers throughout Western Canada to obtain their fifth wheel replacement parts more quickly and efficiently," says Toby Harris, vice president of sales and marketing for Fontaine Parts Connection. "Instead of waiting several days for an order to arrive from the U.S. or Toronto, customers now will be able to receive most of their parts within a day."
Meritor enhances customer support systems
Meritor, Inc. has launched two advanced technologies designed to improve customer support: a second-generation Meritor Mobile application and a new web portal called the Meritor BullPen.

The Meritor BullPen is a web portal designed for dealers, fleets and service providers to access Meritor's product information and training in one central location.
The company says users will have access to more than 1,000 documents including product presentations, sales literature, product videos and photos, service bulletins, parts books, web-based training, Meritor on the Move (MOTM), a Meritor Mobile application link for downloading, Meritor and industry news, and more.
The Meritor Mobile app is said to provide a detailed portfolio of Meritor's sales, maintenance and technical information.
Users also will now have the ability to download the full version, which stores videos locally, or a smaller remote version, which only requires a fraction of the device storage capacity.
MERA adds four new members
The Motor & Equipment Remanufacturers Association (MERA) has added four new members: Automotive Industry Action, AxleTech International, Reliable Transmission Service and Denso.
Automotive Industry Action is a not-for-profit association where professionals from a diverse group of stakeholders — including retailers, suppliers of all sizes, automakers, manufacturers, service providers, academia and government — work collaboratively to streamline industry processes via global standards development and harmonized business practices.
AxleTech International has experience remanufacturing axles, brakes and transfer cases for on-highway, transit, off-highway, military, motorsports and specialty vehicles.
Reliable Transmission Service has been a remanufacturer and service provider for Allison Transmissions since 1981.
Denso Sales California was established in 1971 as the first overseas affiliate of the Denso Corporation of Japan. It is a remanufacturer of starter motors, alternators and common rail fuel injectors.
Accuride to expand wheel production
Accuride Corporation has announced plans to expand aluminum wheel production capacity at its Camden, Kershaw County, S.C. plant.
The company says it will invest at least $8.73 million to add two machine lines as part of the expansion, which will generate at least 25 new jobs.
The Kershaw County Council is expected to vote in favor of a Fee in Lieu of Taxes (FILOT) agreement for the project; and the company says it is utilizing South Carolina's readySC worker training program for new hires.
"We are pleased to move forward with plans to expand our Kershaw County operations. Our investment helps to ensure we have the right production capacity in place where and when our customers need it, at a higher standard of quality and dependability," says Rick Dauch, Accuride president and CEO.