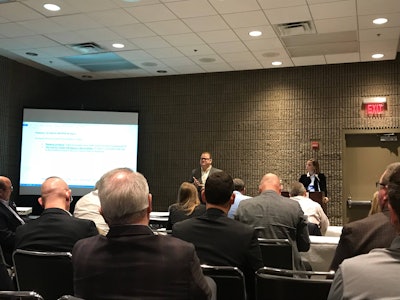 After kicking off Monday's task force meetings with an active conversation on hiring and retaining millennial employees, the S.16 Service Provider Study Group at ATA's Technology & Maintenance Council (TMC) Annual Meeting in Atlanta followed with discussions on recommended practice implementation, safety guidelines in mobile maintenance and heavy-duty collision repair guidelines.
When it came to RP implementation, the lion's share of Monday's discussion focused on access. Fleet and service providers alike were adamant that ATA and TMC need to make improvements to RP dissemination, particularly on the TMC Connect website. Meeting attendees argued RPs should easily searchable, downloadable and available to all TMC member companies and their employees — particularly technicians.
Task force co-chairman Brad Olsen with FedEx Freight says the RP guide on TMC is "nowhere near where we want to be, but there has a been a concerted effort to get better."
In regard to the RP Olsen and fellow co-chair Jill Gingrich of WheelTime are developeing on 'Implementing RPs in Fleet and Service Provider Operations," most in the crowd were pleased with the rough document outline as it is written. Most comments focused on measurement — the RP should provide guidance on how to measure if a new RP worked, and why — and RP endorsements from management, technicians and/or other businesses in the industry who have used a RP effectively.
Jerry Bodkins with TA Truck Service is chairing the task force on 'Safety Guidelines for Mobile Maintenance.' During discussion on that proposed RP, Bodkins broke attendees in the task force session into small groups to evaluate the topic of service safety in the field and provide key tips and what should be prioritized within the document. Conversations address pre- and post-trip truck inspections, safe driving procedures, safe work zone setups and repair safety.
Notes were taken within each discussion, and Bodkins says his committee will use them to identify key tips that should be included in a first draft recommended practice. He says his committee plans to release its first draft at the next TMC meeting in September.
Finally, Chris Sterwerf with Fairfield Auto & Truck Service chaired the first meeting of the 'Heavy-duty Collision Repair Guidelines' task force. Sterwerf says accidents are chaos, but collision repair shouldn't be. He says the heavy-duty truck repair industry has no best practices for collision repair and believes a RP would be incredibly valuable for standardizing the service performance and customer experience when managing collisions and accident repair.
"We need to find a best practice," he says.
During Monday's meeting, Sterwerf suggested four collision-specific topics ripe for a RP: Refinishing aluminum and raw plastic materials; frame adjustments; steering and axle triage; and cab panel replacement and/or sectioning.
Fleet attendees in the room targeted frame adjustments, specifically, as an area where they would prefer to see a RP developed. Another attendee suggested a best practice for triage and sequencing and determined the structure in which repairs should be ordered. Sterwerf says his task force is likely to start on an RP on refinishing aluminum, with plans to begin a second recommended practice on processes in the coming months.