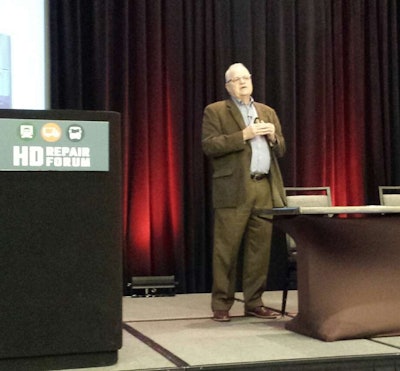 The future of trucking holds many opportunities and hurdles for the aftermarket industry, according to several experts who addressed attendees during the inaugural HD Repair Forum held this week in Fort Worth, Texas.
Derek Kaufman, managing partner for Schwartz Advisors and CEO and founder of C3, who is a 40-year industry veteran was the keynote speaker Tuesday, and spoke of just some of the recent changes he's witnessed.
"Over the years, I've watched NOx emission, in particular, drop 97 percent and I've watched fuel economy go from 5 to 6 mpg to 7 to 8 mpg with the advances in trucking," he says. "I see electric powered steering assist coming into the market; I see high-efficiency aftertreatment; I've seen waste heat recovery coming into the market – so many things continuously changing, things that we're going to repair in the next few years."
He also addressed opportunities and challenges that face, or will face, the aftermarket parts and service industry.
"Aftertreatment in this industry now is the fastest growing service category in heavy-duty trucking," he says adding that this is apparent by working with warehouse distributors and extended service contract companies.
"People who are doing certified used trucks are now requiring the aftertreatment [system] on the truck to be changed before a truck is sold with a certification simply because the claims show in the first three months a used truck goes out, the chance of an aftertreatment claim is extremely high, like over 80 percent," Kaufman says. "So, we know this is an industry unto itself, with companies popping up and selling parts and the cleaning machines, and dealers and independent shops are buying them. If you're not in the aftertreatment repair business, be in the aftertreatment repair business."
Kaufman also says the industry faces a hurdle in the form of modules containing embedded software being built into trucks, with the number of modules "exploding" in the last several years.
"What's happened is that the OEs say, 'Now we have a very good way to stop reverse engineering for lower cost, aftermarket parts. We put software code in it, so we have control of the updates of it. That's a real barrier to reverse engineering of the parts,'" he says. "Absolutely true. But the unintended consequences are the secondary fleets will be priced out of secondary service. The OE aftermarket systems will have a super long tail of maintaining embedded software components for years to come."
However, Kaufman continues, "The reputation for Class 8 trucks is not made in the first four years with the original fleet that buys them and has them under warranty the entire time they own it. It's in the next four years and the next four years, so that the lifetime of the vehicle etches in the brand reputation for that truck. And it's the independent aftermarket, in so many ways, that makes that reputation. This might be the fight of the future – it's the access to the codes to be able to properly repair vehicles."
Bill Kahn says he investigates future technologies as part of his job as principal engineer and manager of advanced concepts, Peterbilt Motors Company.
"I see this stuff every day so … I look forward for you to see what's going to be out there in the future and how it applies to your businesses," he says.
"In the big picture, we look at the entire powertrain. We've pretty much pushed the diesel engine to the amount of efficiency we can get out of it. We need to look at other powertrains as well."
Kahn spoke of working with Walmart Transportation. "I do demonstration vehicles with [Walmart's transportation fleet]. I do just about all their R&D work because we have the same goals – to make the most light-weight, aerodynamic vehicles in the industry," he says.
When we go out there with these demonstration vehicles, we're trying to get 1 to 2 percent improvement in fuel economy. Just 1 percent in fuel economy for Walmart is about $5 million a year in fuel savings because they have 6,000 trucks. It was a great project to work on," he adds.
Regarding features in the near future, Kahn mentions torque overlay steering, which reduces driver fatigue; lane keeping assist; traffic jam assist, which will help driver's hours of service; and emergency braking.
No discussion about the future of trucking would be complete without discussing what Kahn refers to as Level 4, which basically is team driving with a computer and a human driver ready to take over when necessary and, the ultimate step being driverless vehicles.
"It's ambitious but it's going to be very select opportunities," he says of driverless vehicles. "It's a good goal because you don't have to pay drivers. But there's going to be drivers in trucks for a long period of time."
Jeff Sass, senior vice president, sales and marketing, Navistar, says it's important to consider there are close to 4 million Class 8 trucks on the road today.
"If we adopt new technology, we've got 20 to 25 years before it fully takes over the population. Things like collision mitigation is going to become legislated; it's going to become standard. We have it standard on our LT model, but there are a lot of old ProStars out in the marketplace that do not have collision mitigation," Sass says. "So, you as the repair industry, will be dealing with a wide variety of models and eras of technology for the next 20 years."
He also adds that "over the last two years we have revamped our entire product lineup at International. This type of evolution creates a lot of opportunity in the repair industry as we are moving forward with our new lineup because as with each of these new models, we bring new technology into our trucks."
The new and improved technology is a fully programmable system and there will be more sensors and cameras. A future dash will be completely programmable.
"Virtual gauges, next-generation systems, all connected via driver controls and integrated together. This will make the repair of these more complex. More technician training will be required," Sass says.
Another example of the latest technology is Navistar's proprietary paddle shifter for its automated manual transmissions for the Eaton and the Allison.
"It's stock mounted and has the Jake brake controls integrated with it. This is 100 percent system interfaced. It's shift by wire. There's no mechanical interface, so your technicians who have been trained on linkages and shift patterns will now have to be trained on electronics," he says.
"Technology is accelerating. Fuel economy is going to drive new materials and new aerodynamics. The human driver interface and the use of cameras are things you're all going to need to be able to fix," Sass says. "Vehicle maintenance 10 years from now will be very different than today."