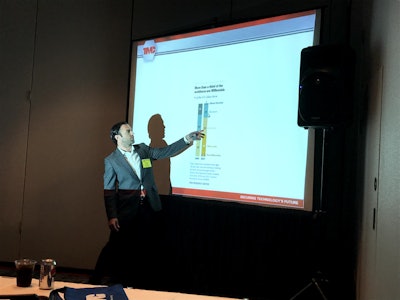 ATA's Technology & Maintenance Council (TMC) is all too aware of the employment shortage facing the trucking industry. The topic is front and center at almost every meeting. During Tuesday's task force meetings at the TMC Fall Meeting in Orlando, the organization's S.16 Service Provider study group took another step toward alleviating the industry's talent shortage problem by moving its "Leveraging and developing the next generation of leaders" task force one step closer to becoming its recommended practice.
Task force Chairman Brandon Fackey of Clarke Power Services says an important step in building this recommended practice is understanding the differences between the current generations of leaders (Baby Boomers and Gen Xers) and the next generation (Millennials). Fackey says the next generation is an optimistic, team-centric group, and they want to work for businesses that believe in those qualities.
"Employees are our most valuable resource and they are hard to get right now," he says.
Though the proposed RP is still a few meetings from completion, Tuesday's meeting showed everyone involved in its development is aware of how the business climate is changing. The task force notes by 2025 75 percent of the workforce will be Millennials and that 71 percent of Millennials will leave a job within two years if they become dissatisfied with their role.
Fackey's task force team has identified the following topics as worthy of inclusion in the upcoming RP: leadership growth, personal growth plan, communication structure, adaptation, current and long-term expectations, succession planning, schedule flexibility and mentorship programs.
Mentorship programs (a topic where TMC has a completed RP), compensation and employee communication dominated most of Tuesday's conversation, with meeting attendees sharing personal anecdotes on how different generations of employees are interacting positively and negatively in their operations. The task force's next step is creating an action plan addressing the previous topics along with management, leadership and motivational best practices.