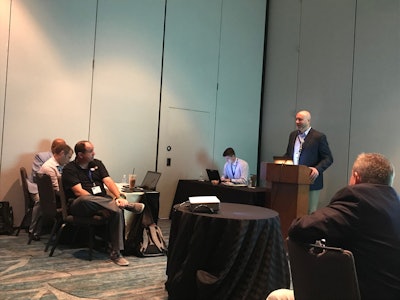 The S.16 Service Provider study group of the ATA's Technology & Maintenance Council (TMC) kicked off its task force meetings Tuesday at TMC's Fall Meeting in Orlando with a pair of discussions on collision repair.
TMC's service providers are working to write recommended practices for a heavy-duty collision repair roadmap and heavy-duty collision repair guidelines.
The scope for the first proposed RP, which is being led at the task force level by Joey Fassett of Al's Automotive and Truck Service Center, is to "develop a roadmap/flowchart for the steps needed to take a truck or trailer involved in a collision and make it road ready and safe for service. This roadmap is intended to consider safety, cost and equipment utilization and identify areas of focus for future task force development."
Fassett's RP is still in its early stages and most of Tuesday's discussion on the topic focused on the start of a repair and the authorizations needed to begin collision service. Because trucks, trailers and cargo are sometimes all owned by different businesses, multiple study group members say the first step in any repair — collision or otherwise — is legal, not mechanical. Who needs to be informed of the accident, and what needs to be done with all involved assets before any equipment hits a service bay?
Other pre-repair issues discussed Tuesday were how telematics data recorded before and during an accident can be used to direct a repair; as well as how insurance may impact a conventional repair process.
"We are trying to create some sort of standard to make [these repairs] more effective and efficient for fleets," Fassett says.
The second collision repair task force meeting Tuesday was led by Chris Sterwerf of Fairfield Auto & Truck Service. Sterwerf is working to create the first of many proposed RPs on collision repair guidelines. Because of its broad title, Sterwerf says his task force is still searching for the right topic to take on in writing its first recommended practice. Early discussion Tuesday hit on topics such as refinishing, where Sterwerf says he has the most OEM support, as well as frame straightening and shop safety procedures.
Tuesday's discussion also featured a brief detour into technician education and recruitment. How can collision centers develop relationships with technical schools to ensure the schools are using a curriculum that's valuable to the collision industry?
Regarding refinishing, Sterwerf says improper procedures can result in paint failing to adhere to vehicle exteriors or adhering for only a short period of time — leading to a duplicative refinishing job. TMC S.16 Chairman Homer Hogg says he will push for multiple task forces to be created for future meetings. Refinishing was confirmed as a topic, with safety and frame measuring likely to be added soon.