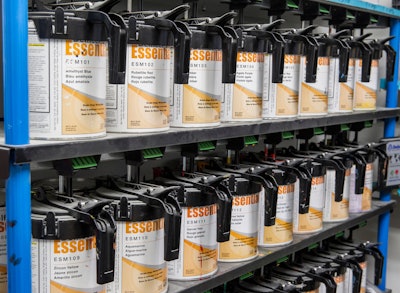 PPG has announced its Commercial Coatings training schedule for the fourth quarter of 2018. Classes cover a variety of subjects and are designed to ensure that paint technicians stay up to date with their commercial refinish certification and knowledge of PPG commercial coatings products, processes and technological advances.
Led by expert PPG trainers, the commercial coatings training classes are held at PPG Business Development Centers and numerous field locations across the U.S. and Canada. The courses take one to two days and provide extensive classroom instruction along with hands-on work in the spray booth. Technicians are given opportunities for informal discussions and Q&A sessions with the trainers, according to an announcement.
Commercial training courses cover PPG premium brands including the Delfleet Essential, Delfleet Evolution and PPG commercial performance coatings (CPC) product lines, with certification and recertification offered for the Delfleet family of products. Programs encompass a range of topics from product selection, equipment and color tools to surface preparation and paint application best practices. Classes also are offered for PPG's ADJUSTRITE commercial estimating system. Classes are available in Spanish and French in some locations.
PPG refinish technicians must be certified and then re-certified every two years to make certain they stay current with industry developments.
When PPG paint technicians and their respective collision centers are certified, the centers may offer the PPG Commercial Vehicle Paint Performance Warranty to their customers. Technicians must maintain their PPG certification in the Delfleet Essential or Delfleet Evolution paint line for the collision repair center to continue participating in the PPG commercial warranty program.
For course descriptions with October, November and December dates, locations and registration instructions, CLICK HERE.