On Saturday, Nov. 4, 2017, Premier Truck Group hosted its second annual Top Tech Event in Dallas. This red carpet event recognized the company's top 10 technician finalists from all across North America and awarded the top champions from each category.
The Top Tech Event from the Premier Truck Group was intended to recognize and reward the very best in commercial vehicle technicians. The challenge features two contestant categories:
Expert: Defined as those with 5+ years of Freightliner experience.
Professional: Defined as those with 1 to 5 years of Freightliner technician experience.
The company says 2017 winners were Expert Champion Cody Byers, Central Region, from Premier Truck Group of Oklahoma City; and the Professional Champion was Hunter Berry, East Region, from Premier Truck Group of Knoxville.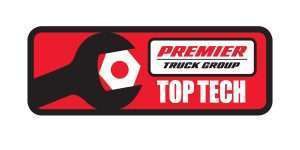 During the contest, the first segment was a 100-question written examination that was purposely intended to be both comprehensive and demanding. From the top scores of written examination, the top 10 technicians moved on to the second round in this challenge; the Top Tech Hands-On Testing. The hands-on portion of the event was held at Universal Technical Institute on Nov. 4. The contest tested the finalists with real-world applications of their knowledge. The hands-on testing encompassed the entire truck, from tires and electrical lighting, to HVAC and Engine Electronic diagnosis.
Premier Truck Group says other Expert finalists were:
David Eisele, (two-time Expert finalist) North Region, Mississauga
OJ Ramonez, West Region, Amarillo
Randy Argo, Central Region, Fort Worth
Sam Gentry, (two-time Expert finalist) East Region, Knoxville
Additionally, the other Professional finalists were:
Brandon Morales, West Region, Odessa
Daniel Johnson, (two-time Expert finalist and 2016 TopTech Champion) West Region, Dallas South
Nate Said, Central Region, North Texas
Rob Koning, North Region, Belleville
"Each of the 10 Top Tech finalists did an awesome job, and we are very proud to have them represent the Premier Truck Group team," the company says.