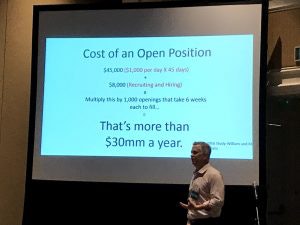 If you've been sitting back waiting for your local tech school to solve your technician shortage you could be waiting your way right out of business. That was the message from Tim Spurlock, president, American Diesel Training Centers, during a presentation Tuesday at the 2019 Truck Renting and Leasing Association (TRALA) Annual Meeting in Orlando, Fla.
During his presentation Tuesday Spurlock laid out the grim details of trucking's technician shortage that he believes, while less publicized than the driver shortage, could end up being among the most significant employment shortages in transportation history.
"I believe this should be on the front page of every paper, every day. This should be a national call to arms," he says. "The driver shortage right now is so severe that the tech shortage gets pushed back out of the spotlight, but this shortage is huge."
And growing. Spurlock quotes a Penske Truck Leasing white paper that states by 2022 the trucking industry will need to add 75,000 new technicians to meet growing demand and another 67,000 technicians to replace existing techs that will retire or voluntarily leave the industry.
He follows up those numbers with this sobering nugget: "By 2025 there will be more technician openings than actual working technicians."
Spurlock adds there's no way the education system can cover that demand. Nor would it even know how. U.S. schools have "no chance," he says.
He says one main reason the school system can't solve trucking's problem is the system isn't built to provide the industry what it needs. Schools receiving federal funding are required to develop programs that meet certain government parameters, not the desires of the industry. The result are programs that last too long, cost too much and provide an education that isn't ideal for filling the open positions in the marketplace.
Spurlock gives the example of the young tech who graduates from a secondary school and expects "to make $30 an hour to rebuild transmissions" only to discover the positions open pay $17.50 to do PMs and wheel end service.
"Schools over train these kids for what you need," he says.
But as bad as he makes things sound, Spurlock is hopeful. He says the tech shortage "is completely fixable." It just requires the trucking industry to patch its biggest wound.
"Industry has to step up to the plate. You have to grow your own technicians," he says.
That's where programs such as American Diesel Training Centers (ADTC) become valuable. Spurlock says ATDC provides comprehensive training for developed specifically to place technicians into the job openings found throughout North America.
ADTC also is a fraction of the price of national post-secondary diesel programs, though Spurlock says most students participating in the program are sponsored by trucking companies and service centers and enter those businesses after graduation. And unlike high school and most post-secondary programs, which rely on 16- to 20-year-old students to fill their ranks, ATDC courses are filled with students from any age group and walk of life. Spurlock says that matters because the technician shortage will be solved by recruiting outside of the trucking vertical.
"Too many companies out there are looking for Yoda. They are looking for the master," he says. "They need to be looking for Luke Skywalkers."