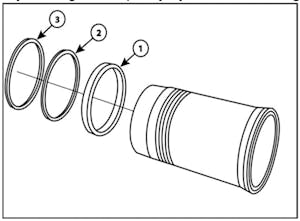 AFA Industries
Cylinder liner sealing rings are important to the health of your engine. A quality cylinder liner along with a quality cylinder liner sealing ring helps keep the liner seated in place and prevents foreign materials from entering the combustion chamber, according to an AFA Industries tech bulletin.
A failing cylinder liner sealing ring can lead to hydro-locking the engine, allow foreign material to enter the combustion chamber leading to damage on the piston and valves — ultimately leading to complete engine failure.
AFA released a new technical bulletin with cylinder liner sealing ring installation instructions.
CLICK HERE to view the bulletin.