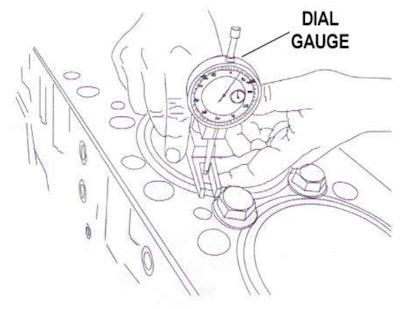 AFA Industries
AFA Industries has issued a technician bulletin for correctly measuring cylinder liner protrusion. If the liner protrusion is wrong or uneven, it can result in cylinder liner flange fractures, liner distortion or head gasket failure.
Consult the engine manufacturer's specifications for the correct cylinder liner protrusion from the following measuring points:
Cylinder liner protrusion from the counter bore
Maximum protrusion variation between adjacent liners
Maximum protrusion variation under one cylinder head
If correctly installed, the new liner should fit snugly on the cylinder block and protrude out from the cylinder bore.
Using a dial gauge, the protrusion must be measured, checked and verified to be within the engine manufacturer's specifications. Any specification that does not match the engine manufacturer's specifications will not guarantee that the liner will seal the combustion chamber.