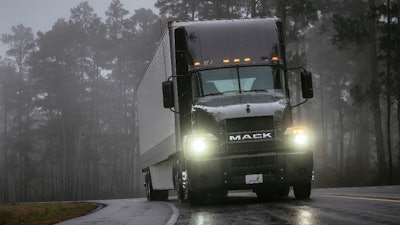 Mack Trucks announced Wednesday it has expanded its Mack OneCall 24/7 roadside assistance service and support offered through the Mack Uptime Center to better serve customers who have an unplanned event.
According to Mack, the new digital tracking feature enables increased and real-time communication between drivers or fleet managers and roadside assistance providers so that customers are better informed as to when help will arrive. This removes the guesswork about arrival times and allows customers to make more informed decisions.
"Mack remains committed to simplifying the customer experience, while allowing fleets to be more efficient," says David Pardue, Mack Trucks vice president of connected solutions. "The digital tracker is modern, improves customer uptime and increases certainty and visibility during an unplanned stop."
[RELATED: Mack names 2021 Dealers of the Year]
The expanded OneCall service features faster dispatching, which the OEM says reduces wait time by offering an improved estimate time of arrival for roadside assistance providers through a digital platform. It also improves visibility and live tracking by allowing customers to see exactly when roadside assistance will arrive via an interactive map, similar to ridesharing applications. The expanded service also reduces additional phone calls as it enables customers to communicate and receive status updates directly via text messages, Mack says.
"Mack OneCall is integral to our uptime service and support solutions," Pardue adds. "The expanded service is more modern and convenient and will greatly improve the customer's overall service experience."