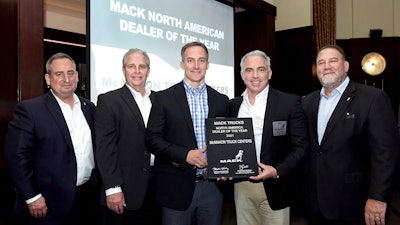 McMahon Truck Centers, based in Charlotte, N.C., is the Mack Trucks 2021 North American Dealer of the Year. Mack named McMahon the winner during an event at the 2022 American Truck Dealers' (ATD) Show, last week in Las Vegas.
Mack annually presents the Dealer of the Year awards to its dealers that exceed sales, parts, leasing and customer satisfaction targets, while also focusing on business growth. 
"Mack congratulates McMahon Truck Centers for their continued high performance and their dedication to meeting the transportation needs of customers big and small in 2021 and in previous years," says Jonathan Randall, Mack Trucks senior vice president of sales and commercial operations. "McMahon also made significant investments in their facilities, showing their commitment to Mack customers."
[RELATED: EMA boss: Trucking needs single regulatory body setting emission standards]
McMahon Truck Centers is a family-owned group of full-service commercial truck centers and dedicated parts and service centers with nine locations across North Carolina, South Carolina, Ohio, Tennessee, Kentucky and Indiana. Mike and Brad McMahon, dealer principals, are second-generation owners. Their father Patrick McMahon started the dealership in Charlotte in 1996. McMahon Truck Centers also manages the complementary business unit of McMahon Truck Leasing, a full-service affiliate representing Mack Leasing System, Volvo Leasing System, and NationaLease.
"Our entire team worked tirelessly this year to produce one of our best years yet! The reinvestments in people and facilities really put us over the top" says Mike McMahon. "With thanks and gratitude to all the families and employees of McMahon Truck Centers, to our great customers, and to Mack Trucks, we are very pleased and honored to accept this award!"
Mack Trucks also named 2021 winners for its regional sales divisions:
Northeast Region: Gabrielli Truck Sales, Queens, N.Y.
Southeast Region: McMahon Truck Centers, Charlotte, N.C.
Central Region: Interstate Trucksource, Saginaw, Mich.
Southwest Region: Bruckner's Truck and Equipment, Amarillo, Texas
West Region: TEC Equipment, Oakland, Calif.
Canada Region: Vision Truck Group, Cambridge, Ontario
Tri-State Truck Centers of Memphis, Tenn., was named U.S. Mack Financial Services Dealer of the Year. The Mack Leasing System Dealer of the Year Award was TEC Equipment, Portland, Ore. Bruckner's Truck and Equipment, Oklahoma, City, Okla., received the Mack Remarketing Dealer of the Year Award, and the Customer Satisfaction Dealer of the Year Award went to TransEdge Truck Centers, Schuykill Haven, Pa.