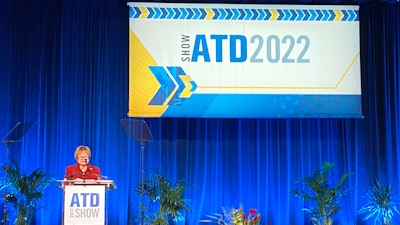 Kari Rihm, dealer principal, Rihm Kenworth and leader of Rihm Family Companies, was named the 2022 American Truck Dealers' (ATD) Dealer of the Year Thursday at the ATD Show in Las Vegas. Rihm beat out fellow finalists Eric Jorgensen (JX Enterprises) and Jon Vandehey (Mid-State Truck Service) to win the award.
The ATD Truck Dealer of the Year is a national award that recognizes commercial truck dealers for business performance, industry and civic leadership, and service to their community. Nominees are selected by state, metro and national association leaders, and a panel of judges from Indiana University's Kelley School of Business evaluate the nominees and select the winner each year.
Rihm took a unique career path to this year's award. She entered trucking as a second career in 2010 after her husband John Rihm passed away after a sudden battle with brain cancer. At the time, Rihm had no dealer experience and knew very little about the trucking industry. During her acceptance speech Thursday, she spoke about that trying period in her life, and the decision she made to enter a new industry in the wake of her husband's passing.
"I am here because I inherited my husband's family business. We were not prepared for that," she said. "We [as truck dealers] need to be personally prepared and prepare our families for planned and unexpected successions."
Rihm spoke candidly and honestly about the challenge of being a widow forced to rewrite the Rihm succession plan on the fly, and her experience as one of very few women leading truck dealer business in America. She thanked Kenworth of Louisiana's Jodie Teuton, specifically, for welcoming her to the industry and providing her guidance about succeeding as a female leader in a male-dominated industry. Since taking over Rihm Kenworth, Kari Rihm has been a strong supporter of the Women in Trucking Association and Diversity, Equity and Inclusion in the transportation industry.
"A diverse workforce and industry are a healthy workforce and industry," she said.
Rihm also spoke very highly of her children who joined her in the business after their father's passing, her associates across the Rihm Family Companies' network, Paccar and Kenworth leaders and dealer partners, and her associates in the ATD.
"I am grateful and humbled by this award," she said.
Rihm Family Companies is celebrating its 90th anniversary this year and its Rihm Kenworth operation has seven dealerships across Minnesota and Wisconsin. Overall, the company has more than 350 employees at 21 locations.
In her role as ATD Dealer of the Year, Rihm will spend the next two years working with ATD and advocating for the commercial trucking industry at a regional and national level. Oscar Horton of Sun State International, 2020 ATD Dealer of Year, spoke of that experience Thursday before the award presentation. During his time as an industry steward, Horton dedicated a lot of time educating young people about the trucking industry, raising awareness of the career opportunities found throughout the space — particularly the dealer channel. He urged other dealers to do the the same.
"I want you to go out and speak to kids in junior high, high school, community colleges and universities. Tell them about your story and how great this industry is that we work in," he said.
The ATD Dealer of the Year award is presented by Procede Software and Heavy Duty Trucking.