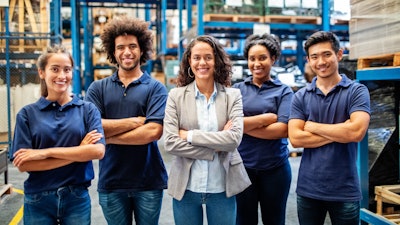 One vital yet oft overlooked aspect of business leadership is the ability to evaluate unquantifiable opportunity. Deciding to permanently add a product line after multiple special orders isn't always a slam dunk decision, but decision-making process behind it is direct: When customers keep requesting a part you don't have, it doesn't take a rocket science to calculate if the component is worth a permanent position on your shelves.
Not every business decision is as clear. Earlier this month Trucks, Parts, Service wrote about Millennial technicians, and how their approach to their careers are fundamentally different than the generations that preceded them. With seemingly every American industry currently facing a worker shortage, TPS wrote service providers who are quick to invest in their youngest technicians will likely be the companies most likely to retain those young workers long term and avoid the dire challenge of fighting for new techs in a hyper-competitive labor market.
Yet while the value of employee retention real, it can be hard to quantify. Particularly for small businesses. It's easy to determine the cost of bonus program — the expense exists as a visible line item — but it isn't as easy to determine how much revenues would shift if such a program didn't exist.
Which brings us to the topic at hand.
Diversity, equity, and inclusion (DEI) have been corporate buzzwords for years. The concepts around DEI have existed for decades and in recent years have been reprioritized within many Fortune 500 companies due to changing national demographics and cultural events. Even the trucking industry, which features many Fortune 500 companies but is still overwhelmingly populated by small businesses, DEI is started to gain a foothold.
In March, the Motor and Equipment Manufacturers Association (MEMA) held a virtual seminar titled "Driving DEI in the Mobility Landscape," in which automotive and heavy truck OEMs and suppliers shared their experiences integrating DEI initiatives into their operations, as well as how such initiatives have enabled them to strengthen their operations. The American Trucking Associations' (ATA) also recently created a diversity working group to examine, understand and prioritize DEI practices within the fleet community.
While kicking off March's event, MEMA President and CEO Bill Long stated as largest sector of manufacturing jobs in the United States, the automotive and heavy truck industries must do better to "create a culture where diversity is celebrated." Long's message was meant for the supplier community but the sentiment could apply to any business — including within the aftermarket and dealer channels.
The U.S. Census Bureau estimates 50 percent of children under of the age of 18 living in the U.S. today are members of minority ethnic groups. And with the country diversifying faster than previously predicted, it's safe to assume that number will increase in the decades ahead. For businesses with any long-term plans, this means the workforce of tomorrow is likely to look a lot different than the workforce of today.
It is here where the unquantifiable opportunity exists.
While equal employment opportunity (EEO) laws in the U.S. exist, DEI is a concept, not a law. Employers are not required to pledge to any DEI practices when hiring a new employee or seeking to internally fill a position. Additionally, while many proponents of DEI speak glowingly of its rewards, the value of DEI initiatives aren't always easily measured on a balance sheet. Investing in DEI is a choice.
What is DEI?
To understand why DEI is an investment worth making, experts say it first helps to understand exactly what it means.
Navistar has defined each aspect of DEI to better codify its programs and inform its initiatives, says Nicole Wiggins, the company's associate director for DEI.
[RELATED: Millennials are career focused; your business needs to be too]
"Diversity is a representation of all identities and differences," Wiggins says. "Equity is fair treatment …. ensuring marginalized groups have the same opportunities as others. Inclusion means everyone has the ability to bring their whole best selves to work."
At Daimler Trucks North America (DTNA), David Carson, senior vice president, sales and marketing, vocational, and chief diversity officer, says DEI "means bringing together the perspective of individuals of all backgrounds, skillsets, life experiences, preferences, abilities and beliefs to create better outcomes for our employees, customers, partners and communities."
Cheryl Thompson, founder and president of the Center of Automotive Diversity, Inclusion and Advancement (CADIA), has similar definitions for each word and DEI practices. Speaking during MEMA's event, Thompson said defining what DEI means to an employer is a vital step toward successfully integrating it within an operation. She said all too often companies commit lip service to popular causes but fail to truly understand them. Thompson said leadership teams who are serious about supporting DEI programs must go further, thinking critically about what DEI means as well as to identify where their company is in its DEI organizational evolution.
Accepting DEI practices into one's business is a journey, Thompson said, one every business follows at its own pace. She breaks the journey down into five levels:
Basic: Companies with no DEI vision or strategy; mostly homogenous workforce; any DEI effort is reactive and/or related to EEO compliance.
Awareness: Leaders are aware of DEI but do not prioritize initiatives; diversity within workforce is minimal; minority groups have little influence.
Understanding & Application: Companies begin to understand, accept and promote DEI tactics; workforce more diverse; DEI vision becomes part of business objectives.
Integrated: DEI becomes priority for executives; leadership teams exhibit diversity and equity; training to support DEI practices is constant and accepted.
Sustainable: DEI is embedded in organizational culture; workforce is diverse; all represented groups have voice within business.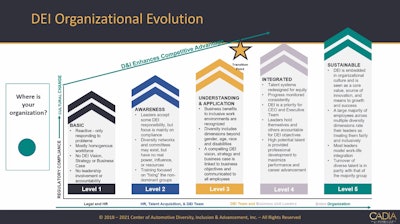 Thompson said all too often companies in the first two levels view DEI as "a problem they need to solve." She said it's typically not until Level 3 that executives and businesses begin to understand DEI as an ongoing journey with no set task list and end date. Ultimately, she said companies should aspire to integrate DEI into every aspect of their operation so, rather than consciously prioritizing it, it appears organically within business plans.
Why does DEI matter to a business?
But why does DEI matter, one might ask? And how is it any different from the equal employment opportunity laws that have governed hiring in the United States for more than 50 years?
According to those prioritizing DEI in their workplaces today, initiatives around DEI are far more proactive. While EEO laws exist to combat workplace discrimination and ensure no one is intentionally excluded or overlooked for a job opportunity, DEI efforts go much further. Businesses at Levels 3-5 on Thompson's DEI journey not only abide by EEO laws, they also actively seek to recruit, hire and promote people of all social groups with the hopes of developing a truly diverse and multi-representational workforce.
Among Millennials and other younger generations, these efforts can serve as their own recruitment tools. Young people growing up in diverse, increasingly inclusive communities view similar demographics in the workplace as expected and the norm. Though they may not turn down a job opportunity from an employer with a homogenous workforce, they also may not stick around long if they feel their generation, race, ethnic background or other identifier is underrepresented.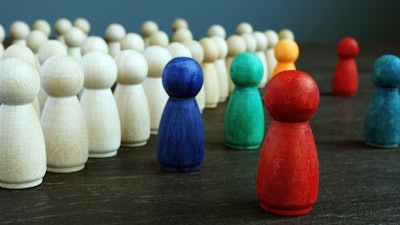 "By 2025, 75 percent of the global workforce will be made up of Millennials and they are incredibly sensitive to diversity issues," says James Reed, CEO at USA Truck and member of ATA's new diversity working group. "This is a generation that cares about these topics and that is driving their decision making as they enter the workforce."
Reed says more than half of USA Truck's driver workforce self-identifies as a minority but says 80 percent of the company's non-drivers are white. The latter has motivated Reed and his leadership team to alter some of its non-driver recruitment methods in hopes of achieving more diversity company wide. "We weren't casting a wide enough net," he says.
"Younger professionals are more progressive [than prior generations] in every way," added Ron Hall, president and CEO at automotive supplier Bridgewater Interiors, speaking at MEMA's event.
Hall said Bridgewater was motivated to begin its DEI journey when it began to see the gulf between the ages of its management teams and general workforce. Hall said Bridgewater uncovered younger employees became more engaged and committed to the business as its DEI practices increased, and eventually some began advocating for their employer to job-hunting friends and associates.
Proactive DEI efforts can entice even younger people too.
Automotive supplier Clarios found a commitment to high school career fairs in diverse and minority communities around its Milwaukee, Wis., facility led to an increase in minority applicants and hires, as well as a greater interest in its internship programs for college students, said Chief Human Resources Officer Wendy Radtke during MEMA's event. The latter has been particularly invaluable when filling corporate roles.
[RELATED: ATRI researching integration of young people, impact of marijuana legalization on trucking]
"People say 'You can't recruit to Milwaukee,'" she said. "But if someone is from here, you can bring them back."
Yet DEI is about more than just recruiting. Reed says market research into DEI have uncovered some substantial benefits for businesses.
He cites a report by McKinsey & Company indicating companies in the top quartile for ethnic/cultural diversity on executive teams were 33 percent more likely to have industry-leading profitability. That number was 21 percent for companies with top quartile gender diversity on executive teams, as well as 27 percent more likely to have superior value creation. Conversely, companies in the bottom quartile for both gender and ethnic/cultural diversity were 29 percent less likely to achieve above-average profitability than were all other companies.
Rush Enterprises Vice President of Human Resources Kipp Sassaman adds a recent Deloitte study indicates workforces that have committed to DEI are "two times more likely to meet their goals and eight times more likely to achieve better business outcomes."
Jackie Jacobs, senior fleet transaction analyst and project manager, Fleet Advantage, says the same: "Statistics show the more diverse a company is in both gender diversity and ethnic and cultural diversity, the more they outperform non-diverse companies in profitability."
"I think when people talk about DEI there is an element of 'This is the right thing to do,'" Reed says. "But there's also a real business case for this. We're all capitalists, we want our companies to be successful and this [DEI] is good business."
[RELATED: As equipment evolves, what's next for remanufacturing?]
And how does DEI unlock increased profitability? Experts say one clear advantage comes from improved team dynamics. Companies with diverse and inclusive workforces are more likely to have wider collections of talents, experiences and ideas. Teams built with a focus on diversity are less susceptible to groupthink and more capable of improvisation, collaboration and innovation.
"Diversity in the workplace is important to keep the workforce balanced," says Jacobs. Kenworth's Jude McTigue, assistant general manager, operations, adds, "Failure to adopt policies and processes that promote inclusion and break down silos stifles employee contributions in the form of innovation, creativity, perspective, diverse thought and more."
DEI can also stimulate productivity. Research indicates employee engagement is better in companies where employees are encouraged to bring their true selves to work, regardless of how they may appear different from colleagues.
"Gone are the days where people feel they have to assimilate to get a job," Wiggins says.
Those who are committed to DEI say they've seen these benefits first-hand.
Sassaman cites Rush Truck Center's diverse dealership workforce as key in identifying and proposing innovations to aid customer and employee experiences. Reed says USA Truck's commitment to DEI has given the carrier "a competitive advantage" in some freight segments — particularly its cross-border operations into Mexico. He credits the company's empowered and growing Mexican American workforce, specifically, for understanding some of the nuances of cross-border operations and optimizing the company's efforts in that area.
Carson adds businesses who fail to capitalize on DEI initiatives risk not being as successful as possible because they would "fail to capture the unique perspectives that ultimately drive growth and innovation."
And the concept of "unique perspectives" is something no business should overlook. Every customer is different. Not just in the size of their fleet and the equipment they run, but also the demographics of their business and the communities they serve. Dealers and aftermarket operations who fail to develop a workforce representative of their communities can lose sales to competitors who appear more accommodating, diverse and inclusive.
With four locations in the incredibly multicultural Washington, D.C., metro area, K Neal Truck and Bus serves customers of all races, religions and ethnicities and constantly seeks to employ a workforce attuned to the markets it serves, says President Korey Neal.
"Diversity is important not just in the workplace but in life in general," says Neal, one of few minority dealer principals in the trucking industry. "I think diversity allows us to express our views. It allows for a different level of togetherness … I think it also helps us better learn how to serve our customers."
Wiggins adds that commitment to learning and understanding is why DEI is so valuable. She says customers overwhelmingly prefer to do business with people they like and trust, but she adds a customer and vendor don't have to be demographic equals to have a great relationship. She says what matters is vendors commit to understand, support and accept their customers (and their employees), no matter their background, race, gender or other differentiating factor.
"It can't just be a campaign," she says. "You have to make a full commitment."
Sassaman agrees, noting it's "definitely an advantage" if a customer walks into your business and feels like they belong. But he says the actions necessary to create that inclusive environment "have to be intentional."
How can a business prioritize DEI?
Thompson says every company's DEI journey is unique and is based off its leadership team, workforce, commitment to evolution and place within the five levels. She says a small business may be able to integrate DEI practices into its operation faster than a large firm but, due to workforce bandwidth, also is more likely to abandon DEI initiatives before reaching Level 5.
She says no matter where a business is starting its journey, the most common driver for success is intentionality. A leader speaking a DEI program into existence might create awareness within an operation, but it won't change a workplace culture unless all associates are buy-in. Yet Thompson also says companies early in their DEI journey shouldn't judge themselves too harshly if they don't see an immediate business transformation. Remaking any organization takes time. Thompson says if a business remains committed to its DEI practices, over time it should see results.
Rihm Kenworth is one dealer early in its formal DEI journey, though the company supported many DEI employment practices for years. Marketing Communications Manager Kristin Oftedahl says the dealer chose to move from passively to actively supporting DEI practices last year due to various internal and external factors. She says it didn't take long once the topic was broached for the dealership to recognize its commitment would need to be comprehensive across the company to be successful.
Oftedahl says Rihm Kenworth's goal in beginning its journey was to diversify and strengthen its workforce. She says over the past year the dealer group has made conscious steps to update its recruitment and hiring practices to be more inclusive.
[RELATED: How dealers can manage competition from customers]
"I'd love to be able to look back a year from now and say, 'We've grown so much,' but we know it will take time for the company to truly evolve," she says. "If we get caught up with that mentality, we could get discouraged."
Yet that isn't to say Rihm Kenworth isn't seeing progress. Oftedahl says the dealer can already point to instances where DEI has made a difference. She says minor changes to how the company writes job descriptions and an expansion of where it posts its open positions has led to an uptick in minority and overall job applicants. And the company's longstanding support of the Women in Trucking Association (which pre-dates the start of its DEI journey) has made Rihm Kenworth one of the industry's most female-inclusive businesses.
Additionally, Oftedahl says she can point to single hires that have increased corporate sales — such as a young bilingual intern who has served as a translator to help the company strengthen its communication and connection with Spanish-speaking customers.
"Our sales reps are really great and they want to help everyone but we definitely didn't have anyone who could speak to [those customers] the way Jorge can," she says.
Neal also is a huge proponent of bilingual customer service professionals in his sales and service departments. He says when a customer is facing a challenge, they want to be able to call someone who will understand them — both mechanically and culturally.
"When you think about your customer base, you want to have people that represent everything about them," Neal says.
There's also the matter of workplace buy-in. A stable, profitable business with a homogenous staff in a homogenous area might not see the need to diversity its workforce. It might even look at diversity as a potential risk.
Neal believes DEI isn't a risk but an opportunity. He says trucking supports all corners of America and believes the industry's workforce is stronger if it mirrors the society it supports. He says in a nation that is becoming increasingly diverse, trucking risks falling behind in the race for the country's top talent if it fails to show itself as inclusive and welcoming to all.
"We need to make more room for more input and more ideas," he says. "Having multiple voices at the table matters so we can all be better."
Businesses that are committed to DEI say that's exactly what they're trying to do.
Paccar Executive Director of Human Resources Karen Collins says the OEM recruits a diverse and global workforce "to ensure we have the brightest people in the world on our team."
Adds Sassaman, "Why would we want to limit our recruitment to a portion of the population when it comes to talent? We should want to hire the best."
Wiggins says Navistar also has prioritized DEI within its recruitment and hiring practices but hasn't stopped there. She says last year the OEM started a company-wide Critical Conversation Series to address DEI topics and hot-button cultural issues. Wiggins says the program was meant to provide context to Navistar's DEI initiatives and educate team members unfamiliar with the concept as to why it is important. The program was a hit and has been expanded in 2021.
[RELATED: Fighting COVID-19 has been mentally challenging; reopening the economy will be too]
"We had people afterward saying, 'This has been the best hour of my career,' and 'I didn't realize how so many of my colleagues felt,'" Wiggins says. "I think after the last year, with so many of us feeling isolated during COVID, people were really supportive. I think people want to be able to be supportive of each other."
And an inclusive workforce is the best recruiting tool any business could hope for.
"The biggest compliment I can receive as a business owner is when someone in my organization says they know someone who they think would work really well here," says Neal. "That means that person buys into the vision of this place and cares about our success."