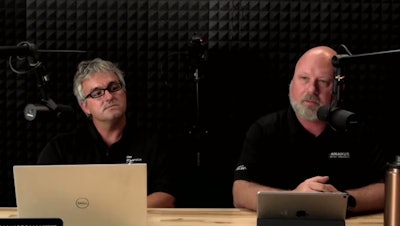 Facing inflation, the ongoing technician shortage and parts supply, service and parts providers discussed how they are navigating the tough business environment.
The discussion was part of a webinar held by Fullbay, a turn-key platform designed to improve the operational efficiency of heavy-duty repair shops, and hosted by Jacob Findlay, cofounder and executive chairman, and Chris O'Brien, chief operating officer.
Inflation is affecting everyone and because businesses are having to pay more to keep their shops running, a portion of those price increases must be passed on to the customer, said Jimmy Wall, general Manager at Donahue Truck Centers, which has six locations in California.
"Overall, the customers understand. There have been some scary situations where we have to tell a customer — that is maybe a high-volume buyer — they have a big project and this time it's 50 percent more," Wall said. "But when you have a discussion with them, they understand. They see [inflation] in their personal finances. Overall, it hasn't been bad as long as you communicate clearly and be transparent."
The Service Company Manager Luke Todd agreed, adding, "Everything we touch has gone up in cost so we're constantly looking at the expenses and trying to figure out what we need to absorb and what needs to be passed on." The Service Company is based in the Dayton, Ohio, area and has three locations.
One of the ways the company is combatting rising costs is through fuel surcharges. "Our fuel costs were double in the second quarter compared with what they were a year ago. [The surcharge] helps cover the cost of fuel running to get parts while trying to move these jobs through as fast as possible," Todd said.
"The big takeaway is, yes, we're all spending twice as much on fuel. Somehow, you're going to have to pass that on through labor, mileage, shop supply or surcharge," he added.
Donahue Truck Centers hasn't instituted a fuel surcharge yet, opting instead for a shop supply markup.
"We recently raised the percentage of that in the beginning of the year. We look at our shop supplies as a grouped-in cost of all those miscellaneous items that come and if we need to raise our shop supply percentage, then we do so," Wall said. "I think we went up 2 percent at the beginning of this year on our shop supply charge. I want to make the billing as simple as possible and if it's just raising the shop supplies, I will do that."
Technician shortage
Wall and Todd said finding technicians for all the work that needs to be done in their shops continues to be an issue. However, both are experimenting with ways to bring more talent into their bays.
Wall said his locations experience ups and downs regarding his business' need for techs. That said, "I'm actually in a good situation right now where I've hired three techs in the last week, which is amazing. However, we have to come up with creative ideas for recruiting techs and keeping the ones we have," he added.
Donahue Truck Centers has had to deal with a rising minimum wage and a California rule that shops have to pay twice the minimum wage if they require technicians to bring their own tools. The state's minimum wage is currently $15 an hour and Donahue Truck Centers' pay ranges between $20 and $ 40 an hour.
"When we're recruiting techs from a car dealership, for example, who know how to change the oil on a Honda, but they never touched a truck, it's hard to justify paying someone like that $30 an hour so supplying tools or having a toolbox that maybe they own after a certain timeframe is something we have been experimenting with," Wall said.
To combat the hiring challenges at The Service Company, it has a referral program in which the company gets the word out that it's looking to fill a position at whichever location is in need. "That has had a pretty good success rate as far as the quality of the people," Todd said.
The company also started an in-house trainee program about a year ago. The program supplies the trainees with tools, which become theirs after a certain amount of time. A seasoned tech monitors the trainees.
"The jury is still out on [the training program] but long term I think that's where we're going to have go because there's not enough people. We're hoping to have some sort of program to feed techs into the shops. Plus, they're learning to do things the way we want them to do it," Todd said, who added that techs are in that $20 per hour range and the more experienced techs are in the $40 per hour range.
Parts shortage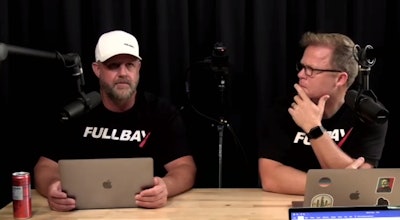 "The parts shortage is kind of an echo of COVID, a lot of reliance on just-in-time inventory and the supply chain interruptions," said Fullbay's Findlay. "So we had this well-oiled machine running, then COVID hits and all of a sudden the global supply chain is out of whack."
The result has been parts and service providers having to resort to extraordinary measures to get parts — and Wall and Todd provide examples.
"We're struggling with it like everyone else is," said Todd, who added his shops have customer trucks that are down in the shop or on the lot, or driving around with non-DOT issues while they wait for parts to come in. If a supplier says a part will be delivered in four weeks, it's going to turn into 12, he said.
Todd added certain parts are really hard to come by and when they become available, The Service Company buys as many as it can, which Findlay added is risky because it's working capital being used.
To Todd's point, Wall added, "We just bought five trailer loads full of DEF. It either runs out or the next time you go to order it it's $2 or $3 more per unit. Luckily, we have the storage capacity."
Wall said his company has had to get creative to get certain parts, whether it's driving four hours to obtain a much-needed part or finding an upholsterer because of the difficulty getting seats.