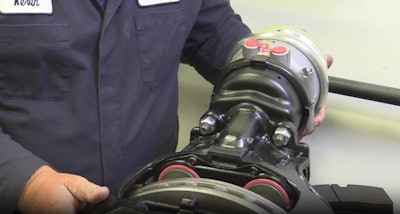 As market adoption of air disc brakes (ADB) continue to grow, the need for best practices when inspecting and maintaining ADB components has never been higher.
In a recent technical bulletin, Bendix addresses this need with guidance for replacing an ADB caliper.
According to Bendix's Mark Holley, director of marketing and customer solutions – Wheel-End, all regular ADB preventive maintenance should include "examining and addressing issues that could lead to caliper damage and the possibility of a voided warranty."
Holley says technicians should inspect guide pin movement and take a look at tappets and boots for damage and contamination, for instance, along with checking seals and bushings. He says "the potential for caliper damage is one reason Bendix recommends replacing ADB wear components with genuine replacement parts during a pad change — pad retainer, pad retention springs, and shear adaptors – and includes them in a complete friction replacement kit."
[RELATED: Nearly 800 trucks put out of service for brake issues]
In the shop, technicians conducting an annual wheel-off inspection also should make sure the caliper slides freely and take a moment to examine the rotor. Bendix states to look at the overall condition of the rotor and evaluate the color. If the rotor is a bright rusty-red color, then it could be an indicator to inspect the caliper more closely.
Additionally, once a customer has made a caliper choice, consistency is key. Like for like is vital, and Bendix says customers running Bendix OE genuine components should replace them with another genuine or Bendix reman alternative. Bendix says non-genuine calipers will not have the same adjuster as an original brake, so customers would lose that benefit.
The company also notes technicians and customers should keep in mind that if someone purchases an aftermarket caliper, then they will need to purchase two calipers to maintain performance across the axle, just like when a slack adjuster is replaced. Even minor differences in caliper construction and performance can cause brake pull or lead one brake to drag and overheat. For similar reasons, Bendix adds friction types also must match across the entire axle. In addition, because they may fit the wheel-end envelope differently, aftermarket calipers may interfere with suspension clearance, which impacts brake performance and can damage the suspension.
Bendix also states other key points during new caliper installation include:
Holding the caliper only on the exterior. To prevent injury, never insert your fingers between the caliper and carrier.
Ensuring the newly installed caliper slides freely and can be moved by hand pressure only over the entire length of the guide pin arrangement.
Making sure the hose routing arrangement doesn't restrict the full travel of the caliper.
Not overloading or damaging the adjuster. (Bendix brakes include a shear adapter that is designed to fail in the event of over-tightening, preventing damage to the mechanism itself.)
Torquing bolts to proper spec and proper sequence.