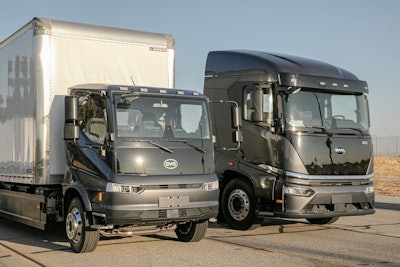 BYD Motors and Cox Automotive announced Wednesday they have entered into a service agreement in which Cox will cover BYD customers and their growing fleets of Class 6 and Class 8 trucks within the United States with 24/7 roadside support and a nationwide network of EV-trained service technicians.
"This agreement with a nationally respected fleet services leader in Cox Automotive bolsters the confidence of our customers and gives new customers assurance their service needs will be addressed by the top professionals in the business," says Audrey Li, BYD vice president operations. "We're very excited by this announcement."
"Cox Automotive is driven to lead America's fleet industry in the electric vehicle transformation, working alongside innovative companies like BYD Motors with a shared mission to create a more sustainable fleet future," says Kevin Clark, AVP of Vehicle Operations, Cox Automotive Fleet Services. "Our trusted and skilled EV technicians keep America moving safely and efficiently."
Globally BYD has put over 85,000 heavy-duty battery electric vehicles into service, including more than 25,000 trucks. In the U.S. more than 500 of those trucks are already in service with customers from coast to coast. Operating from nearly 40 locations within the U.S., Cox Automotive Fleet Services offers more than 1,400 elite technicians, including the nation's largest 24/7 emergency repair and towing service, the company says.