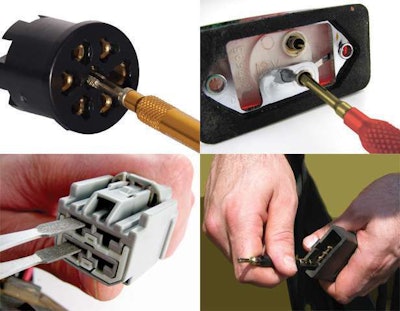 IPA has announced its new product, a heavy-duty technician's electrical terminal maintenance Set. The set cleans and repairs most types of electrical connectors found on trucks and industrial equipment found in North America, IPA says.
The set can be used as a service and preventative maintenance tool for applications such as: Deutsch, Cannon, 7 round pin trailer harnesses, Weather Pack, Bullet Connectors, common ABS sensor and power connectors, trailer light plugs and more.
Packaged in a custom holster, IPA says the set includes two sizes of flat male and female terminal cleaners, two gold 7-round pin socket  harness cleaners, one black ABS sensor/power connector cleaner, ten micro diamond round files, one trailer light bullet connector cleaner and one DeoxIT contact chemical cleaner.