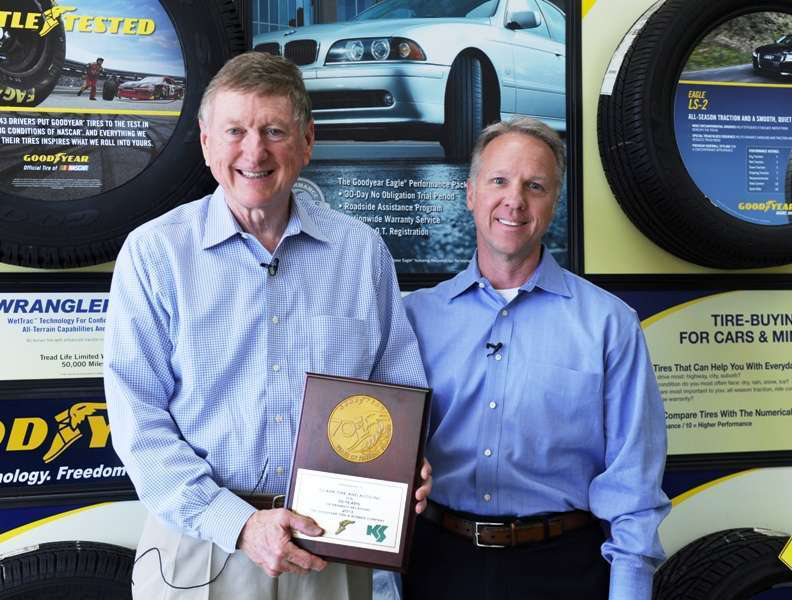 Clark Tire, a 24-location tire dealership based in Hickory, N.C., is celebrating its 70th year as a Goodyear customer.
The independent, family-owned dealership, which has locations in North and South Carolina, began selling Goodyear brand tires in 1943, when its founder, John A. Clark, opened for business. Today, Clark Tire sells Goodyear, Dunlop and Kelly brand consumer tires and commercial truck tires. It has two dedicated truck centers, which Goodyear says also offer truck alignments, oil changes and other services to fleets and owner-operators.
In addition, the dealership retreads truck tires using Goodyear's UniCircle and precure processes, and offers 24/7 emergency roadside assistance and other services through the Goodyear-FleetHQ business solutions program, Goodyear says.  Clark Tire also operates three wholesale distribution centers.
"We've been a proud Goodyear dealer since the day we opened our doors," says John D. Clark, the dealership's owner. "Over the last 70 years, Goodyear has provided us with numerous opportunities to be successful. We've always had a strong relationship with Goodyear management and its sales team."
"Clark Tire has built its business by providing premium Goodyear products and services, and taking care of its customers," says Jack Winterton, president, consumer tire, North America, Goodyear. "Clark Tire represents Goodyear well, and we are proud to count it as a valued customer."
"Seventy years as a customer is a significant milestone," adds Phillip Kane, vice president, Goodyear Commercial Tire Systems. "We value Clark Tire's loyalty and look forward to continuing our relationship with this great company."