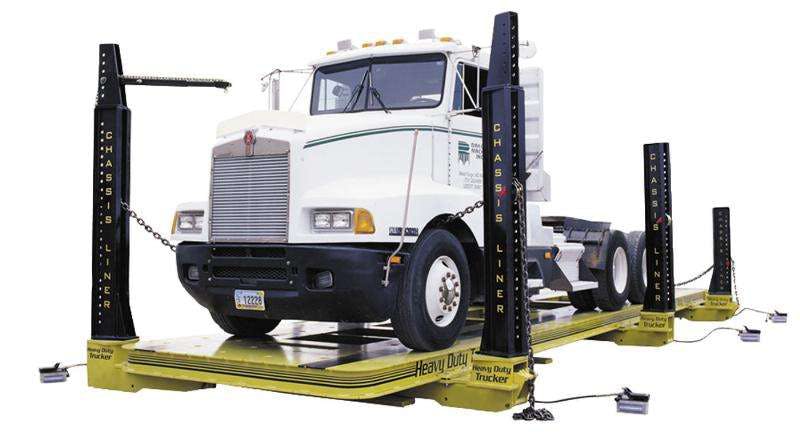 Chief Automotive Technologies says its Chassis Liner Heavy Duty Trucker rack, sold through local Chief Automotive Technologies distributors, is capable of servicing everything from half-ton pickups to triple-axle tractors and vocational trucks in need of truck frame repair.
It features 25 tons of pulling power at each tower and customizable bed lengths.
"Truck frames comprised of high-tensile steel cannot be heated for repair and are expensive to replace," said Bob Holland, director of collision in North and South America for Chief, Chassis Liner's distribution partner. "To get them back on the road in a fast, cost-effective manner, you need a big frame rack to pull them into shape. The Heavy Duty Trucker has the required size and power for the biggest jobs, but it also works with pickups, RVs and buses."
The Heavy Duty Trucker features 360-degree pulling capabilities and can be equipped with four, six or eight towers. The wheel-less towers ride on rails that circle the bed and the heavy-duty loading ramps come with rolling jacks, allowing a single technician to can complete the entire setup process.
An optional winch assembly is available to pull disabled vehicles onto the bed.
The Heavy Duty Trucker features dual chain slots on each tower for single or double pulls. A roller assembly is provided for downward pulls and chain locks maintain tension throughout the pulling process. An optional three-foot tower extension is available for high pulls, overhead pulls and cab repairs.
Two seven-foot cab towers are each equipped with a 15-ton ram for pushing or holding. An optional Pow'r Pusher ram assembly provides an additional 25 tons of pushing force. The Pow'r Pusher's modular design includes five different height settings and five plate adapters so technicians can create an effective setup for any vehicle.
Standard bed lengths are 32 feet and 40 feet, but custom size needs can be accommodated. The bed is 8.5 feet wide and features non-skid runways. Tiedown points are located on the inside, outside and center of the bed.