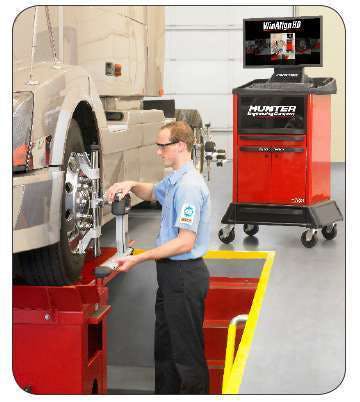 Hunter Heavy Duty introduces a new, rapid use alignment system.
According to Hunter, its new Winalign HD Alignment Systems provides three-axle wheel alignment readings in four minutes. The company's previous aligner took approximately 12 minutes.
Hunter says the system works by using four or six revolutionary DSP700T heavy-duty alignment sensors. DSP700T sensors use exclusive roll-forward compensation to compensate all sensors at once without the need to jack each axle. The new system decreases setup time and equipment wear through a completely reengineered setup process, the company says.
DSP700T sensors are cordless and are compensated at the same time by Hunter's unique pusher. Hunter's DSP700T sensors are accurate to a range of 600 in. (1,524 cm) to cover all truck, bus and trailer lengths. When equipped with the timesaving capabilities of Hunter's optional Fully Integrated Alignment Turnplate Kit (FIA), the system produces full vehicle measurements in as little as four minutes, the company says.
Hunter sensors are engineered to be tough and protect impact-prone areas. Each sensor is protected by a lightweight, durable and rubberized shell. Hunter's self-centering wheel adaptors are said to offer high-versatility for trucks and buses, which often have low- hanging bumpers or air dams, and fit steel and aluminum wheels ranging from 15 to 28 in. in diameter.
The new WinAlign HD Alignment software allows also Hunter customers to align trailers without unhooking the power unit, and the system can align trailers without a power unit using an optional kingpin adaptor, the company says.