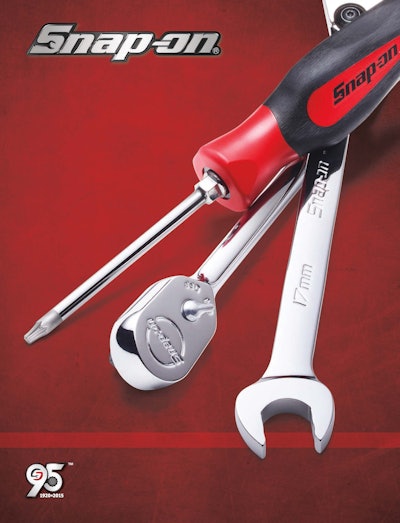 Snap-on Tools presents its new product catalog (CAT1300). The new catalog design showcases more than 17,500 products, including the latest in hand tools, tool storage, power tools, diagnostics and shop and technician solutions.
CAT1300 also pays tribute to the company's 95th anniversary being celebrated in 2015.
"We're excited to launch our catalog presenting the most extensive product offering ever in the company's 95-year history. This edition is packed with the innovations Snap-on customers have depended on to make work easier since 1920," says Yvette Morrison, vice president of marketing for Snap-on Tools. "We've implemented numerous enhancements to improve navigation within the catalog so technicians spend less time searching. We are looking forward to seeing the catalog in the hands of our franchisees and customers."
Snap-on says it added 168 pages and over 2,200 product offerings from the previous version of the catalog. CAT1300 opens with tool storage, which provides customers with endless options for customization when purchasing new units or adding to their existing tool storage system. In addition, the new catalog index contains tool applications listed by OEM for quick access to specialty tools. Finally, technician testimonials, from those who use the tools daily, highlight each product section, providing customer reviews of functionality, durability and reliability, the company says.
Snap-on will offer an app for downloading the catalog to tablet or smartphone as well as a digital version, available through the company's website. The Snap-on product catalog is available in English, Spanish or French versions. Snap-on says customers can learn more about the new Snap-on product catalog (CAT1300) by contacting their participating Snap-on franchisee or representative, calling toll free 877-SNAPON-4 (877-762-7664) or visiting www.snapon.com.