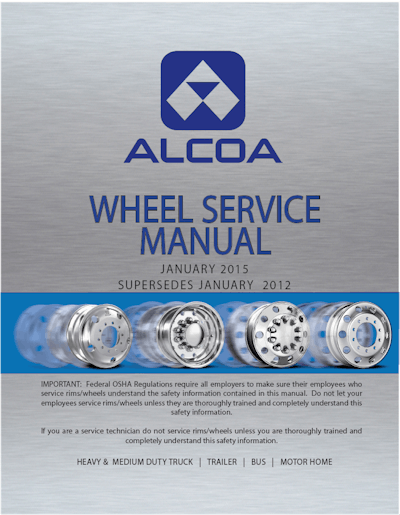 Alcoa has launched the latest version of its Wheel Service Manual. The company says the document is the manual-of-choice for the commercial wheels transportation sector, providing the latest up-to-date trends and developments for customers.
The new version is a significant upgrade to the 2012 version, and Alcoa says will include valuable and updated content on a broad range of industry trends:
New sections including deflating and mounting truck & bus tires to reflect industry standards
Additional updates to reflect evolving market conditions including more hub pilot vs. older ball seat wheels
Enhanced pictures and more detailed inspection processes of various rim area failure modes
Aligns and follows OSHA and industry standards and practices
"Our Wheel Service Manual is the industry standard for wheel installation and maintenance and has served the marketplace for many years," says Tim Myers, president, Alcoa Wheel and Transportation Products. "Therefore, it is important that we are aligned with the latest trends and keep the manual up-to-date in order to provide a resource and best practice guide that our customers can depend on."
The Alcoa Wheel Service Manual details wheel service, including mounting and demounting of hub pilot and ball seat mount wheels. Alcoa says the publication uses state-of-the-art graphics, theme headings and subject labels to allow the reader to easily navigate the manual. The easy-to-use format also allows wheel service personnel to more quickly find information, the company says. Other important reference text in the manual includes the Alcoa five-year limited warranty and OSHA safety regulations on servicing wheels, Alcoa adds.
The 2015 Alcoa Wheel Service Manual will be available later this summer. Please visit www.alcoawheels.com/service for a copy and more information.